X Legion Tactica Tournament 03 Overview
Somewhere in a small hall in Landford....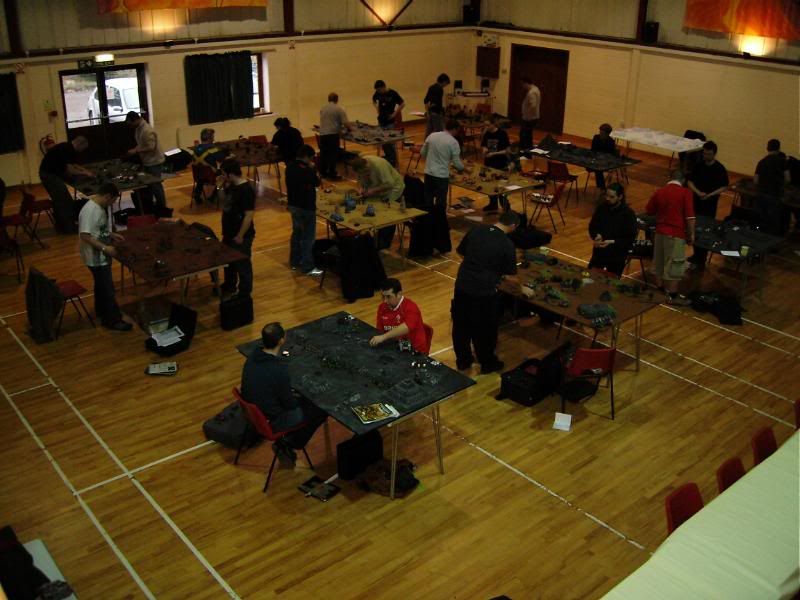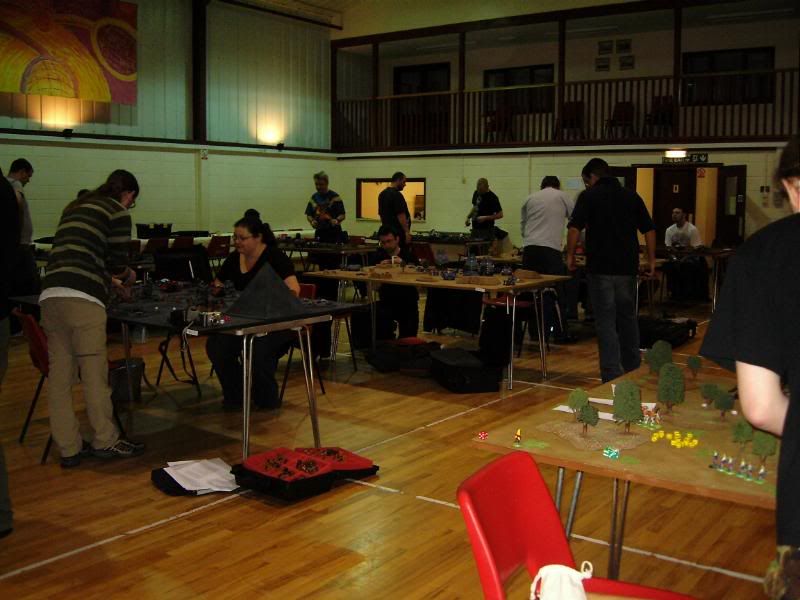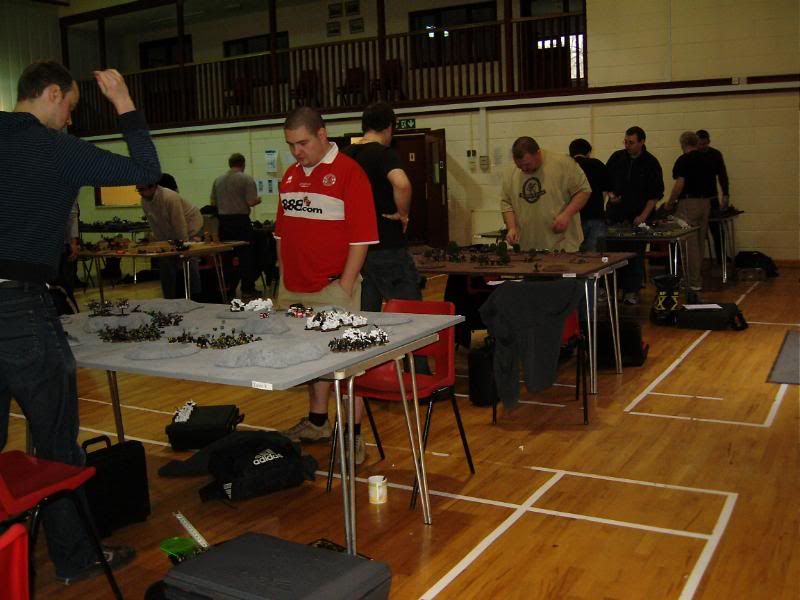 Marcus on his fourth doughnut....
Pete on his 10th....
Me laughing whilst Rob Tillman does all the work....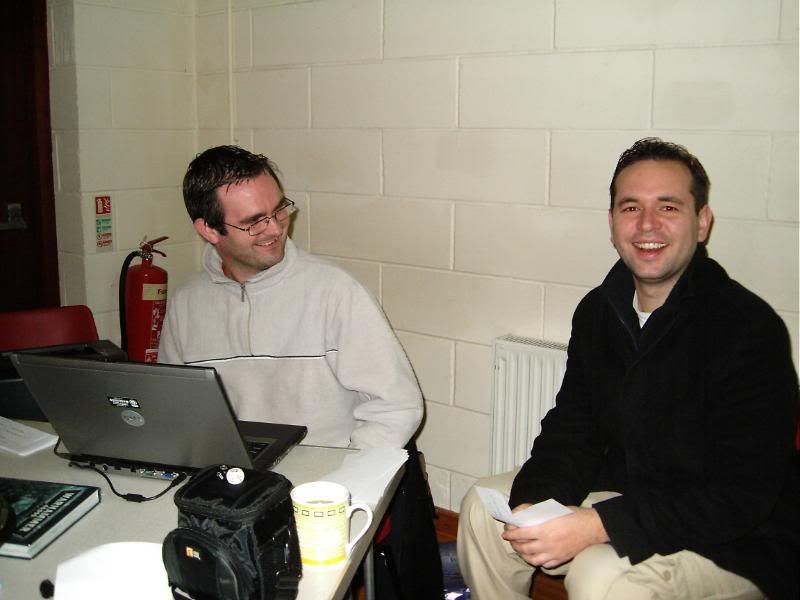 A loving portrait of Andy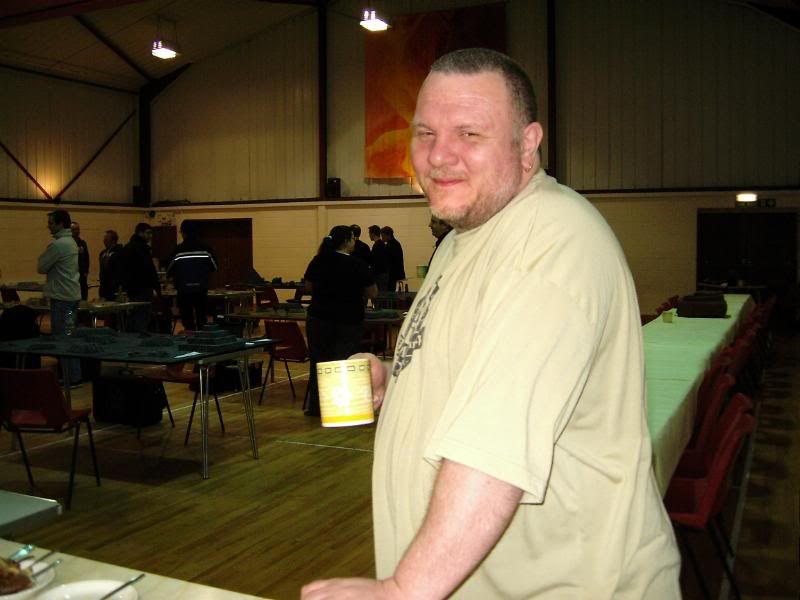 Pete is the first person to be dragged outside and shot at the next tournament for putting his cup on my table!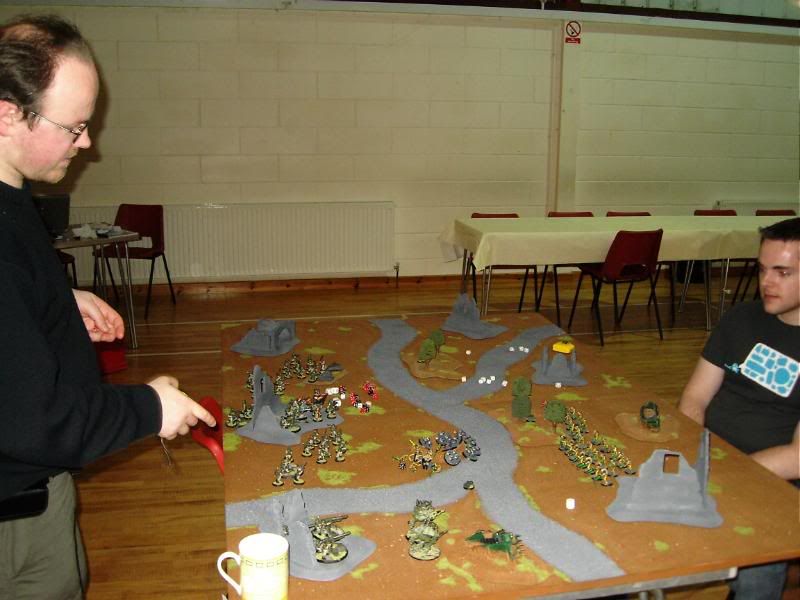 Horde Nids vs horde Guard.... I don't think it got past turn 3 but it was a great spectacle! Sam is the second person to be shot for cup placement
Dicky's beautifully painted marines vs Giles' beautifully painted termies.
Somehow I managed to take a photo when it wasn't Gus' turn!? (Spiky David on the right)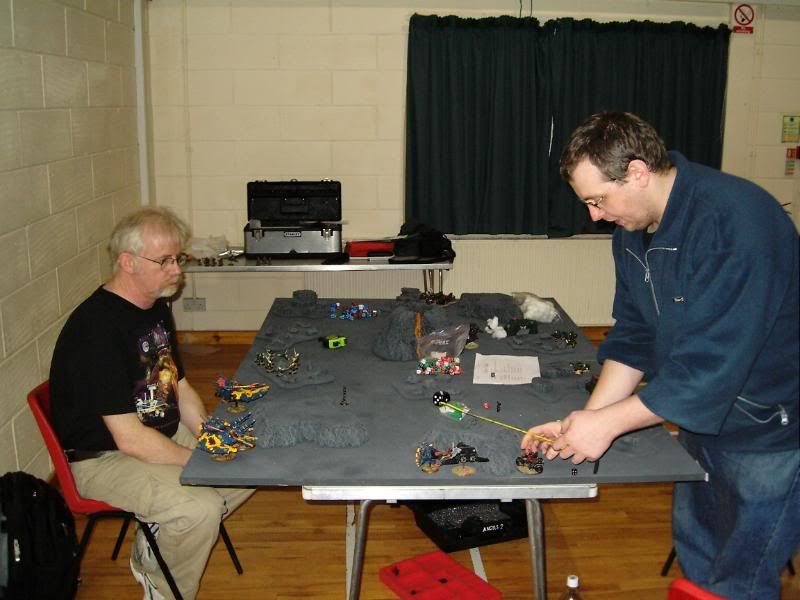 Andy vs Alan Hankin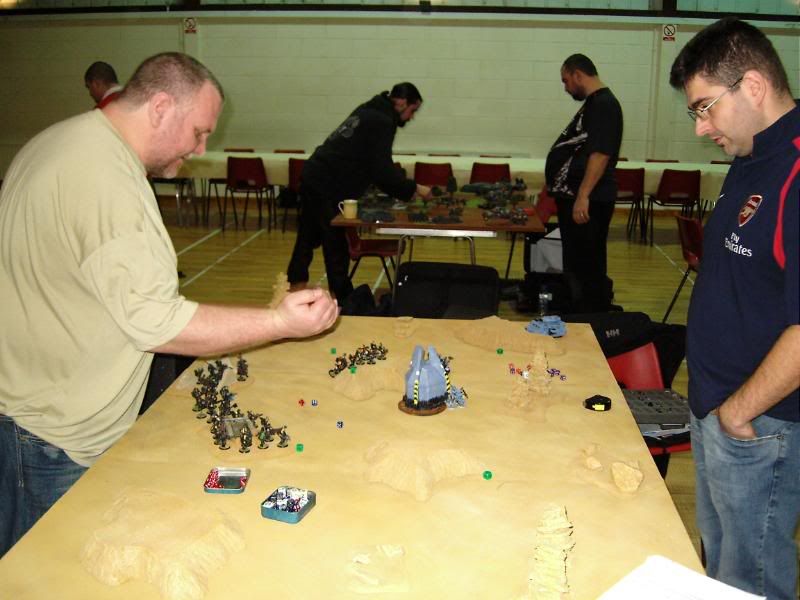 Nick Jenkin vs Victoria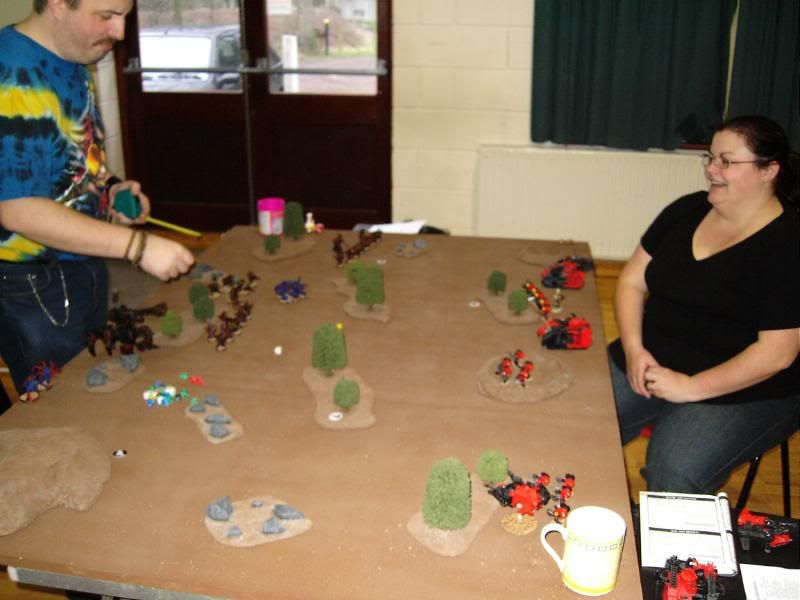 Steve Roberts vs kenny Milne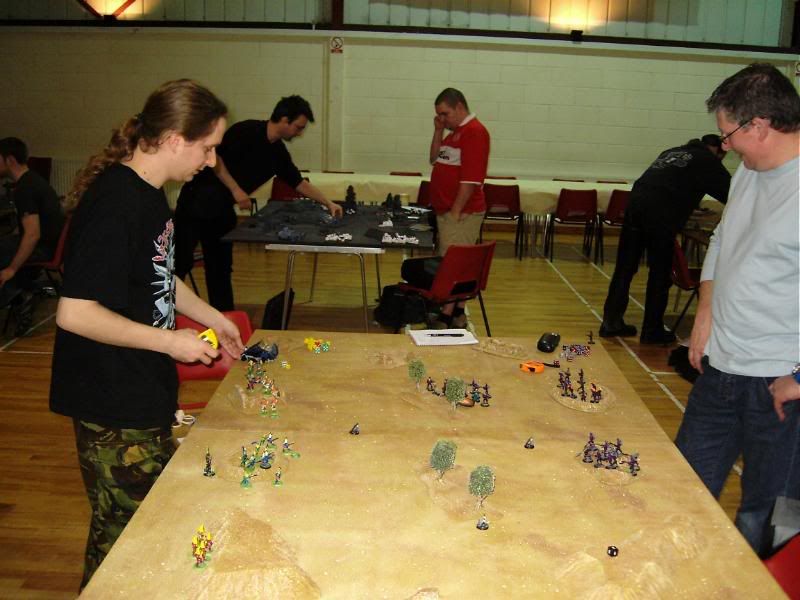 Mike Lock vs Rob Neal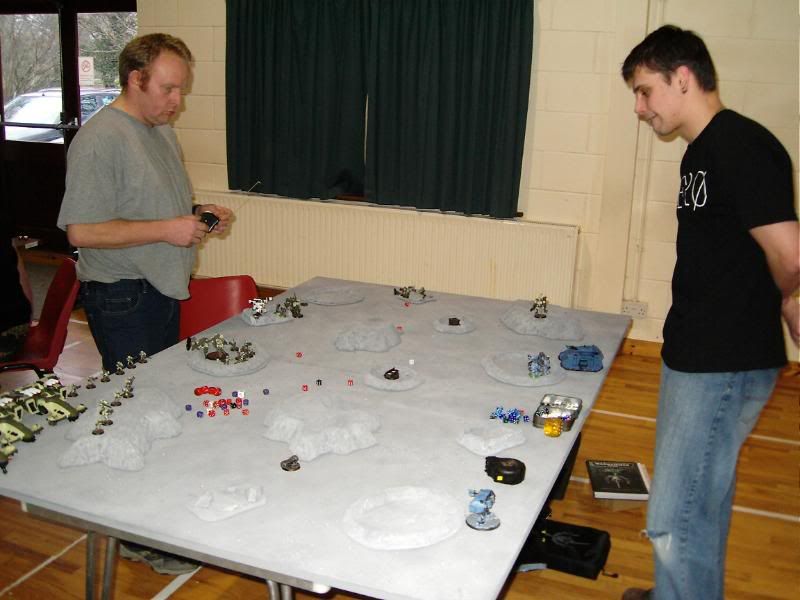 Dicky and Giles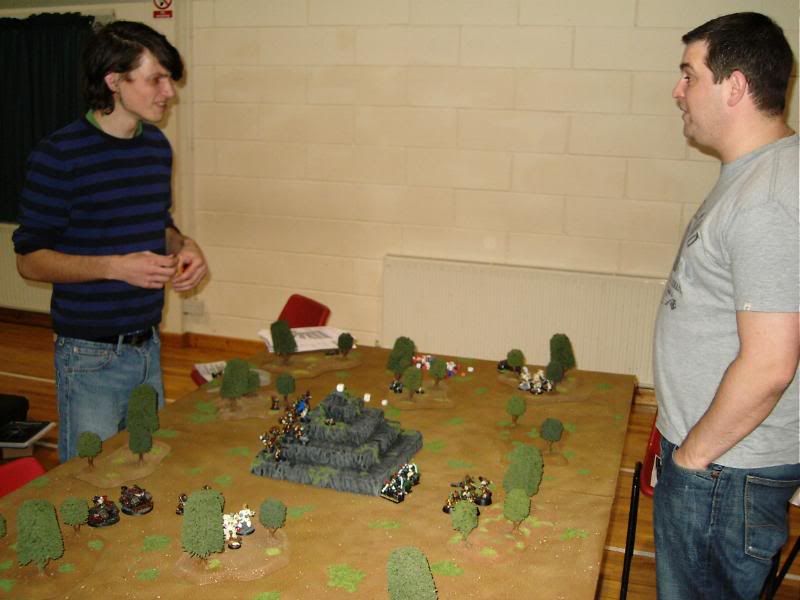 Graeme vs Sam - horde orks vs horde Nids!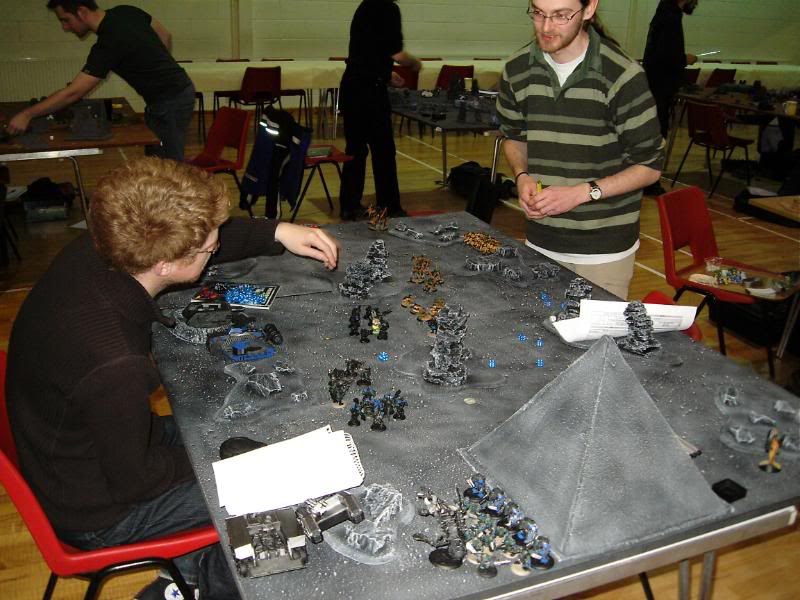 Steve Harrild Jones vs Graham Wigg - both did exceedingly well with their armies
Chris Bingley vs Mike Reynolds - pirates of the carribean wannabes!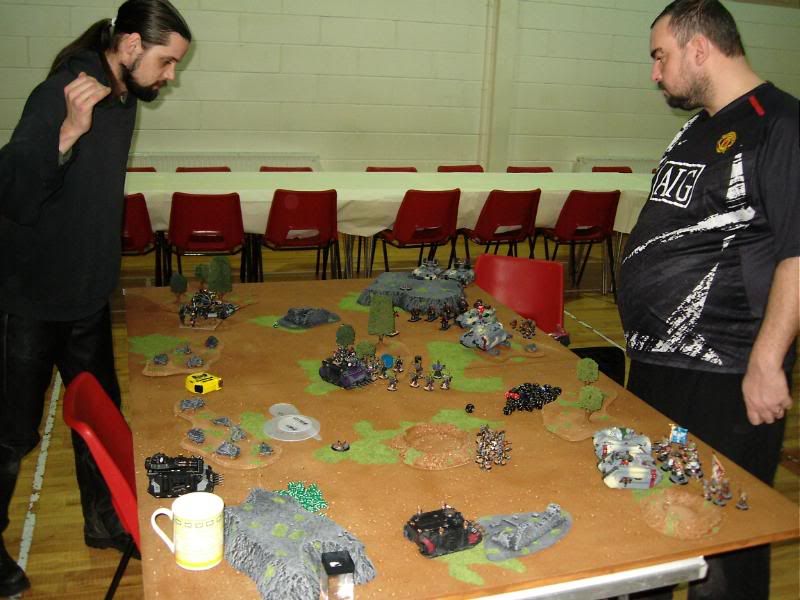 Dan stratton vs charlie in one of the bloodiest games ever seen (apart from the one where charlie massacred me!)
Neil Kerr vs Dave Minnis - shouts of 'flame on!' all round!
Dan Fortnum vs Rob Tillman in a very close game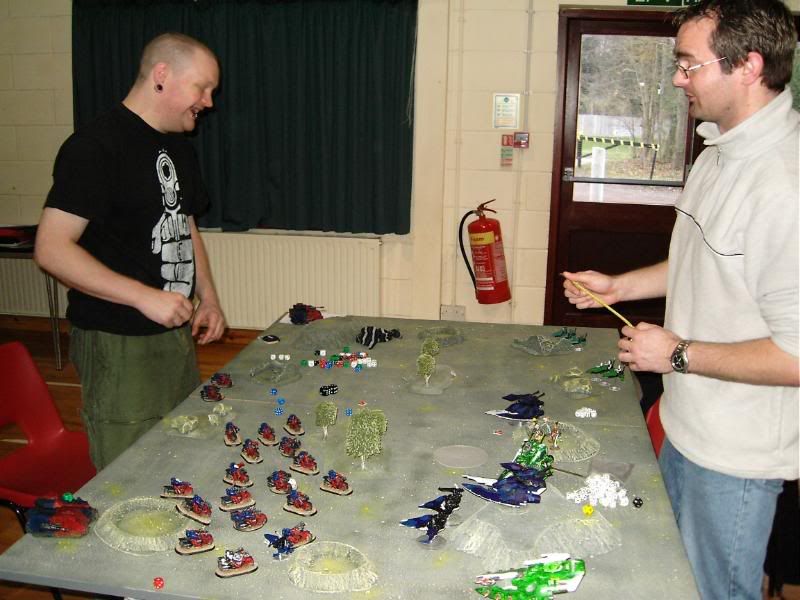 Neil Kerr receiving his certificate and trophy for his beautifully painted best army!
Dave Minnis with his well deserved third place certificate (This photo was in no way stages after the awards ceremony)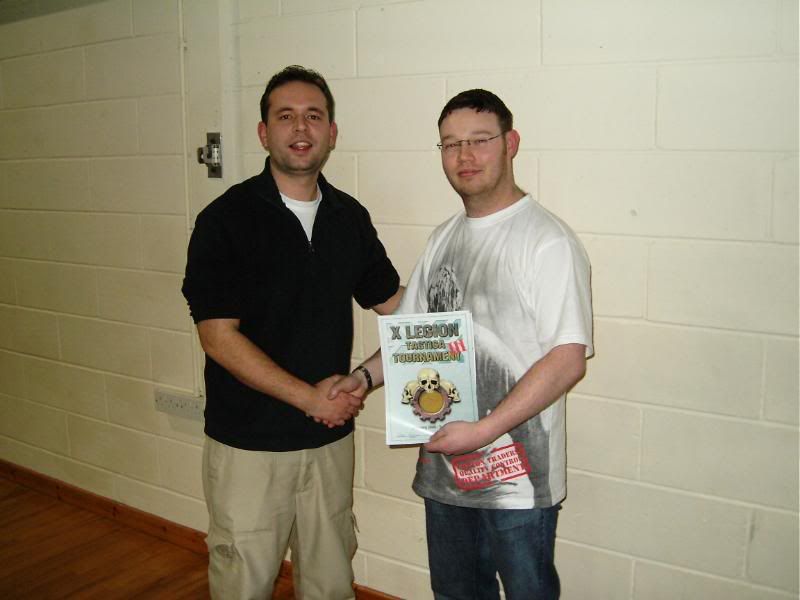 Gus just pipped at the post by Dan after winning 5 straight games receiving his well derserved second place certificate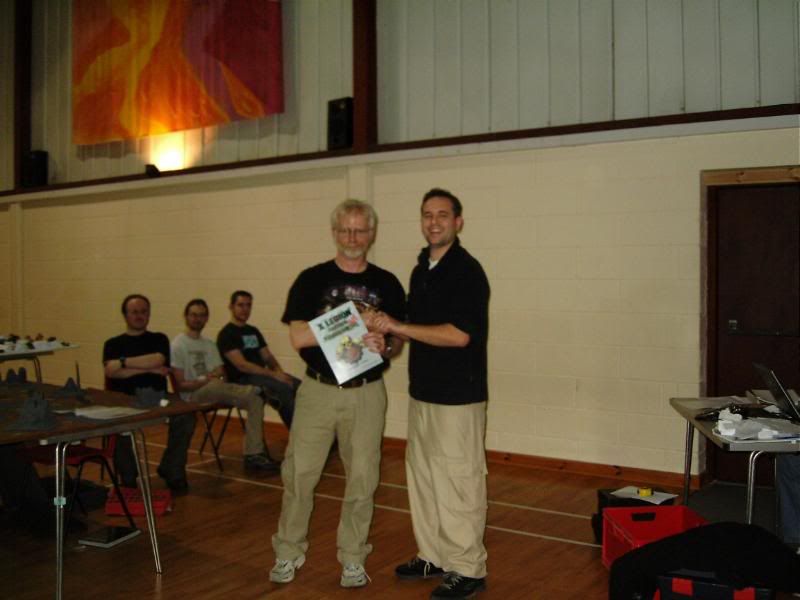 Dan Fortnum receiving his overall champion certificate - he went for it in every game and received his just reward after narrowly defeating Gus in the last game to take the title!
And here's Dan receiving his trophy which I nearly forgot to give him (honest I forgot I didn't want to keep it!
)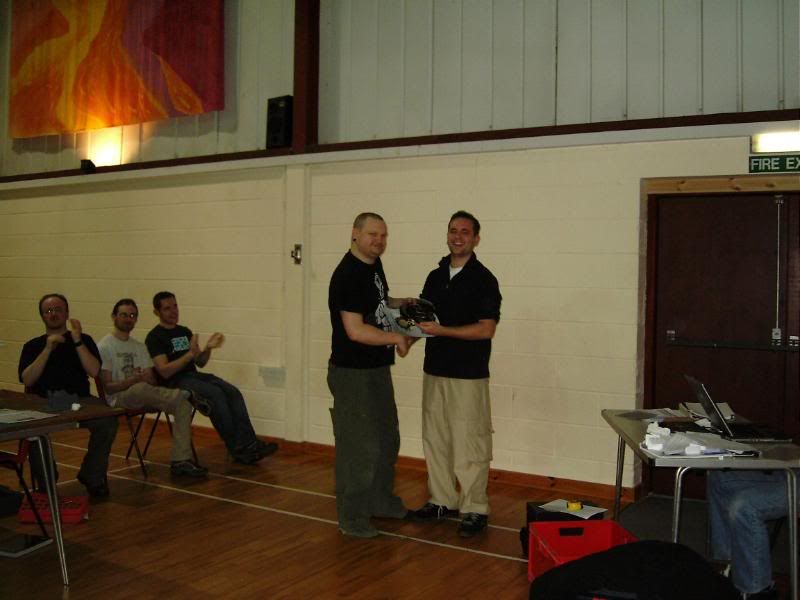 And here's everyone all together with the noticeable exception of Adam Whittaker whom sadly had to retire from the tournament early and of course Jen who was taking the photo! For some reason spiky dave is holding Dave Minnis' certificate...... I can't imagine how that happened!
I hope everyone had a great weekend I certainly enjoyed my 4 games (even the one where charlie broke out the biggest can of whoop ass I've ever seen, wiped me out and captured all 4 table quarters.... lol) I had a lovely evening at the Slaughtered Lamb Inn having a meal with everyone and had a great time watching all the games on the Sunday! Thanks for coming along and making the tournament such a success and I'll look forward to the next X Legion Tactica Tournament IV in May!
Here's the overall standings
X Legion Tactica Tournament 03
Competitor Race Total Game points Total VP's
1 = Dan Fortnum Space Marines 15 3308
2 = Gus O'Connor Eldar 15 3169
3 = Dave Minnis Eldar 15 2848
4 = Rob Tillman Eldar 12 3894
5 = Neil Kerr Space Marines 12 2940
6 = David Dark Angels 12 2201
7 = Mike Reynolds Imperial Guard 12 1703
8 = Kenny Milne Dark Eldar 12 938
9 = Charlie Space Marines 10 1801
10 = Graham Wigg Orks 9 2474
11 = Rob Neal Space Wolves 9 224
12 = Giles Foister Dark Angels 9 65
13 = Andy Kent Chaos 9 -478
14 = Steve Roberts Eldar 9 -1895
15 = Victoria Harrild - Jones Blood Angels 9 -2443
16 = Steve Harrild - Jones Grey Knights 8 994
17 = Michael Lock Tau 7 786
18 = Alan Hankin Space Wolves 7 -267
19 = Daniel Stratton Space Wolves 6 -352
20 = Chris Bingley Chaos 6 -2059
21 = Nick Jenkin Thousand Sons 6 -2551
22 = Graeme Silcock Orks 6 -4597
23 = Sam Roberts Tyranids 6 -4887
24 = Richard Milson Space Marines 4 -2658
25 = Marcus Hawkesford Necrons 4 -3461
26 = Pete Mason Imperial Guard 0 -4983
Rob Reynolds - Malchek