Discussion Starter
·
#1
·
I just got an email off these guys advertising their new system of terrain.
Seems pretty cool so I'm posting it here.
-----------

Greetings from
www.worldworksgames.com
TerraClips UNVEILED!
WorldWorksGames in association with Wyrd Miniatures, LLC are proud to present
TerraClips!
TerraClips!
is a tangible 3D, modular terrain system which allows gamers to create expansive, multi-level layouts on-the-fly. Simply punch out the durable, die-cut components, clip them together using our patent pending
TerraClips!
system, and PLAY!
TerraClips!
will be available August 5th at
Wyrd's webstore
, to coincide with its official launch at this years GenCon! Retailers & Distributors can
contact Wyrd direct.
for purchase information. Click the below images for additional
product information.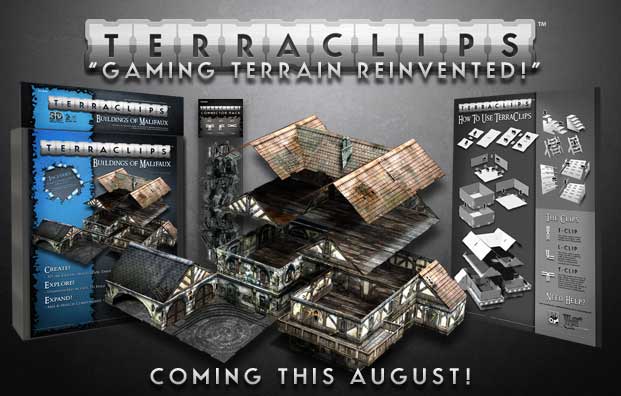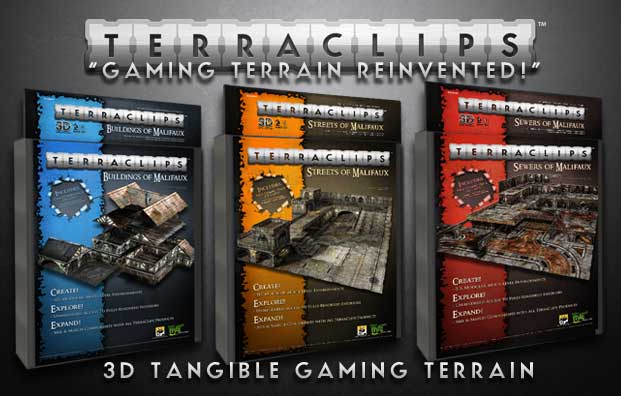 TERRACLIPS QUICK FACTS:
* Yes this is a tangible "in-store" product intended for direct distribution. No special skills or tools required other than a desire to play.
* Components are created from 1.5mm thick, die-cut gameboard card with a high quality pre-printed satin finish. Snap-out the items from the frame and get building. No cutting of any kind required. 16 10"X14" component frames are included with each product.
* TerraClips connectors are transparent plastic connectors which anchor all core elements together. You'll receive 1 free clip package with each individual terrain purchase. Connector packs contain 40 T-Clips, 40 L-Clips & 40 I-Clips.
* TerraClips will be available for online sale August 5th at Wyrd's webstore:
http://wyrd-games.net/shop/
. We will also be selling TerraClips direct and offering demos at this years GenCon. Interested distributors can contact Wyrd directly.