Discussion Starter
·
#1
·
Hello everyone, I hope you are well!
I have some huge workshop news for you! First up David 'Sproket' Soper will be teaching how to paint texture and monster flesh at our first intermediate workshop at Firestorm games in Cardiff.
David will take you through, step by step how to use variation in saturation, colour theory, texture and slime effects to create truly exotic and menacing looking monsters!

​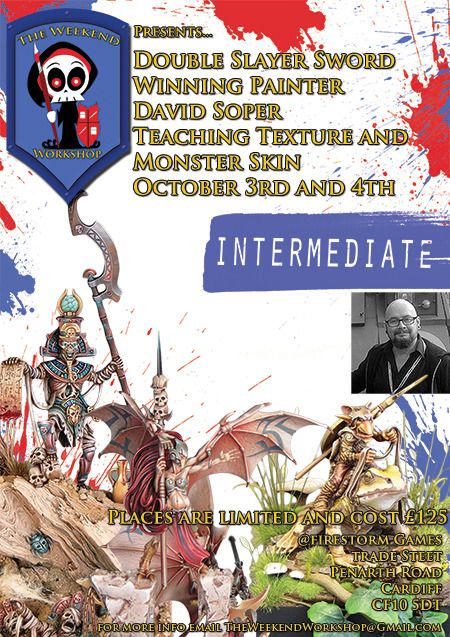 Due to a few cancellations, places are now available for our workshop with Kirill 'Yellow One' Kanaev
During the workshop Kirill will cover his use of oils, textures, skin tone, airbrushes and much more! You'll also got to paint along side Kirill, receiving support and feedback at every step to ensure you get the most out of the workshop! We shall also be using either a Young Miniatures bust or, if it's ready, a bust of Kirill's own creation!
Lastly, over the last 6 months The Weekend Workshop has been working hard to grow so it can reach out and help a wider community. As part of that effort we have two things to announce.
The first is that we have created Facebook group called Team Weekend Workshop. TWW aims to provide a relaxed and friendly learning enviroment where member can progress via consistent, relevant and positive feedback and through monthly learning events called Fast Track Weeks (FTW!)
If you'd like to join Team Weekend Workshop, you can find the group
here!
The second is that, in an effort to reach out to supporters who for one reason or another can make it to workshop, The Weekend Workshop, by the end of the month will be opening an online store selling a growing list of detailed and varied guides and step by steps.
These Guides and step by steps will be available as instant digital downloads from our soon to be open Facebook store and best of all, they are going to be very low in price! £5 for larger guides and SBS and £2.50 for the smaller ones!
Our first guide will be 'Boosting your Creativity and Basing Skills with John Harrison', it will be available for the price of £5 and here is a preview of the front cover!
​