This tutorial is all about working with "real water" by Woodland Scenics (Fig 1.) I buy this at my local hobby shop where I get my RC and airbrush supplies at, not my FLGS because they do not sell it there. At $22.99 (+tax) for 16fl oz (473mL), this stuff really is not that cheap, but you do get a decent sized bottle and it does go a long way.
I'm sure it can be found online cheaper but sometimes, you want something NOW and do not want to wait for shipping. Plus, I had an idea that I wanted to do and I was not willing to wait, really wanted to get started.
For this tutorial, I am using Game Color paints. That does not mean you have to, it's just the paint that I like to use. I've used GW paints and they work perfectly fine. I'm also putting all of the mixed real water onto some 2"x2" squares of clear plastic (Fig.2). The reason I'm using the clear plastic is so I can show you how transparent this stuff is. We all know that you'll be using this on bases (for the most part), but this way you get a better idea of what your working with.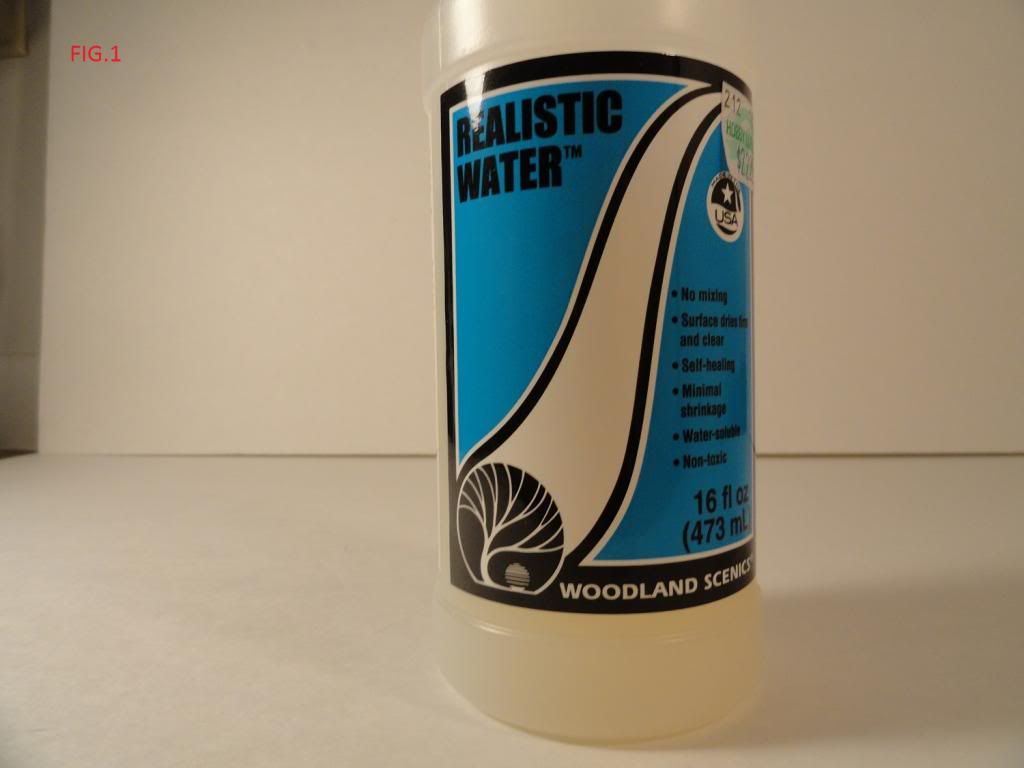 Lets get started
First thing you should know: "It is NOT hard to work with real water". That statement is 90% true. The reason I say that's 90% true is because this stuff, like any liquid, tends to flow from where you put it/where you don't want it, if your not careful, but, more on that later.
So to start using this stuff you only need a few things (and you probably already have them all to hand). If your going to mix paints into it, then you need a mixing cup and something to stir it with. In the picture you will see some small plastic containers that I use for mixing and storage (Fig.3). Then, there are pop sticks for stiring and a measuring spoon (Fig.4). I also have some syringes (without the needle) that I picked up for a couple bucks (Fig.5). They go a LONG way in controling where you want to put the real water. I highly, highly recommend you find something like these, but they are not necessary to get good results, you just have to be more carefull with your pouring.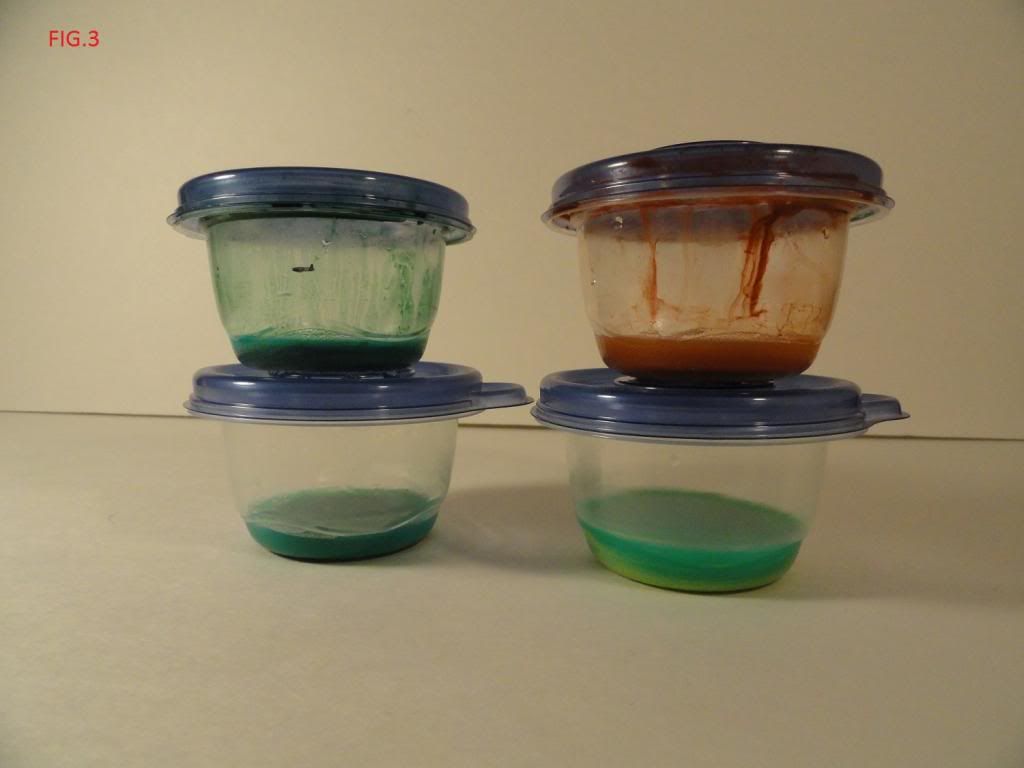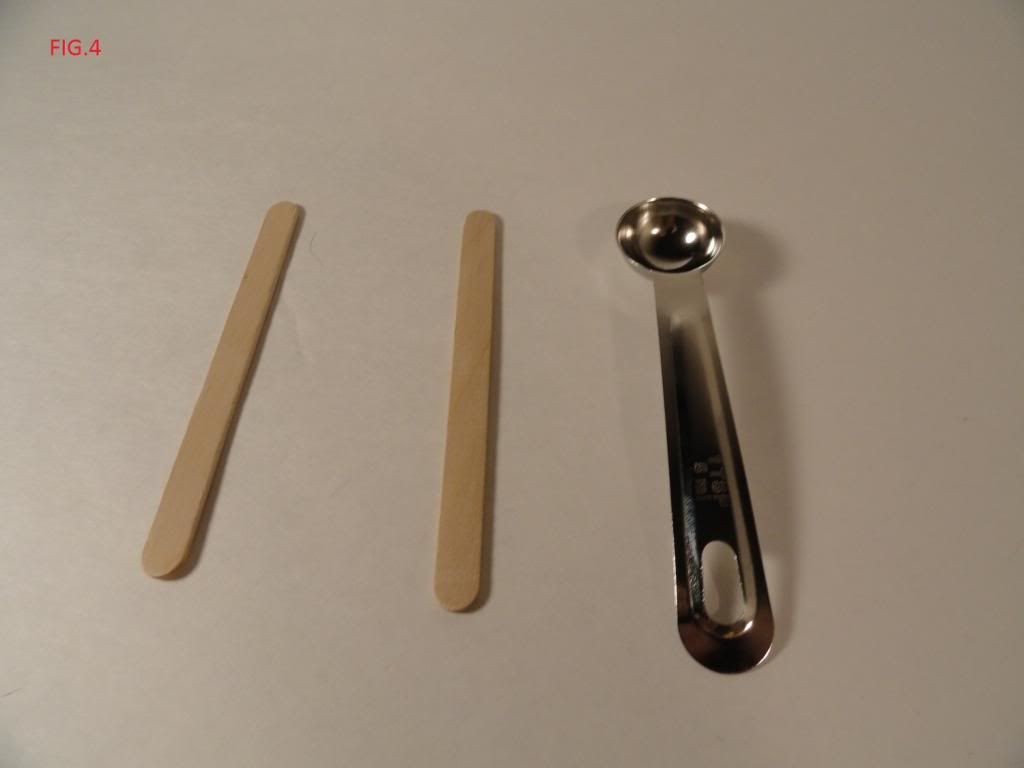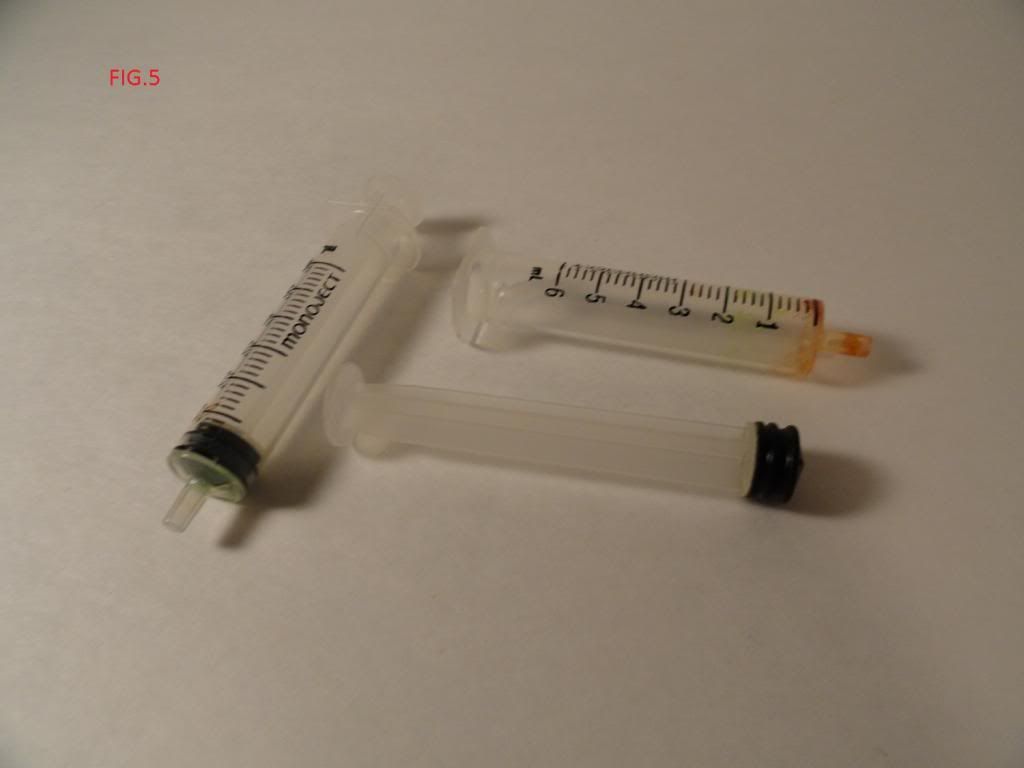 Mixing paints
When it comes to getting the look that you want, you are only limited by your own imagination. Want blood? Use a rich red. Want deep ocean water? Use a darker blue. There is no limit to the things that you can come up with or mixtures. I've spent a long time mixing different combinations, not trying to get a specific look, but more to see what I could do with this stuff and where it would leave me for future projects.
There was one test I did (no picture sadly) where I mixed a darker green and poured that down. While still wet, I took a second mixture of a lighter green and slowly poured that in different spots. Then with a toothpick, I dragged "lines" kind of mixing it in (think "wet blending"). The subsequent look of this made it seem as if something had disturbed the darker, settled water, stirring up the sediment. Was really cool and I wish I had taken a picture of it.
Application
I'm going to give you a hard learned warning up front. If you have ANYTHING on your base that is absorbant (grass, flock, moss, cardboard, etc.), it WILL ABSORB YOUR MIXTURE. Seal your project before you put this stuff on! In my last picture (the flyer base with tree stump), I didn't seal the moss before application. In the morning, ALL of my mixture was gone. So, I applied a second coat thinking that it just cured and shrunk down. That layer disapeared too! That's when it dawned on me what was happening. So I put a matt coat down over the moss/stump and had no more problems. When you have the color/look that you want, your free to put it on your project how you see fit. I highly recommend something that lets you easily control your mixture as you put it on (such as the syringes).
Pouring does work, I have done it myself, but I'll be the first to tell you that it is NOT easy to pour and control when your trying to put it on a standard 28mm base. Toothpicks and other items that you can move it around with will help out if your going to pour. For every layer that you are going to put down, do NOT put more than 1/8" down at a time and no more than 1/2" total. The thicker you make it, the softer/bouncier feel to it instead of a solid cure that a thinner layer would have.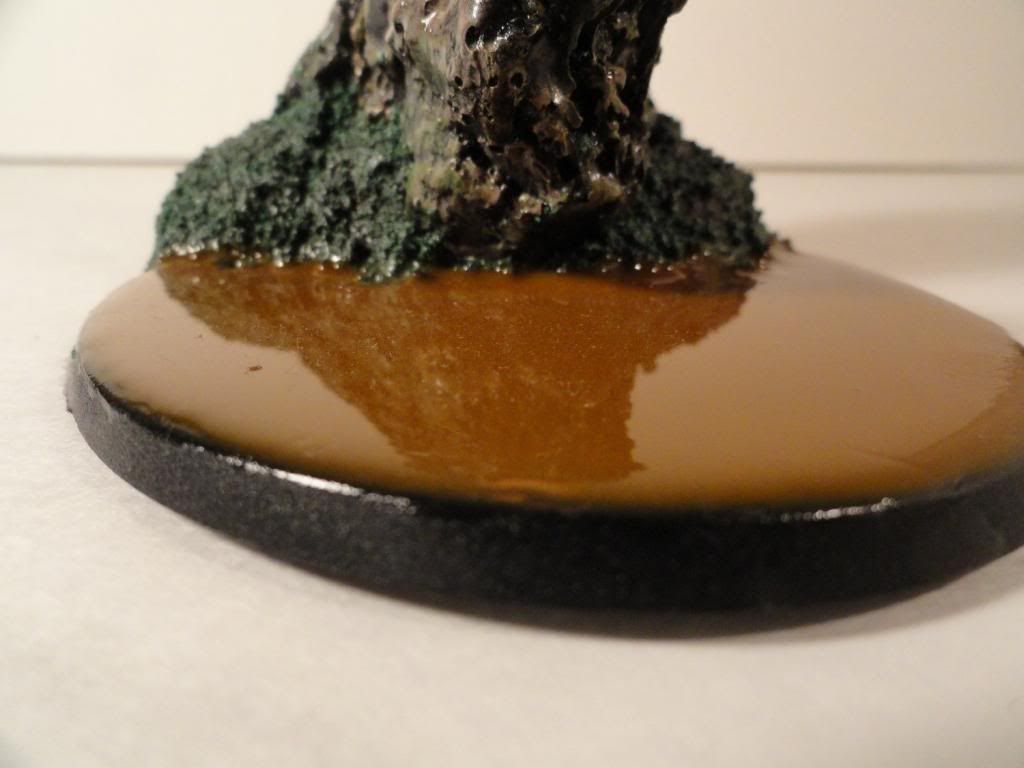 So on to the show and tell!
In the first set of pictures is just pure real water. As you can see, it is sorta cloudy. Do not worry, when this stuff cures, it becomes clear as glass.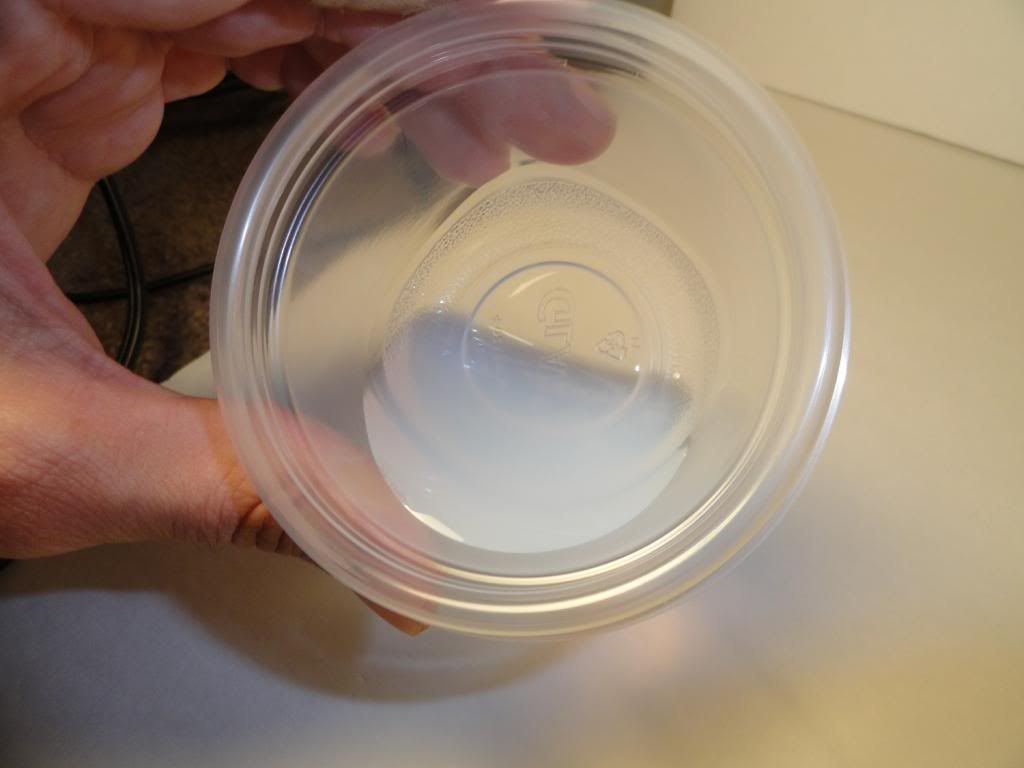 In the second set of pictures, I mixed ONE drop of paint (or wash, as noted) then stirred them in.
Foundation White: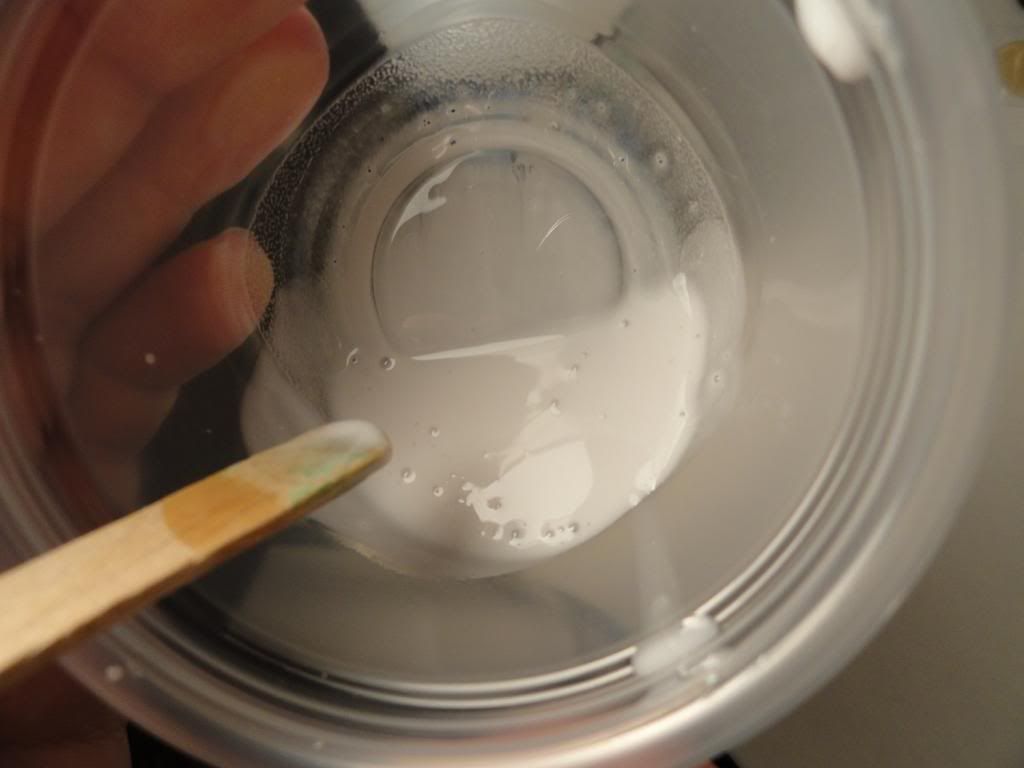 Bronze(metallic):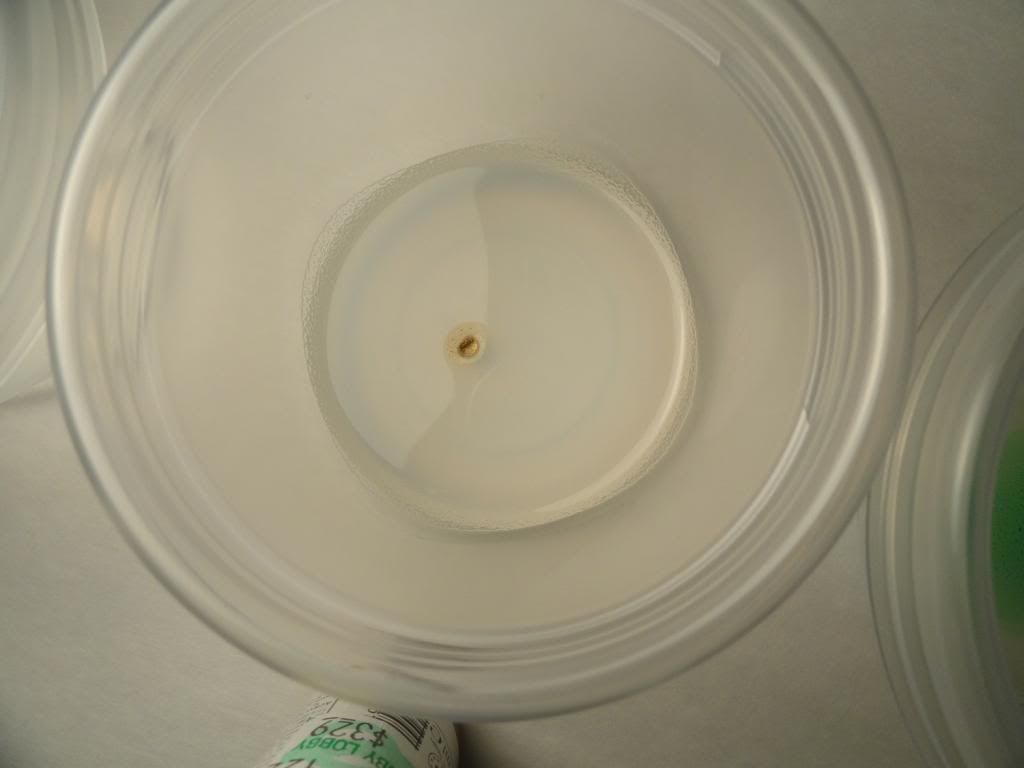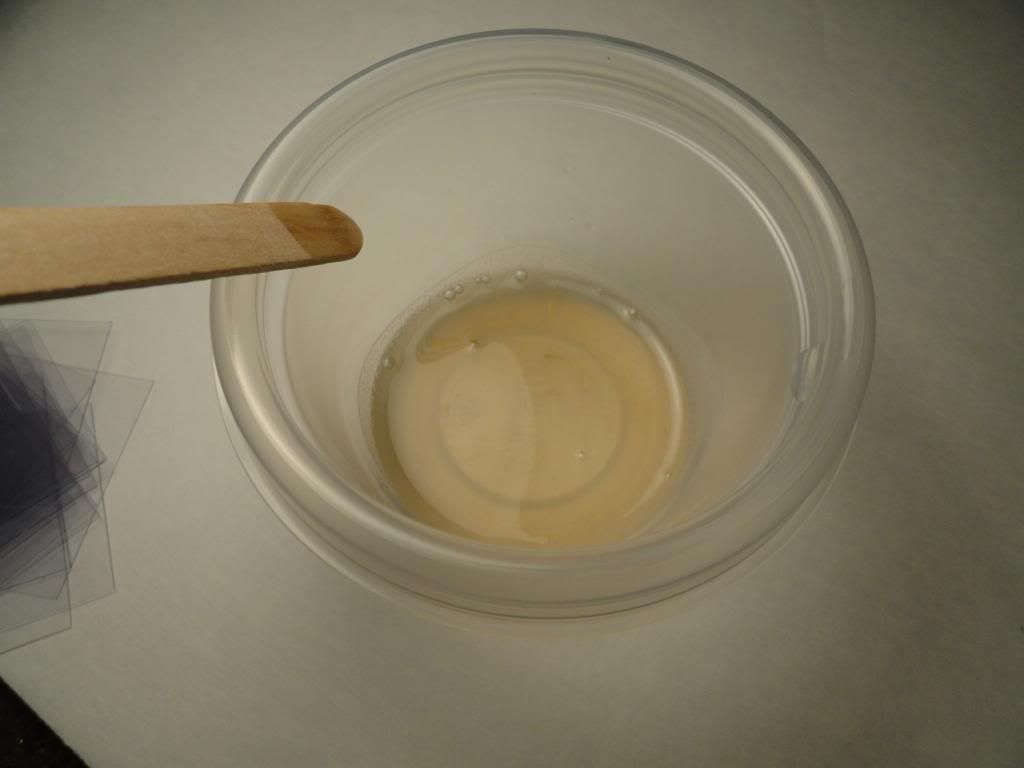 Transparent Green: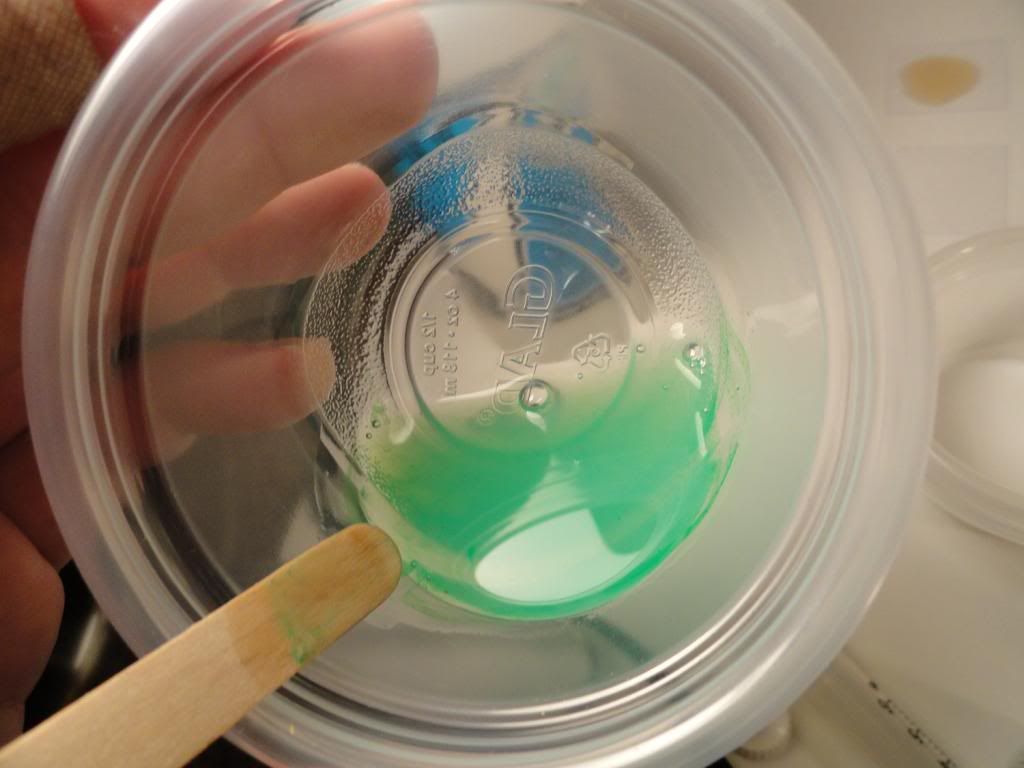 Sepia Wash: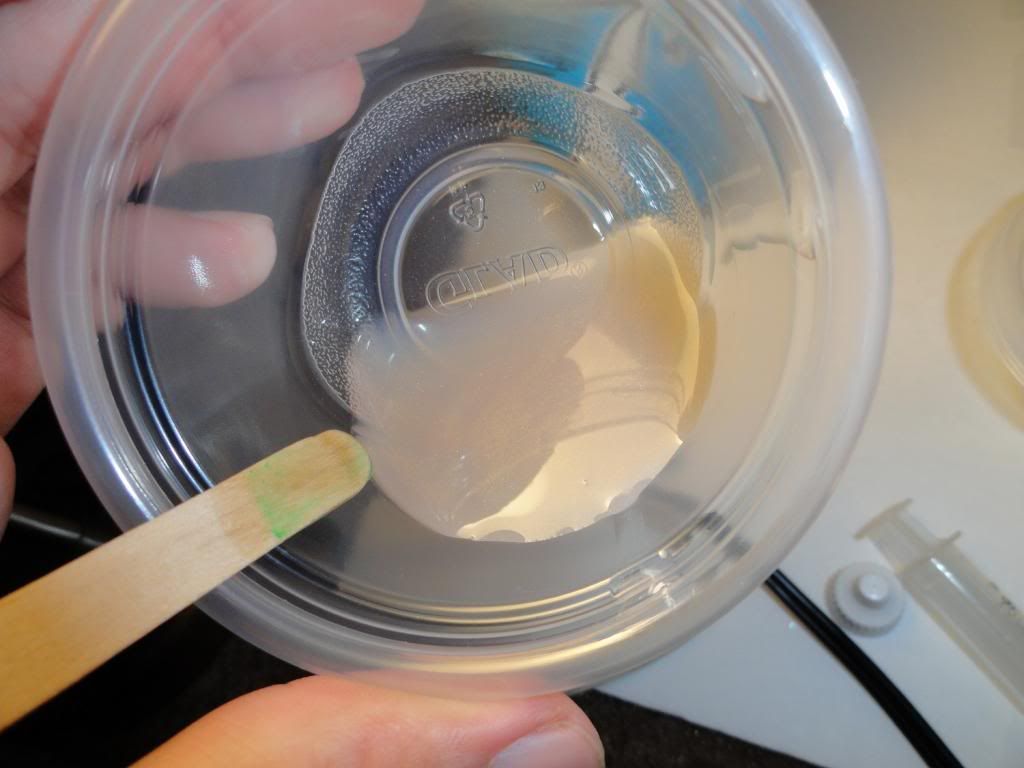 In the third set of pictures, I mixed three more drops of paint (for a total of FOUR) into each one, then stirred them in.
Foundation White: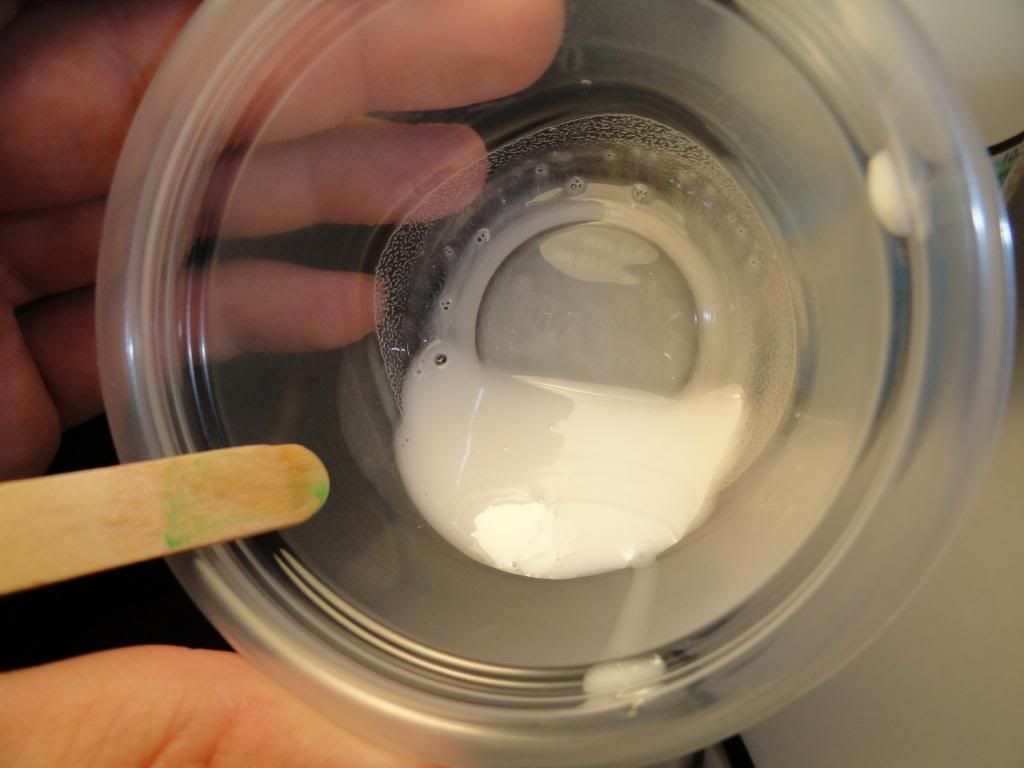 Bronze(Metallic):
Transparent Green: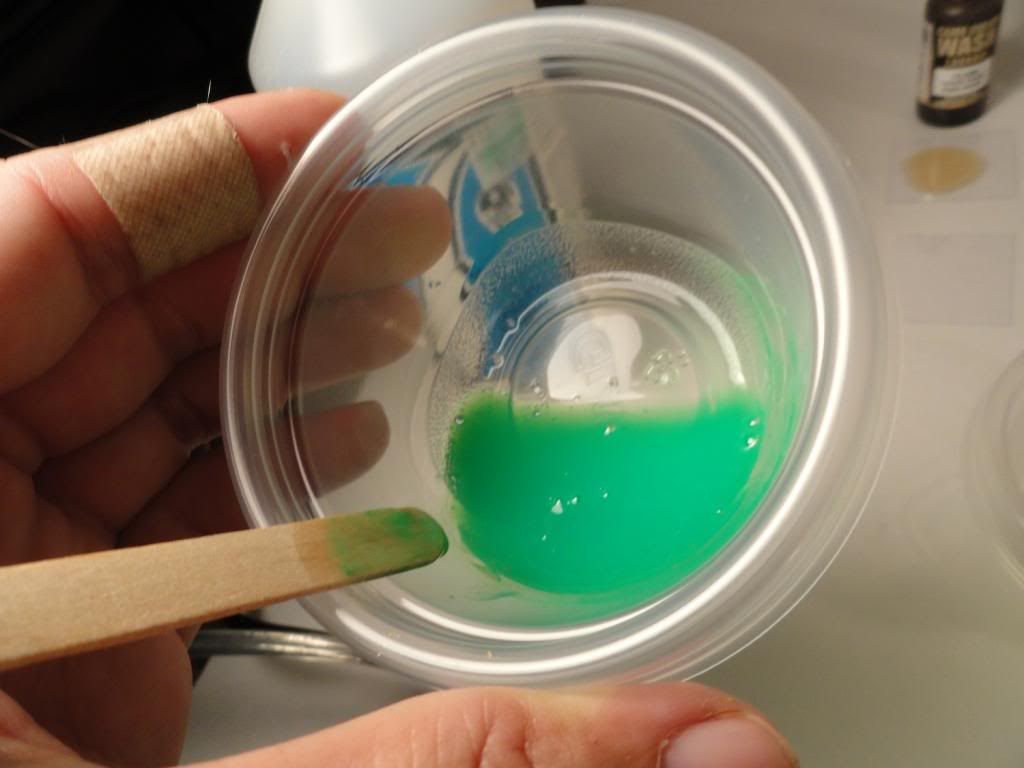 Sepia Wash: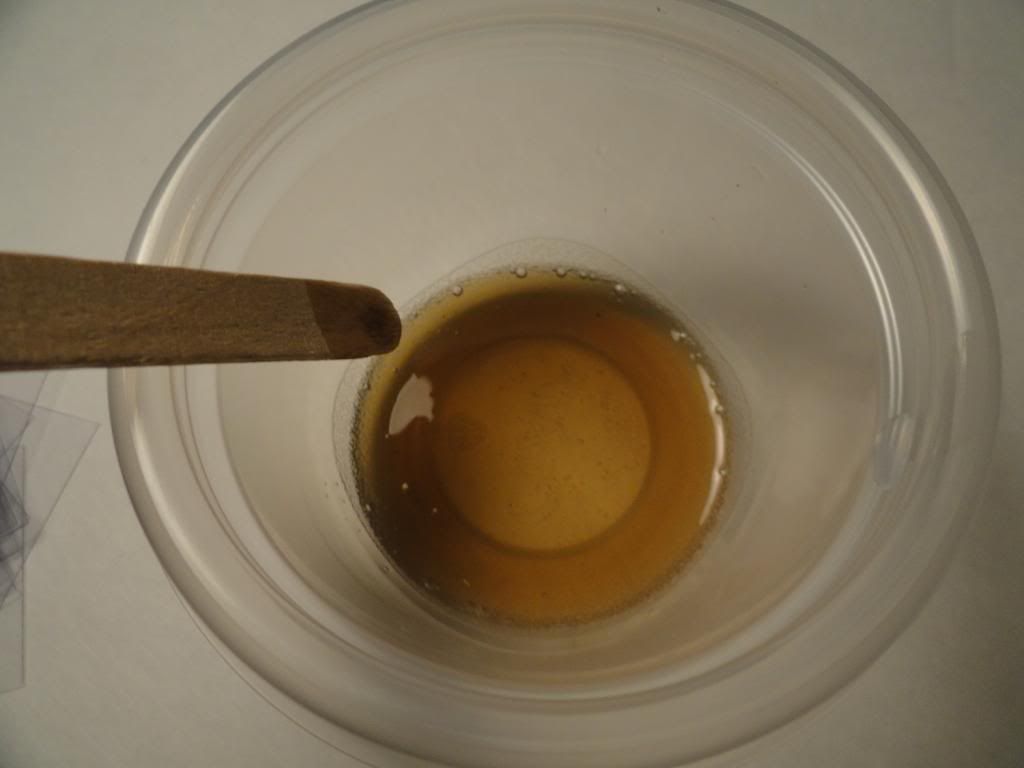 As you can see, getting the color/look that you want is extremely easy. It does NOT take much to color this stuff, so take it easy when you start mixing. It's easy to build up to the look you want, but mixing down (as in, you put way too much paint) is impossible. You can always pour more Real Water in to thin out the paint, but that's just wasting your product and probably making more mixture than you actually need.
So you can see the difference in what different paints do, I've made a few mixtures with a few different paints. Sepia Wash, Foundation White, Transparent Green, Bronze (metallic), and the straight brown is just brown. All of the paints, except the brown (Reaper) are Game Color paints.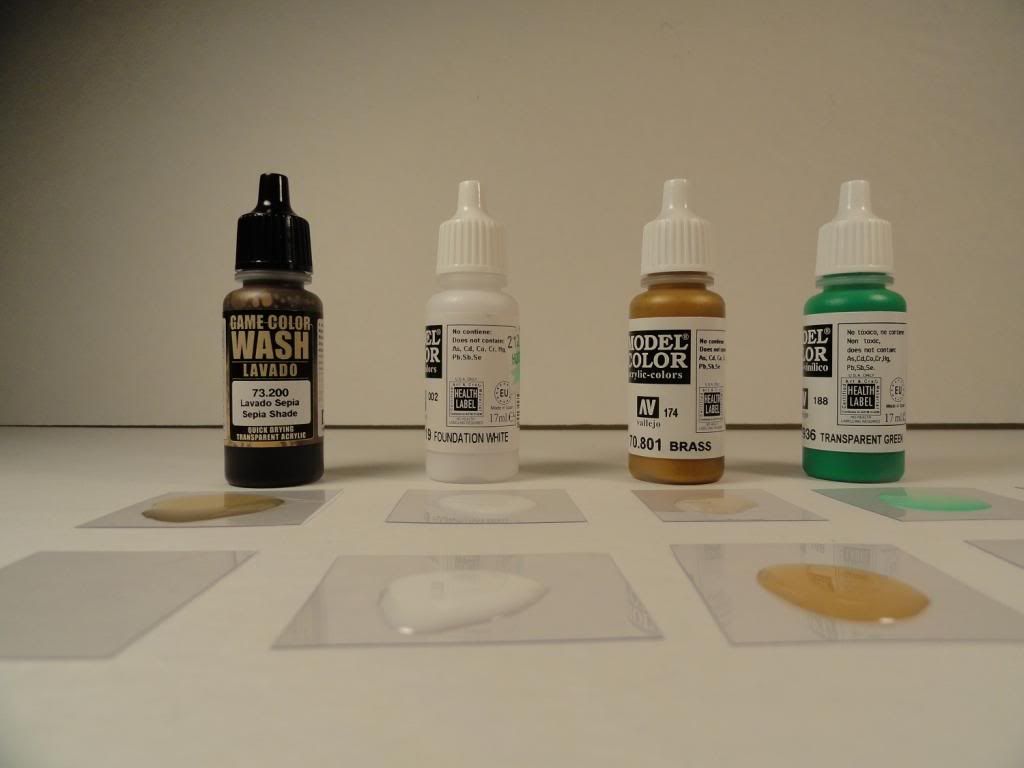 Cure Steps
First thing you should be aware of when you put your mixture down, is that when it's sitting there, anything and everything can, and will, stick to it. It is strongly advised that you cover your project so dust/hair/etc. does not get into it ruining what your trying to do.
The actual cure time depends on how much you put down and how thick you make it, and the tempature of the area your letting it sit in. It is (manufacturer) recommended that you cure at at least 50 degrees farenheit (recommended at 70-75 though). In my apartment, it usually takes about 3 hours for it to fully cure, but I always like to leave a little extra time to it.
Once cured, you are free to leave it as is, or add another layer so you get a deeper look to it (i.e. you want it to look like the model is in standing water, so it goes up to his/her ankles). Once you are done, it's cured, and your happy, your done. You do not have to do anything else to it. DO NOT PUT A SEALANT COAT ON YOUR REAL WATER (matt or gloss)! This will ruin your water affect! This stuff has a glossy look to it already. Here's some comparison pictures so you can see what the one drop to four drop mixtures do. I put a quarter part way under each one to help you get an idea. (Pics will be one drop first, then four drop).
Foundation White: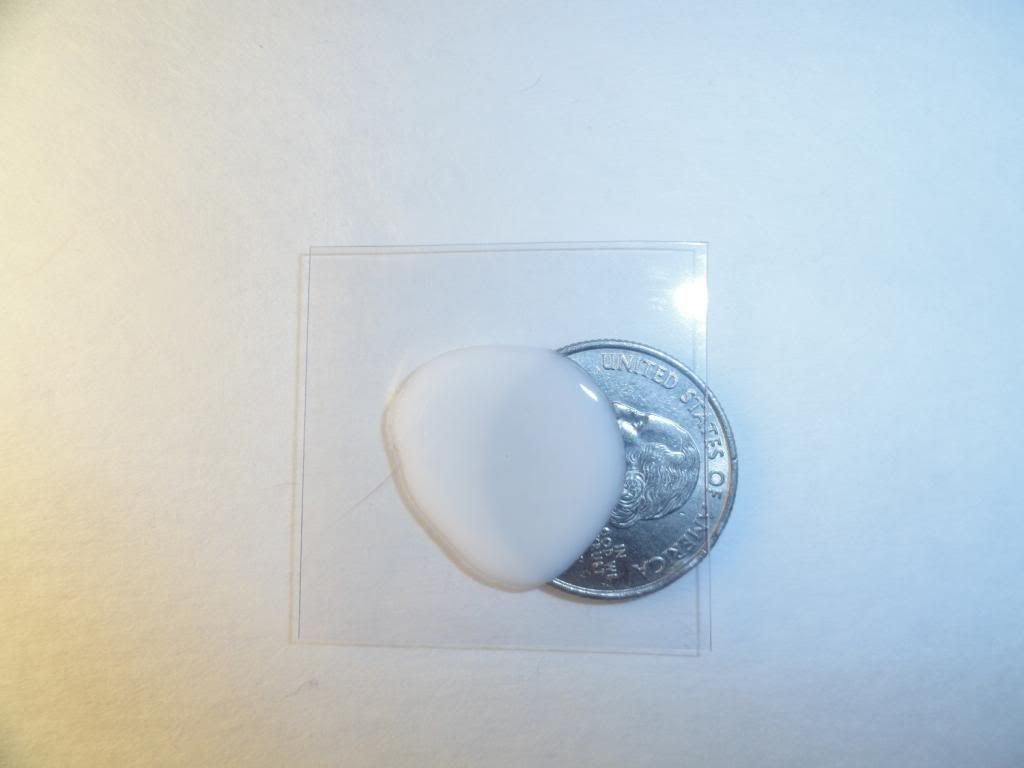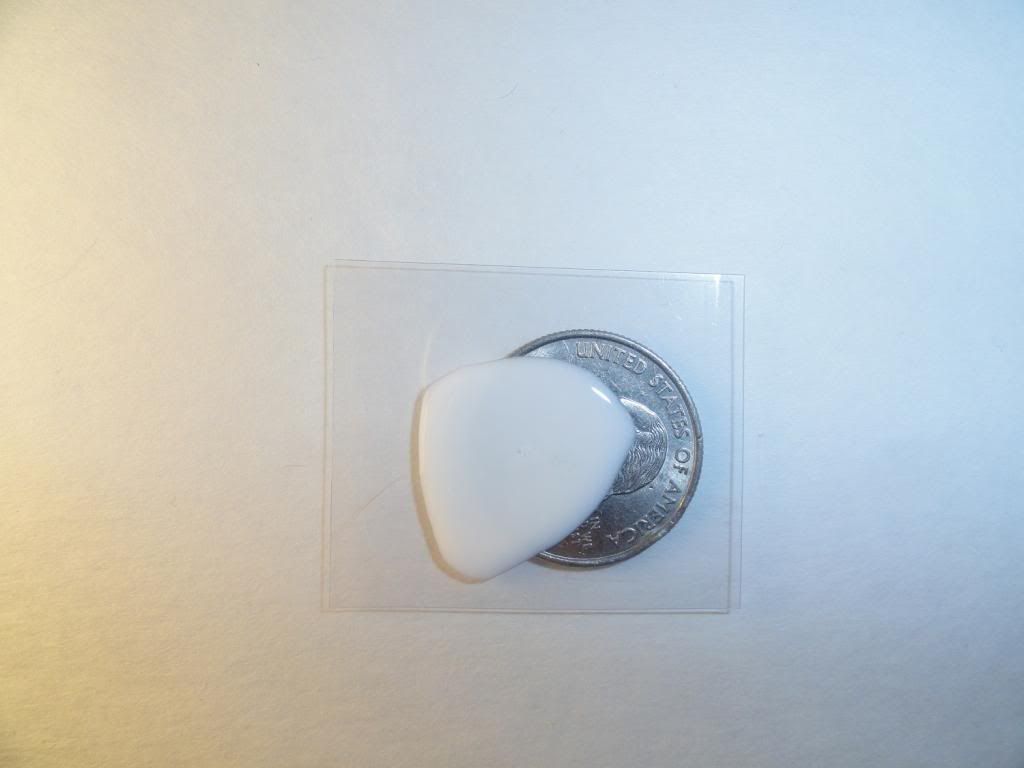 Bronze(Metalic):
(Notice that if you look close at the Bronze, you can see the metallic flakes floating in the mixture for a cool effect).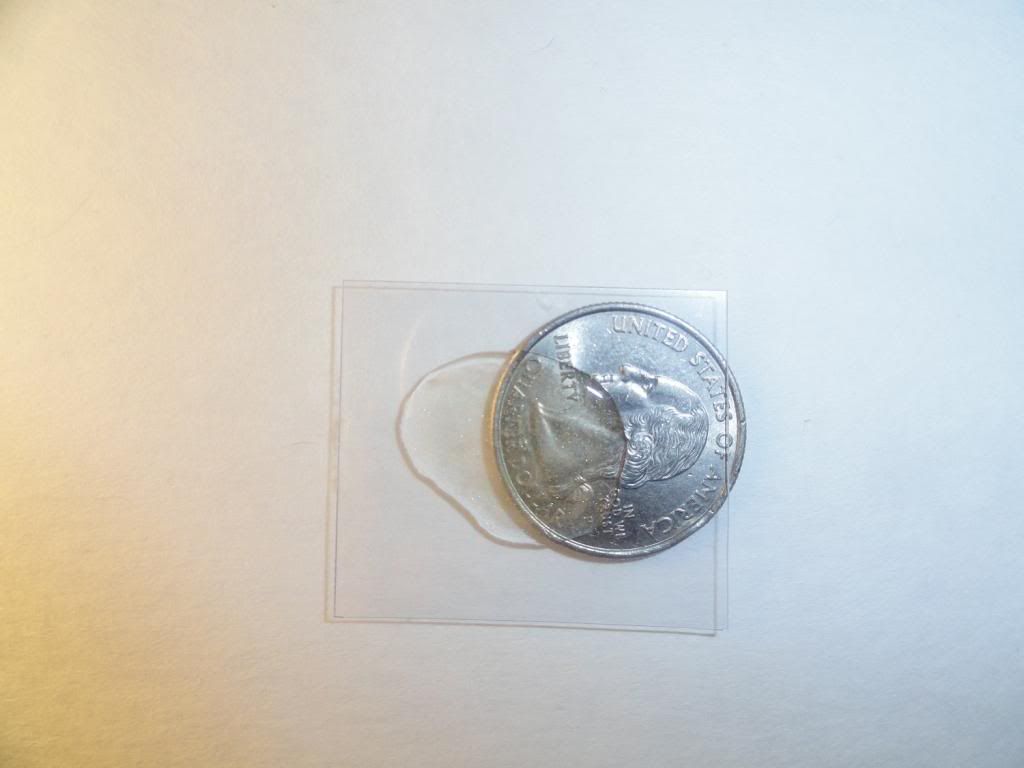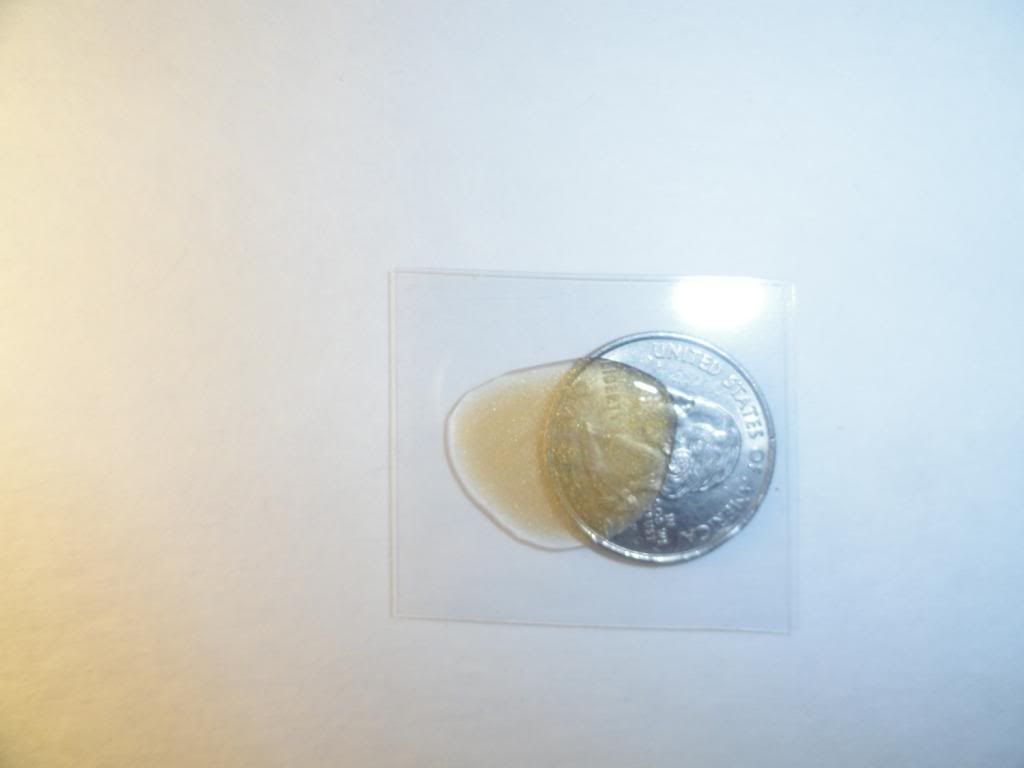 Transparent Green: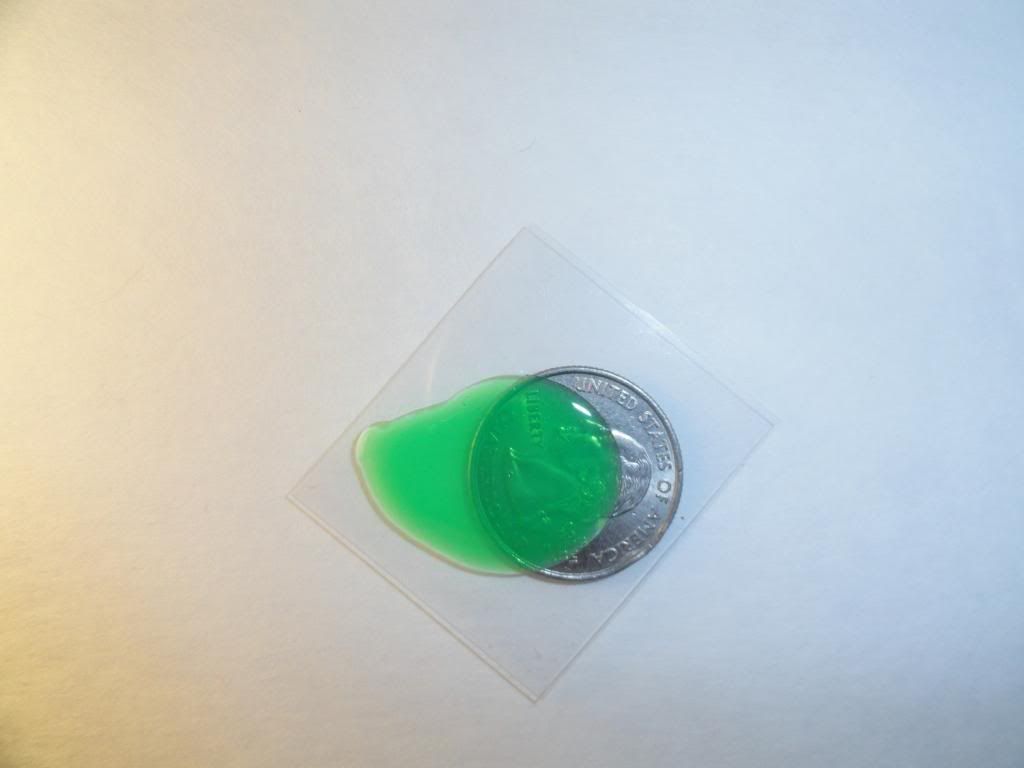 Sepia Wash: