Discussion Starter
·
#1
·
Hey all, for those who have not seen my introduction thread. Im Chris from Wiltshire in England. I used to have a Space Wolves army back in the mid nineties, and loved them so much, that Ive decided to start another one.
Its been over a decade since I daubed paint over power armour so dont expect miracles. Though I hope to see improvement in the coming months.
I purchased the SW codex on release, for a bit of nostalgic reading, and caught the bug. Though its been a while for it to come to fruition.
My darling wife wanted to get me a present, as I was bored at home with busted toes, and she vaguely remembered me with the codex, so I was surprised with a box of wolf guard termies. She didnt want to go ork or eldar, as she wasnt sure what I wanted/needed, so she took the easy option of an army I had nothing for.
Long story short, I was happy and very eager to get on. So threw the guys together, one with TH/SS and four with twin wolf claws. As I have been decimated by assault termies a number of times.
As it was spur of the moment, I have run into a few problems already, though they should all be fixed now for future additions. The first problem being undercoat. I had a part tin of white kicking about the garage, so I used that. Sadly something had gone wrong with it at some point, which made it all blotchy, but some very fine sandpaper resolved the problem mostly. I have seen quitea few colour schemes for the SW recently, and really wanted the light blue style, like my previous SW force. Though not the solid block of SW grey I used previously. I think I only used like 5 colours to paint my guys back then :laugh:
So White was my prefered undercoat. With a base coat of shadow grey, which was dryer than a nuns chuff. As expected, I over thinned it and ended up with more of a glaze than a base coat, but it worked out alright. After the base, I washed with badab black. Then a layer of 1;1 Shadow grey/SW grey, for the much lighter look. Then a Highlight of 3;1 SW grey/ Shadow grey. And a final extreme highlight of SW grey.
Heres some pics of the first guys armour.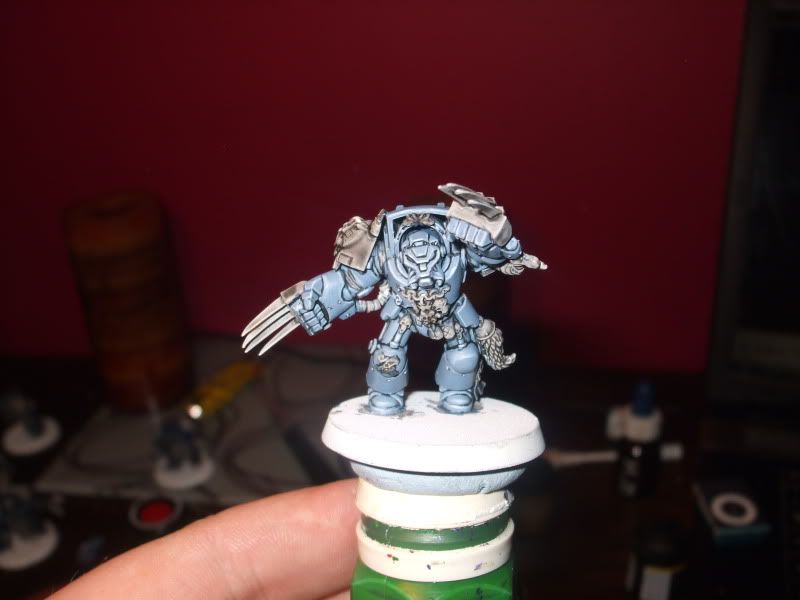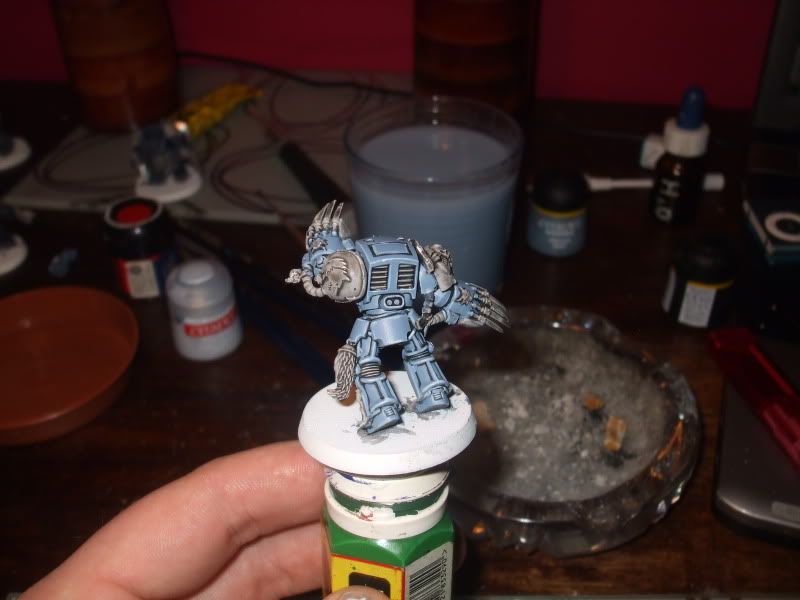 I am no expert when it come to painting, so feel free to give me a few pointers. Although I am happy with the overall colour scheme.
Im used to batch painting orks, which are less taxing to paint when fully assembled. The power armour on these guys is horrid to get in under the arms. But luckily, as I had no plastic glue when assembling, I easily managed to pop the SS off of one guy to allow access. I will probably paint them without arms in future.
Basing them was the least of my worries when assembling, but now having seen some cool water effect ice bases, and other types, Im glad I used superglue to assemble them. As I will be popping them off and doing something pretty with the bases at some point.
So thats it for now, I do plan on getting the battleforce soon along with some razorbacks, and the forgeworld rhino doors etc. I will get some more pictures up as I paint, untill then, please feel free to offer tips and advice. It will be greatly appreciated.
Oh yeah, I am considering wether or not to wash the armour with asurmen blue, or a glaze of a slighter darker mix than the second basecoat to add definition. But Im apprehensive about ruining what I have achieved so far. If anyone has seen a similar technique applied to light blues, can you please link me to it. Cheers :grin: