Well i messed up my first log with the way i uploaded the images and it seems that photobucket have lost almost all of the pictures for the first 15 pages of my second ork log (i had wondered why i wasn't seeming to be getting any new interest) so in true ork, come back and try again later, mentality. Here is my third attempt at an ork poject log.
To all those that have not been following the previous log, welcome, and also please forgive if my train of thought meanders between projects, this is normal operating proceedure for me.
So first up a quick look at how my ork armies( yeah effectively when i'm done this force will be split into several of the different clans, hence the seemingly random paint schemes) are looking.
The whole force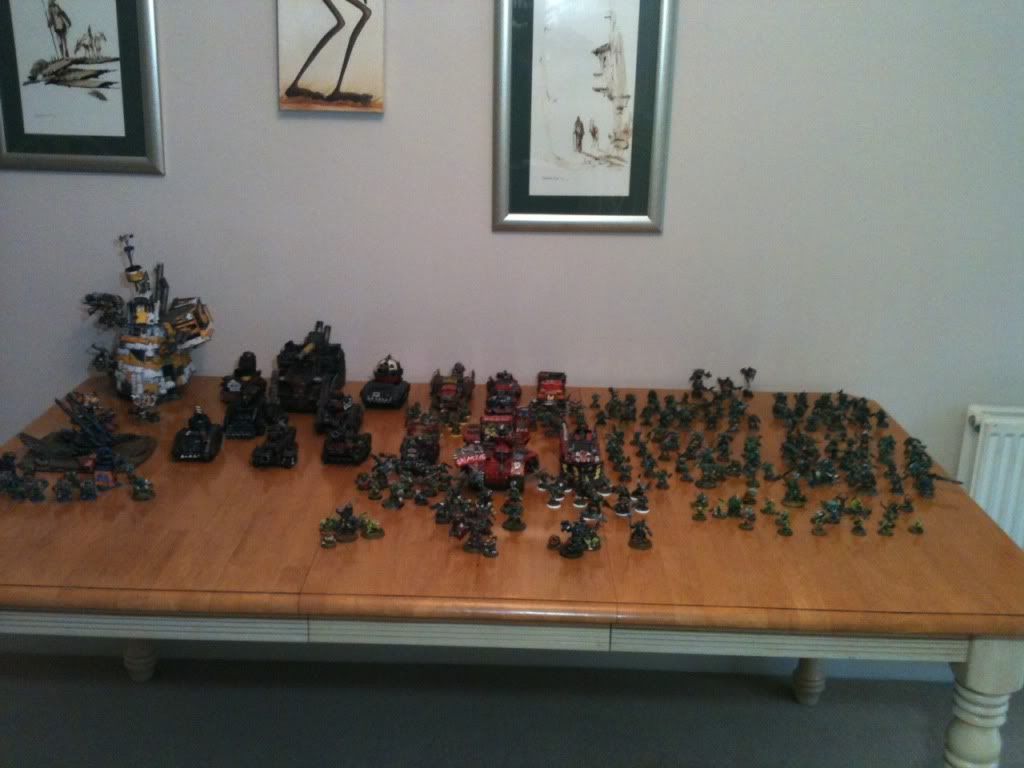 Grimzags Screamin' Deffbringas
Moonstar'z Inc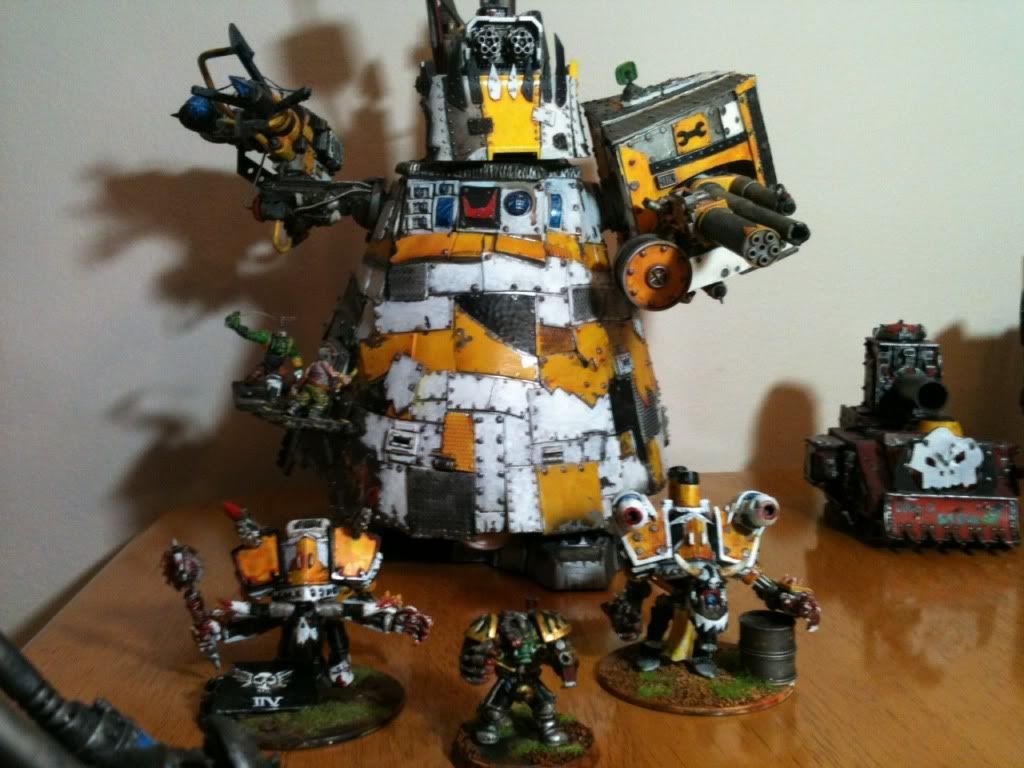 Da Bloo Scorpjun tribe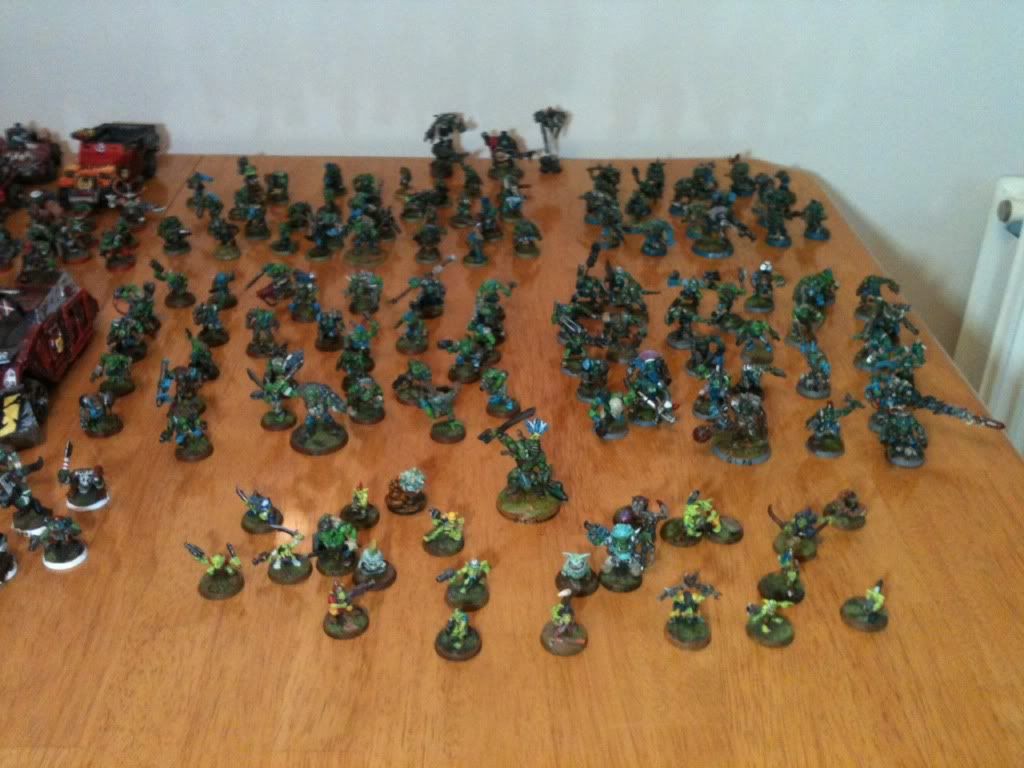 Snacha's Lootas
Furst platune (awe forever alone ork)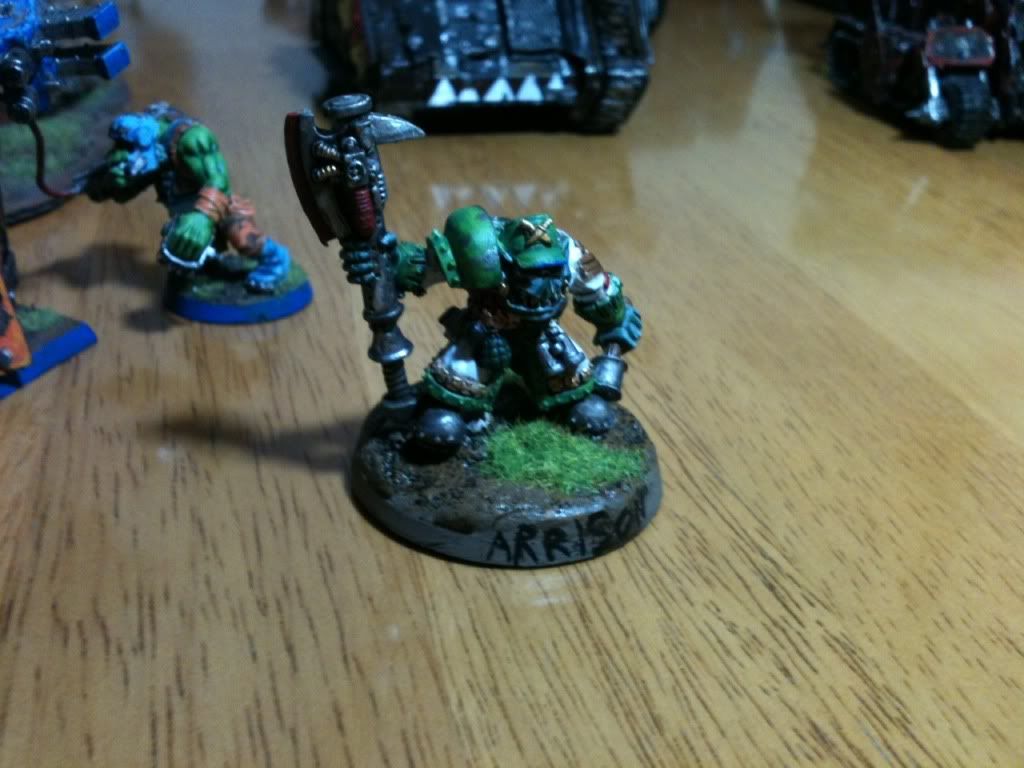 and here is how my army composition is hopfully going to look when the army is done.
Yellow indicates completed units.
Da Screamin deffbringas
Warboss Grimzag GOrwazza

Grimzag's Nobs mob

Big mek whirlygit

Weirdboys Phlash

and Arrrgnnnggg each with a 10 boy madboy bodyguard

Big Mek Fixnsmash

Big Mek Razmek Bladstruck AkA: "Old squigbrain"

Big Mek Spannymek

2 ork units in trucks

Tuffdreg's boys in truck (12)
Badklaw's boys in truck (12)
Grokfog's boys in truck (12)
Blastaz boyz

in truck (12)

2 ork warbuggy units

1 warbuggy unit

"da funda"

3 battle wagons

1 battlewagon "Big red"

1 mekboy junka

3 warkoptas

1 big choppa squadron

1 unit of skaterboyz

11 looted wagons

Looted wagon "Piper"
Looted wagon "Rollin Funda"
Looted wagon "Da Red Skull"
Looted wagon "Da Wizod"
Looted wagon "Dred Baron"
Looted wagon "Stinger"
Looted wagon "L-337"
Kill krusha "Fightin' 69th"

1 looted superheavy tank

2 fightas

1 megabomber

1 looted leviathan

1 unit of flash gits in kustom truck/lootedwagon

Da weirdwagon

1 snotling herd (for shokk attack wave)

To complete = 33 Vehicles and 130 infantry

Warboss Snachaz Lootas

Warboss Snacha

Big Mek Coglax

Big Mek Urk

9 looted wagons

2 loota boy units in looted wagons (

1 partial lootaboy unit

)

1 looted superheavy

2 looted hydra flakk kannonz

1 hydra flakk kannon "Sumfin Borrowed"

3 looted killa kan units (combination of light vehicles, tau battlesuits, sentinels eldar warwalkers)

3 looted deff dredds (at least 1 looted carnifex)

1 looted mega armour unit (in terminator armour)

2 ardboys units (in space marine armour)

1 looted megabomber "Gross Miss Konduct"

1 looted megabomber

3 looted bombers

6 looted fightas

1 mekboy lootin wagon

To complete = 38 Vehicles and 93 infantry

The Blue Scorpion tribe

Big Chief Screamin'eadache

Big Chief Danceslikegerlz

Big Chief Sittinfunni

Shaman Boneeater

Shaman Wyrdseer (big mek with kustom force field, in charge of idols)

Ug's Boys (30boys)
Kroff's boys (30boys)

Faak's boys (30 boys)

Glag's boys (30 boys)

4 unit's of 30 boys

2 grot units (

1 nearly completed grot unit

)

3 digga stompas

1 huge squiggoth

2 squiggoth

1 killa kan unit (animated idols)

To complete = 6 Vehicles, 3 collosal creatures and 184 infantry

Moonstarz inc Big Mek Moonstar


2 Big Meks

1 mekboy stompa "Happy"

2 stompas

4 deff dredds

1 deff dredd "Junka"
1 deff dredd "Krumpa"

6 killa kan squads

To complete = 24 Vehicles and 2 infantry

Furst Platune

Jenral Smiff

Enjinseer 'Arrison

3 ork boys mobs (parade ground drilled)

3 heavy weapon batteries

5 looted wagons

2 trukk mobs

2 kommando units (1 ninjas)

To complete = 7 Vehicles, 9 big guns and 147 infantry
As you can see we have a long way to go. But it should be a pretty good trip.
Currently i'm adding the last 11 boys to Faaaks mob to get them completed and then i'll be turning my attention to the Megabomma "Gross Miss Konduct" So yet more infantry followed by a superheavy, i'm looking forwards to it.
Grim