Discussion Starter
·
#1
·
Hey, considering doing a project log for my guard as they are going to be a fairly piecemeal army to put together, but for now I think I can simply show off my latest two week project!
I put together this vulture as the close air support against green tide orks, and to act as a mobile fire platform. My army is going to be fairly dynamic unless I field the whole lot, but I'm thinking I'd like to deploy typically as a gunline guard with vehicles in fire support roles, and transports empty. The lack of aggressive manoeuvre from the chimeras is intended to direct enemy fire away, with their anti tank firepower focused on my battle tanks and fast attack. To give me the flexibility and manoeuvrability that the infantry and 'dug in' tank support lacks, I've got a squadron of valkyrie transports and this vulture.
So, the theme of my army is 'tribal evolution' and so I have combined some african themes with some islander/maori themes and made the majority of my forces dark skinned. The 'evolution' is that I want this to be a highly technology focussed force, and so the inclusion of lots of vehicles and flyers.
More on the army itself if I get round to doing a project log, but here are some pictures of the gunship at this stage (tabletop ready)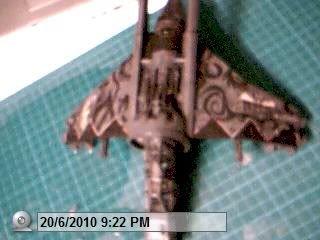 Comments, queries and constructive criticism always welcome, and encouraged.