Discussion Starter
·
#1
·
Warning: I get bored or distracted quite easily, So this is now one big WIP for all my 40k projects and will probably jump around like a cat on a hot tin roof.
Current infatuation = CSM Slaanesh.

back to the original post....

I must be Mad this is my 12th Marine army since the Rogue trader days.
I sold a Large Red Scorpions army a while back (I had had them to my self for about 7 years but GW started mucking about with them.)
and have been missing the Imperiums finest ever since, so here we go again...
This time its going to be 'Aquila Imperialis' or Imperial Eagles and loosly based on Roman stuff.
Heres the first chap..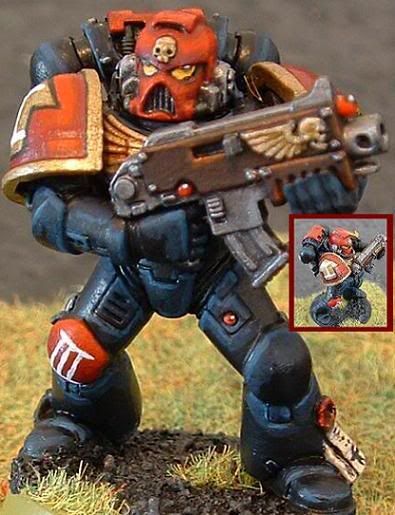 and heres the progress so far on his squad mates...
The sarge (and all future characters) has a crest which is not too clear at the mo.
When I have painted this squad I will be at this Vet Sarge conversion which I am itching to paint.