Discussion Starter
·
#1
·
Every once in a while I get a hair brained idea that I just need to play with a little. This is one of those times.
Now other than random charge ranges (which I honestly don't mind much) and Overwatch (which I also don't mind that much as a concept of, but we're not going into that here) there have been some I've seen brought up before that'd I think could be expanded and changed.
The first is the Weapon Skill chart. Frankly it's a bit sad and really limited and doesn't do much to really support the lore behind some of these really great melee fighter characters. So I tweaked it: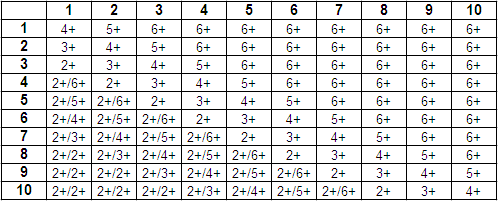 So yes, it goes from hitting on 2+ to hitting on 6+ Now as you can see, a number of these entries have two numbers. The second number is a re-roll value. Essentially the differences in skill are high enough between the combatants that the more skilled combatant can essentially "recover" their attack when it fails against their target and turn even a miss into a deadly strike. You'll note that it doesn't get any worse than a 6+ however though as there are limits to how punishing you can be to the lower WS models (no one wants to be hitting on a 6+ and then rolling the hits to see if they go through on a 6+ after all) so it does decrease how many attacks models will push through when attacking higher WS models, it doesn't outright put them into a position where they can't hit.
The second change I have is two fold, the first has to do with Sweeping Advances. Now the leadership check works the same, as does the initiative test, but the difference is what happens if the fleeing unit is caught: instead of being destroyed (because who hasn't seen a unit of twenty models turn into a puff of smoke) the pursuing unit(s) get to make a bonus attack with every model getting 1 attack using the same weapons, statlines, ect. They still need to roll to hit and wound and the fleeing unit still gets any saves they'd normally get. But this is where the second part comes in: if this attack destroys the fleeing unit then the pursuing unit counts has having
Overrun
the fleeing unit. Otherwise the fleeing unit escapes and falls back as normal.
When a unit Overruns another unit (either by completely destroying a unit completely in the assault phase, or by finishing off a fleeing unit completely) the controlling player can choose to try to have them then consolidate into an enemy unit as if they were charging. All charge reactions occur as normal, as do all Overwatch restrictions, and the unit still has to roll to try and make the charge. If successful then continue the Assault phase as normal as if it was a new combat. A unit can only Overrun once per assault phase though.
Additionally units who were charged and wipe out an enemy unit may Overrun even though it is not their controlling player's turn. This means that if a Squad of Space Marines is charged by Genestealers, and wins combat and successfully Overruns the Genestealers they can then make a charge move against a nearby unit of Termagaunts if their controlling player wishes.
Lastly, Overrun is not triggered by destroying a unit through Overwatch.
So thoughts, input, angry letters about how this should never be implemented in a game ever?