"Ulthwé, thought lost without Eldrad Ulthran." said The Black Prince.
"Ulthwé, will have no guidance without Eldrad claim other Craftworld Seer Counsels!" cried The Black Prince.
"Ulthwé, I tell you now will ever keep it's vigil of the skein; preventing the Great Enemy and any enemy of our Craftworld for that fact from ever destroying what Eldrad helped build on the back of every Black Guardian and Aspect Warrior!" Declared the Black Prince Elon over the cheers greeting his proclamation to the Ulthwé Seer Counsel.
Hi all!
And welcome to my very first attempt at a PLog!
I'm pretty excited about this mainly because I've just recently returned to the hobby and this Eldar army is my first serious attempt at painting in 10 years!
I choose the Ulthwé paint scheme after a failed attempt at Saim Hann, but to be honest I don't think I'd have been very happy with the Saim Hann color scheme ,not that it's bad. But that it's too bright for my tastes.
I also like the fluff of Eldrad Ulthran gone missing while attacking a Blackstone Fortress!
So with further ado I give you the starting pictures of my PLog....
HQ
The Black Prince Elon (counts as Prince Yriel for obvious reasons.)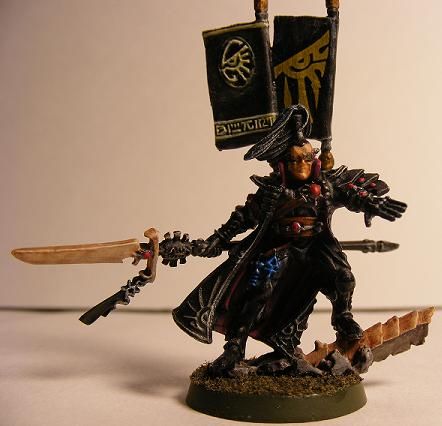 Hope you enjoy... more to come!
I am, Rameses!