A new army, a new plog!
Last time I was back home I found myself practically living in the flgs down the road from my parents house and while there I got in a few games of 40k with my nids. Now, I've always been more of a fantasy player but the fact I can easily find pick up games makes 40k more appealing to me, especially when I only really get chance to play when I'm in the UK. I love my cute little bugs but I think it's time for a change and I happened to be flicking though the new CSM codex and I decided I'd turn the the slightly lighter dark side and start an army!
The first choice was what kind of army? I play my nids in a variety of ways but usually with lots of bodies so with this army I'm going for a medium sort of body count with a couple of 10 man CSM squads with rhinos, a cultist squad of between 10 and 20, a large-ish bike squad, some predators, maybe a vindicator a helldrake or 7 and a havok squad. I may also throw in a winged demon prince for shits and giggles.
The next choice was a colour scheme! My focus will be slaanesh but I'm not a fan of the noise marine models or post heresy Emperor's Children in general but after reading up on fluff and deciding I liked the blue and green and hydras in general I went with Alpha Legion. Funny thing is I'd just finished Descent of Angels as I made that choice and Legion happened to be the next book in the series so I ended up reading up about them more. I like the fact they use advanced tactics even when it's totally unnecessary which is kind of how I play with my nids, lots of units that can threaten but my opponent always has to guess where the killing blow will come from.
Anyway, it wouldn't be plog without pictures so here's the start of the army! So far I have a 10 man CSM squad, one bike and 20 IG which will be used as cultists (well, operatives) for now until I get a full army together at which point they'll be used as traitor guard allies with a couple of Leman Russes and Vendettas
And here's my colour scheme on a test IG model. I didn't start with the CSM's purely because they'll be my army for the army painting challenge so wanted to paint a whole squad up at once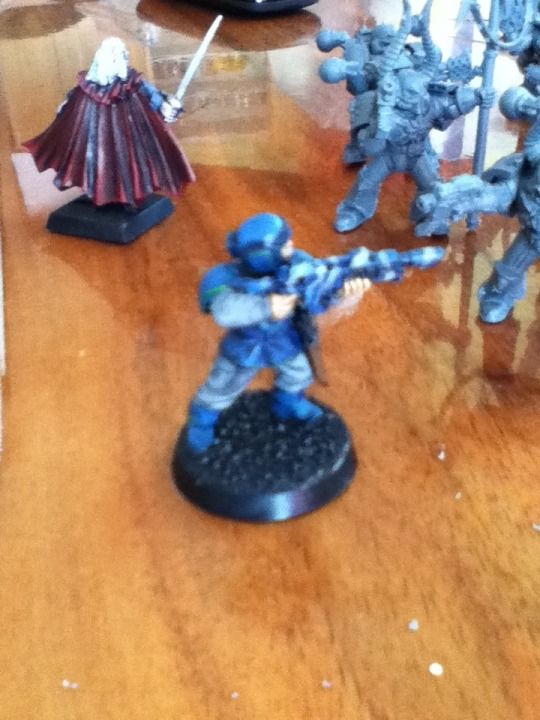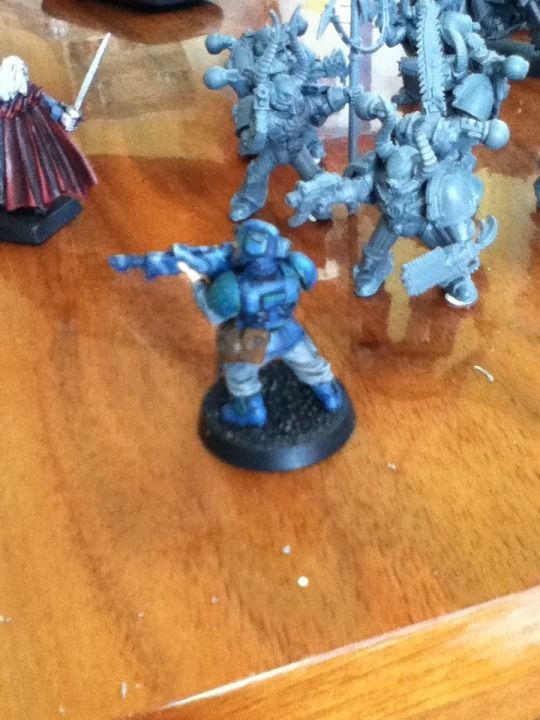 The currently red IG are from the army I was going to start a while back but lost interest after I decided 2 horde armies would be a bad idea (4 if you count all my fantasy stuff too). They'll get resprayed and painted over as the paint that's already on them is thin enough to not be a problem.
Anyway, comments welcome - especially on the colour scheme
EDIT: iPod pics suck but it's the best I can do at the moment as my other half decided to leave the camera in Warsaw a couple of weeks back >.< The left shoulder pad does actually have a scaled pattern and generally the whole model has green edge highlighting!