Discussion Starter
•
#1
•
Hello guys!
(Warning! There will be rambling, so skip intro if you want, it won't hurt my feelings!)
Some information about me (I am so awesome I deserve the attention!):
I am that guy who has the "slow painter who never paints" tag on him. I deserve it, of course, cause it is true. It is also kinda sad, as painting is one of those things I really wish I did more of, rather than my usual "new army comes out, buy that army!", which I guess some of you are familiar with. :grin:
Anyway, I have had 3 project logs so far, all of them faiding away as I never really get any progress done. So, instead of making another blog for my newest army, which I surely won't finish (But hey, I am gonna give it a try!), I am starting this blog, for those rare occassions when I actually get some painting done!
My first 40k army was Blood angels. Started them since I thought their omnibus was awesome, and it drew me into the game. "Sadly", I went over to the eldar instead, as I never managed to play with the pdf codex.
Not surprisingly, I was excited when they got a new codex. Not only did they get some really nice looking models, but an all jump pack army was now (kinda) viable! Not that long after the codex came out, I bought a bunch of Assault marines / Death company / sanguinary guard. Who are, of course, gathering some nice looking dust.
I have a dream!
To paint this army up to "best painted" standard (which has been my failed goal with all my armies). And, I want to give it another try. This is why I am starting this blog.
But there is 1 important thing. They are blood angels no more. As I feel there are so many blood angel armys out there, I want to represent something different. That being a successor chapter of course. One of them really caught my eye when I read "Black rage", the third book in the blood angels series. And that was none other, than the Angels Sanguine.
So, onto my first "test model" (not finished, and yes, I have shown him before):
He turned out "quite well". I am not happy with him, but it is an unfinished test piece so what can I expect? It gave me much experience on how to deal with the colour scheme at the least.
But the important part is that I have started to paint another model! Here is a (bad) picture of what he is looking like right now on my desk, and I promise that I will give you an update later today, so you may judge for yourself how you think the progress is going (yes shitty picture I know).
(Yes, I love all C&C I can get, so if you have any opinion, please share it!)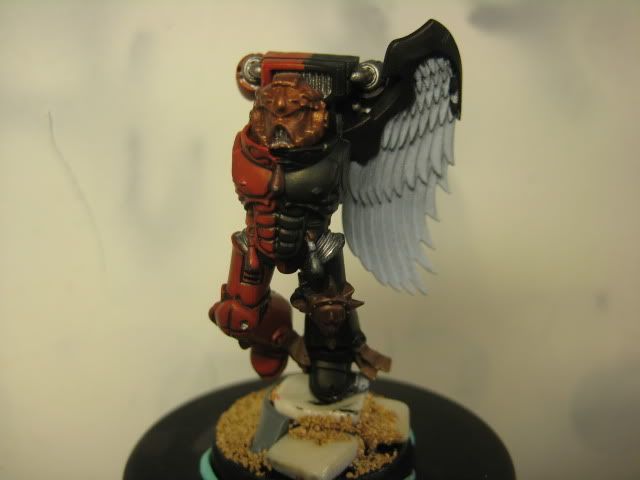 I am doing this in the hope that it will push me to actually finish him
Hope you will like him. Cya laters!