Hi everyone!
As the summer vacations are nearing their inevitable end, I decided to open a Project Log to get me motivated in painting my Chaos Space Marines force.
I started collecting this army in 2005, and grew every year, making it now a big 7000-ish points force. It includes a wide array of HQs, Elites, Troops and Heavy Support choices, all with lots of tiny conversions to make every miniature unique. With the release of 6th Edition and the fact that I finally found a way to play games on a weekly basis, I hope that this army will see the light more often than in the past, and thus I have to paint it!
Over the next 4 weeks I will try to post daily updates of my progress, from conversion work to painting, as well as terrain building and other stuff.
Before I get to the pictures, I should note that I have had some trouble taking pictures for 2 reasons:
-It's cloudy today, so I don't have a lot of light. I'll post better pictures when the sky is clear.
-My hands tend to shake a little bit, so the pics are a bit blurry. I'll fix that by scratch-building a stand for my camera.
So let's get started:
-One of my melta squads. Each squad in the army (I have 5.5 now, and want to have 8 in the end) has a different colour painted on it's Icon, it's right shoulderpad and everywhere else it looks good. This is Yellow Team, and the other melta squads are Red, Orange and White Teams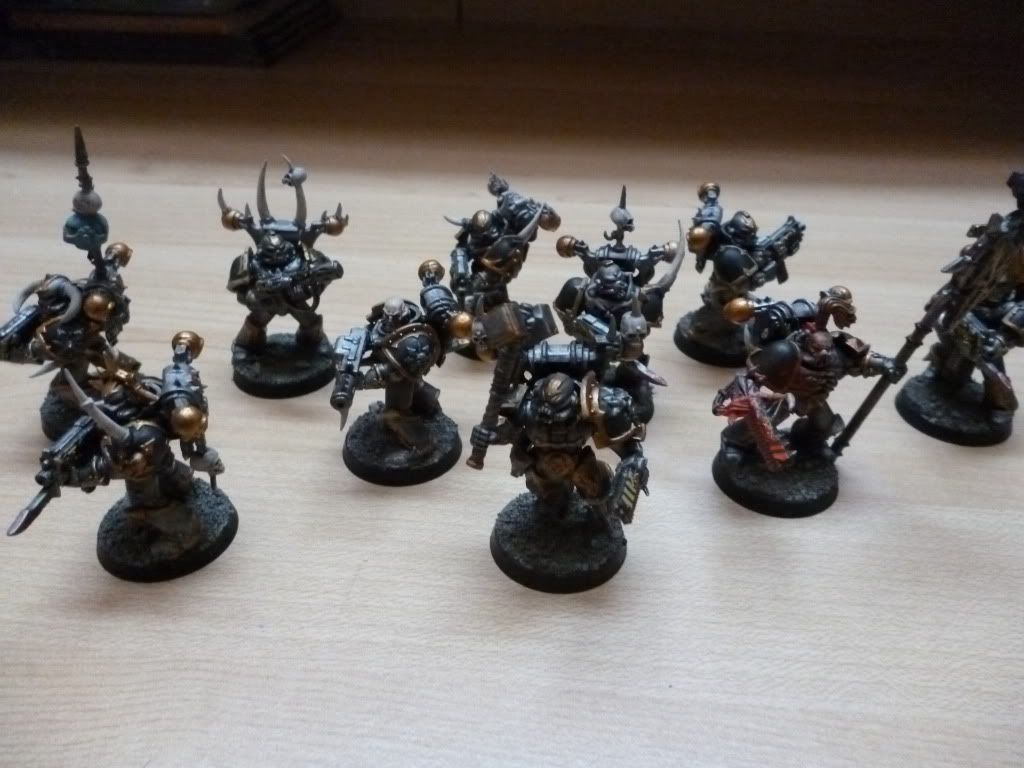 A few close-ups of the squad members. The yellow was done with a Iyanden Darksun base, a Bleached Bone drybrush and a Devlan Mud wash.
-One of my plasma squads: Blue Team (the other ones are Green, Purple and Black Teams). For this squad I wanted a high-tech feel, that I achieved with lots of loyalist bitz, Iron Hands boltguns and every single scope or lens I could find.
Close ups of the Champion, a Plasma gunner and the Auspex bearer: the light reflection was done using an Ice Blue drybrush, followed by a mix of Ice Blue and Skull White. The same technique was used on the power sword.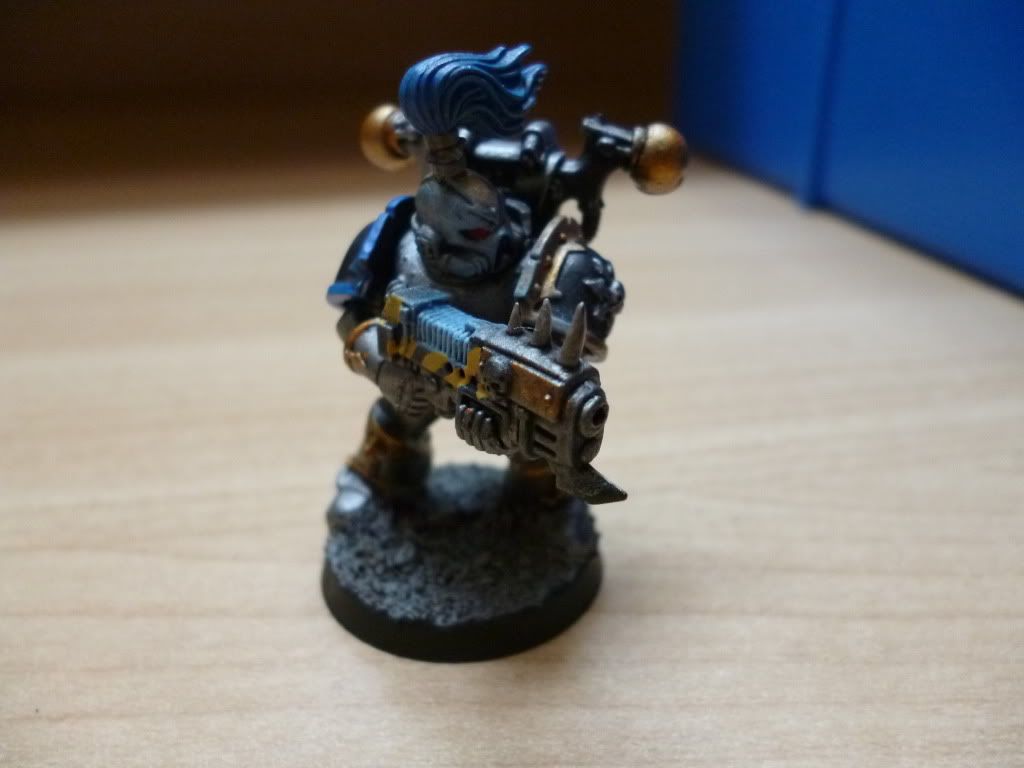 -My unit of Plague Marines, converted using Vampire Counts's Ghouls. The armour took and extra Devlan Mud wash on top of the usual Badab Black. Armed with 2 flamers and a Powerfist, this squad is perfect for taking and holding objectives, no matter what you throw at them.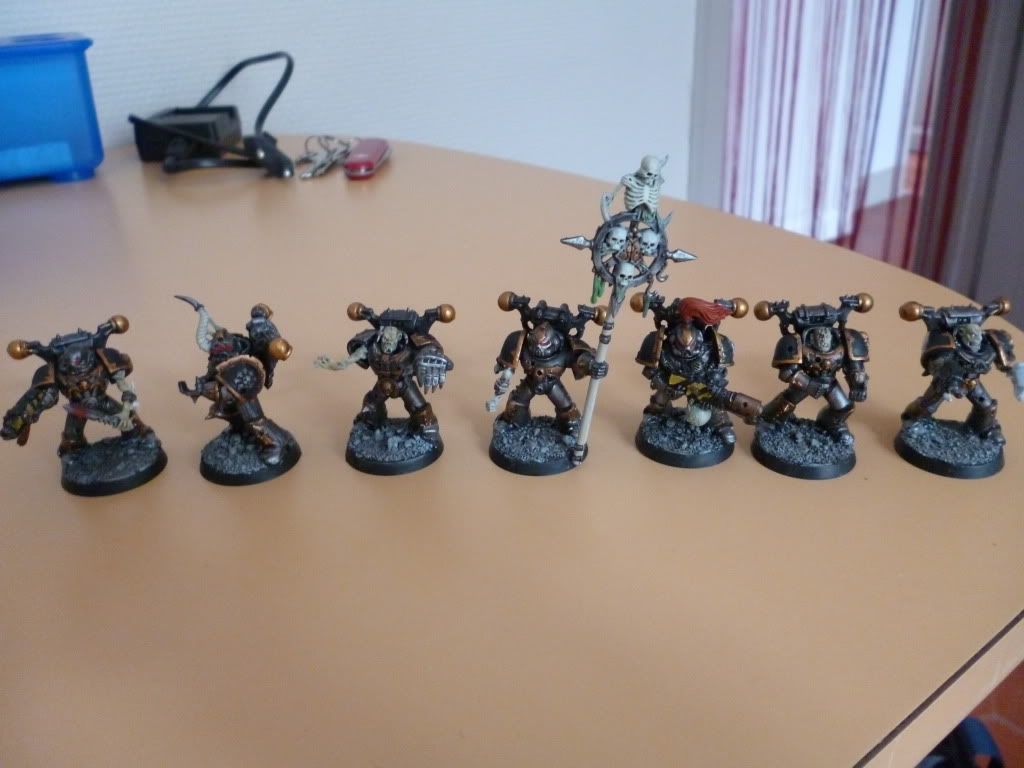 The Marine on the right will get a flamer next week. I did not glue the weapons on him and one of his pals so I could have an easy access to the chest plate.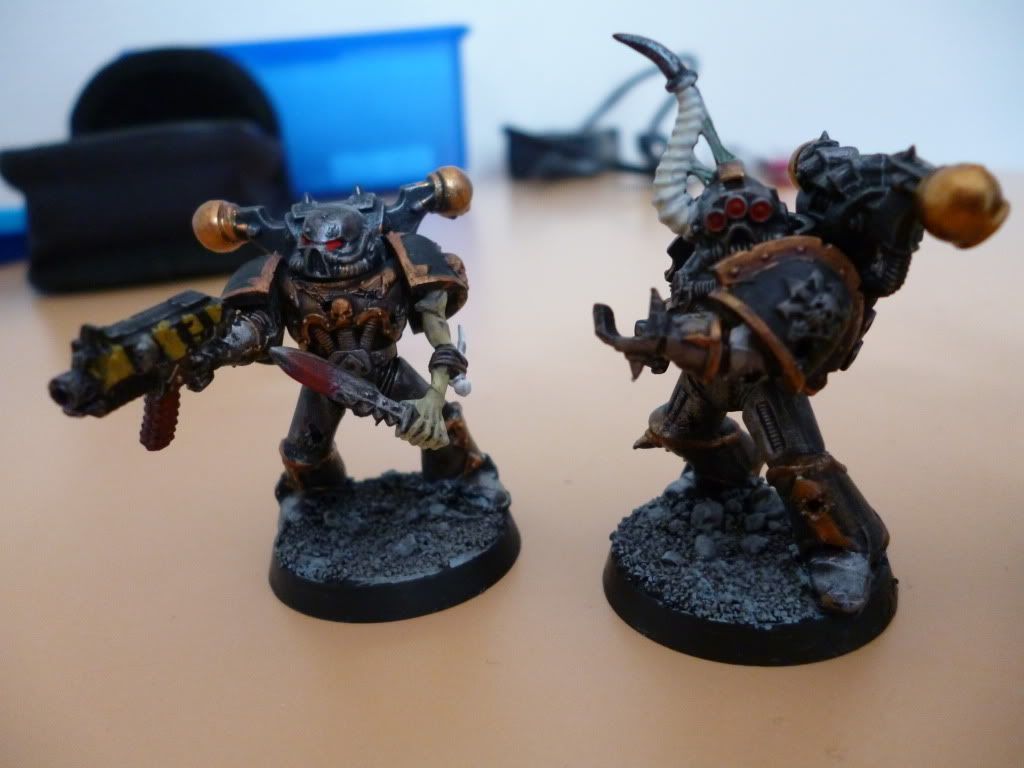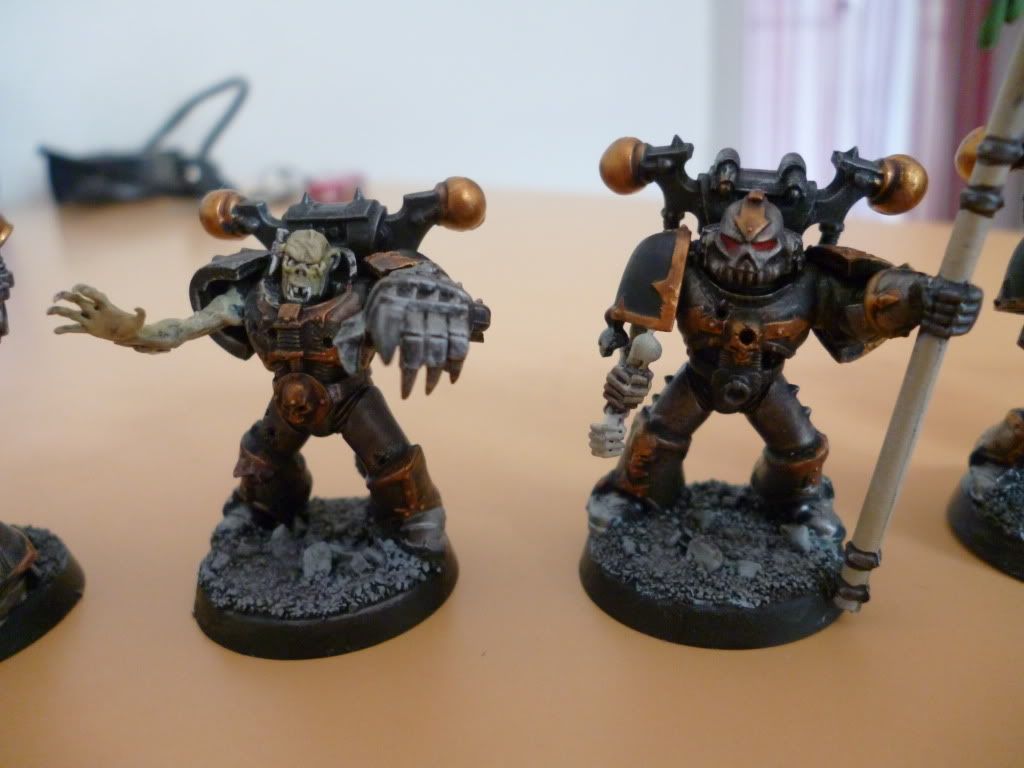 -A squad of Possessed made using the Iron Hands upgrade pack and Max mini's conversions bits. This is only half of the squad, the rest is not painted yet. I took photos of individual models in the unit, but they were too blurry :/
And here are the projects I will be working on this week:
-My beloved Daemon Prince, now complete with HUGE wings that I fear will break everytime I touch them: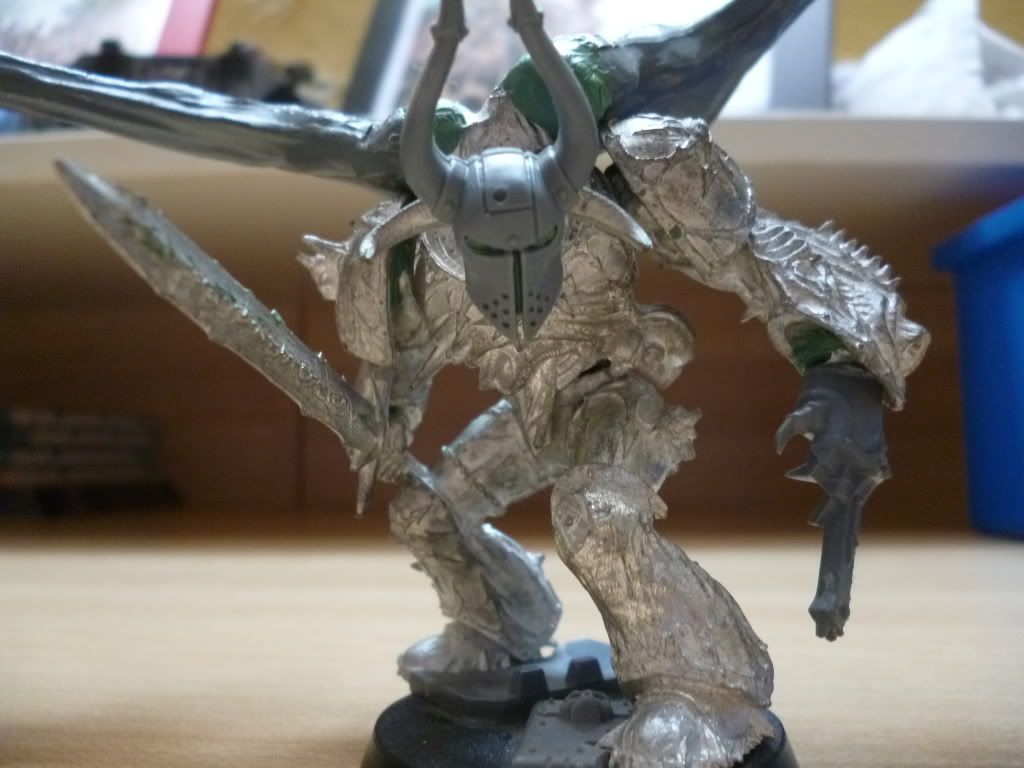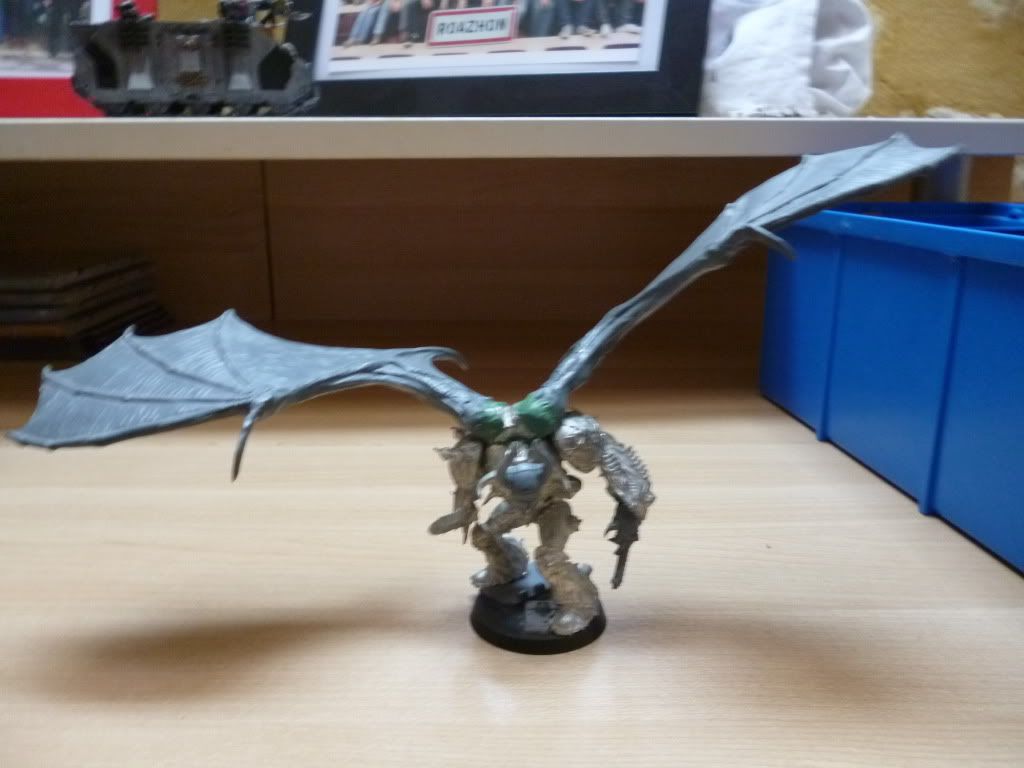 -A Chaos Rhino that is nearly completed, but still needs some chevrons and decals, and some Etched Brass from Forge World that I will only have in a couple weeks.
-A set of Imperial ruins, converted to the glory of the Dark Gods.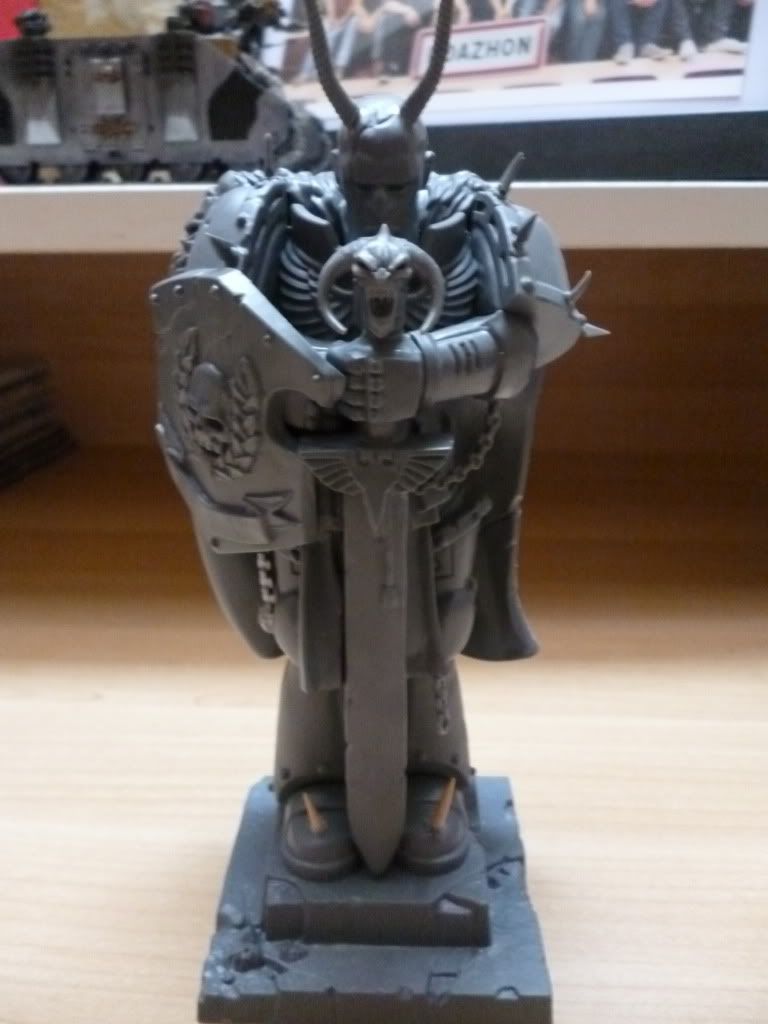 I'm looking forward to hearing from you! Please tell me what you liked, what I have to improve, and if you have any good ideas for conversions.
Dies Irae out.