"If the Adeptus Astartes are the Emperor's wrath, and the Imperial Guard His hammer, then His Holy Navy is His mighty shield."
-Cardinal Kregory Hestor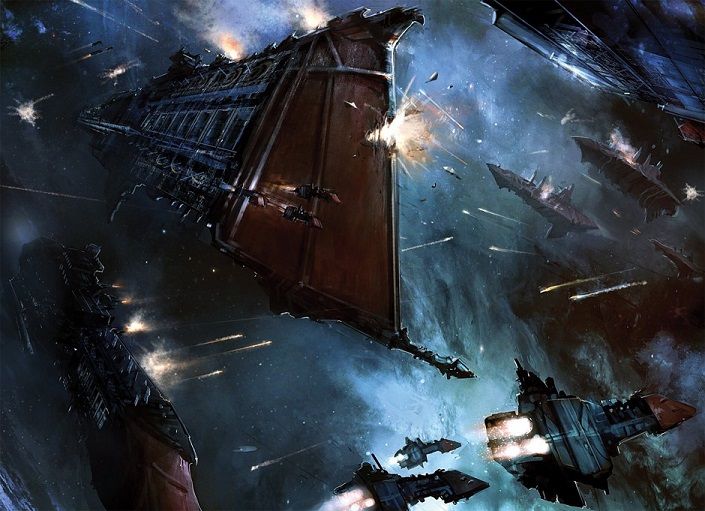 You are invited to take the role of a capital-ship captain within the Imperial Navy's Battlefleet Caligo. Should you accept this invitation you will be a key agent of the Sector's defenses; you will be responsible for the safety of the thousands of souls onboard your assigned ship, and you will be expected to faithfully follow the orders of your esteemed commander — Lord Admiral Marlin Rockledge. The Battlefleet needs leaders. It needs officers with glowing charisma, iron willpower, unique strategy, and unflinching courage. The Holy Fleet needs you.
The Caligo Sector
Hardly a millennium had passed from the historic Great Crusade before the Caligo Sector, a southern space territory within the Segmentum Pacificus, was lost to the Imperium. At the time of its rebellion Caligo's worlds were mostly developing colonies, and so while its planets were rich with resources the loss of the young sector was viewed as a minor setback. It took eight hundred years before the Imperium returned its focus to Caligo, but when the eyes of those who rule mankind finally settled back on the splintered region its star systems quickly fell back into place. One by one the rebel worlds swiftly submitted to the overwhelming force of the Imperial Guard and the Holy Fleet, and the Caligo Sector was brought under the rule of the Emperor for the last time.
Several of Caligo's civilizations bloomed over the course of millennia and the value of the sector to the Imperium swelled in parallel. Hive worlds like Mesopico, Equatus, Tarrot Portam, and Galla Stella provide more than enough Imperial recruits; other planets such as Feugure and Mundune are highly productive Mining worlds; and the moon Divique is one of the most beautifully adorned Shrine worlds within the entire Segmentum. As strong as the sector's growth and influence has become, its people have unfortunately suffered in recent years.
Battlefleet Caligo's previous commander — Lord Admiral Leon Conger — was one of the youngest members of the Imperial Navy to ever be assigned his own battlefleet. But it wasn't his lack of experience that would fail his Sector, it was his lack of virtue. Conger would eventually be charged with nearly every crime against the Emperor that one in his position could commit. The following charges are all suported by substantial evidence against the former Lord Admiral: Soliciting and Accepting Bribes, Extortion of Planetary Governors, Unauthorized Arrests of Imperial Officers, Failure to Report Naval Engagements, Firing upon an Adeptus Mechanicus vessel, and Conspiring with the Enemy. The last charge was the final offense that demanded that Conger be relieved of his duty and to then stand trial for his numerous wrongdoings. The Caligo sector had paid a heavy price inside Conger's corrupted chokehold, and there were many within his own battlefleet that were happy to see him dethroned. But Leon Conger balked at the handed down justice from his distant superiors and instead of complying with their orders he promptly hatched another Imperial insult. The Lord Admiral gathered a dozen of his still loyal (and also corrupt) Captains and had them swear oaths of service directly to him. After Conger secured their commitments he and his new navy stole their prestigious ships from their former Battlefleet and disappeared from certain punishment into the void of frontier space. Battlefleet Caligo had been reduced to a skeleton.
Rockledge

The Battlefleet had to be mended, and so an Admiral from a nearby sector was given a promotional tap; an Admiral who was fortunately for the Caligo sector, the character opposite of Leon Conger. The change of direction that Marlin Rockledge brought with him was felt immediately throughout the entire fleet and beyond it. The Lord Admiral went about the humble work of repairing the broken relationships between his Battlefleet and the sector's numerous Planetary Governors. He ensured his naval vessels actually provided protection to Imperial ships without requiring bribes. And when the opportunity presented itself, Rockledge promoted his naval officers based on competency and leadership merit rather than their ability to turn a blind eye to a superior's indiscretions. But most of all his command differed in how the interstellar pirates that plagued certain sub-sectors were dealt with: They were doggedly hunted down and punished, rather than conspired with. Four and a half Terran decades are an incredibly brief time through an intergalactic lens, nevertheless the Caligo Sector was healing in Conger's absence. Unfortunately the relative peace that the Sector was enjoying was proven to be the calm before the storm.
The Return of Lord Conger

The former scourge of the Sector had made an ally during his exile — the pirate Captain Jaguar Kubiak. Conger, now simply taking the title of "Lord", partnered with the infamous pirate fleet to form a truly terrifying naval threat. Together they returned: Lord Conger in his stolen Apocalypse-class Battleship the Oblivion Bell, and Captain Kubiak in his Hades-class flagship The Jaguar. Within their enemy fleet was nearly fifty capital ships, and they simultaneously ambushed naval Battlegroups throughout three key Caligo Sub-sectors. Sub-sector Anima fell to the personal attack of Lord Conger and his traitor fleet; Sub-sector Furis-Fork fell to the savage Captain Kubiak and his pirates; and the Sub-sector Spectrosi is still in contest between a brave (but weakened) Imperial Battlegroup versus a joint assault of pirates and traitor ships. Lord Admiral Rockledge, along with every Imperial citizen, was stunned by the news of the murderous invasion. Leon Conger, Rockledge's indefensibly evil predecessor, had just spat on the throne of the God Emperor. The Imperium was under attack, and it was time for the Holy Fleet to settle the score.
***
​
"A vindictive monster has just murdered more than a million souls under my command, and I have no doubt, none whatsoever, that he hungers for more. I wish I could take a moment to grieve. A moment to reflect and honor those magnificent vessels: Aquila's Light, Hero Proximo, Ancestral Lake, Cenury Keeper, Flawless Faith and more. Those storied ships, along with their brave crew, have been pulverized into void refuse. I will have to mourn them tomorrow, because today I only hate. My mind is busy formulating a punishment so savage I fear it may change me forever. Conger, my former brother-in-arms, I can see you out there. I imagine you lurking in the infinite black, perched smugly in your stolen ship, and relishing your slaughter. But know this "Lord Admiral", I will unleash His judgment on you like I have never before. You will regret this war. You will regret slithering back out into the light. I swear it."

-Lord Admiral Rockledge, Battlefleet Caligo
​
Notable Sub-sectors & NPCs
More to come. Ask any questions you might have here.