The Emperor Protects – A Survival Horror RP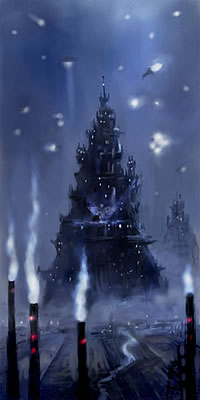 "Rejoice servants of him on Terra. Today we celebrate our glorious Emperor's ascension. Praise be to him who sits on the throne, and long may his Imperium stand firm against the darkness of the heretic, the witch, the mutant and the xenos. Rejoice, for the Emperor protects! "
– Last transmission to the lower hive of Thessalonica, 4 hours before the 'event'
Thessalonica is a productive Hive City, a gem in the crown that was Vanaheim, previously known as a bustling hub of industry and a place where men and women lived and died to feed the ceaseless demands of the Imperium which it belonged to. Whole generations survived in the underhive as little more than chattle to be fed into the machines that drove the production line of the Hive World. Some were sent off world but their fate was little better, doomed to die in battle far from home and likely forgotten. Truly a bleak existence, but no more so than the lives of those on a hundred other worlds.



However, the trials of the inhabitants were not to end with the wills of their overlords. Four hours into the Day of the Emperor's Ascension, just as artificial dawn started to colour the ceiling above, power throughout the underhive died. It was not a technical glitch, or a momentary lapse in power. Nor was it a return to the artificial darkness of night where at least the hum of generators and the buzz of streetlights remained. All systems everywhere, simultaneously died. For several long minutes silence and mutters of confusion were all that could be heard.



Then the screaming started. Agonized moans of the dead and dying. Flashes of gun muzzles and las-beams briefly broke through the darkness to reveal midnight black shapes moving with murderous speed and intent. After an hour or so, a grim twilight returned to the lower hive, revealing a grizzly scene. Flayed bodies and blood sprays coated the walls. The steady tick of industry returned to the Manufactorum, but no hands came to man it. No more announcements came. The lighting never got brighter than the faint haze of artificial sunset, often plunging the city back into the darkness when the creatures had first struck.



This cataclysmic event is in the past, but how far in the past is uncertain. There is nothing to mark the definitive passage of time, and the streets once bustling with noise and life have become deceptively quite. Some have tried to return to a semblance of normality, attempting to live their lives as if the decaying bodies and aging blood did not exist. Some have used this break of order to serve their own depraved desires. Some simply wait and fortify themselves, their minds wracked with paranoia that the creatures will come again for them. Now, more than ever, the inhabitants of this vast hive are locked in a grim battle for survival, against the creatures lurking in the dark, against their fellow man and, most of all, against their own fears…
​
Welcome one and welcome all to my latest RP, in which we will be delving into the existential horror and despair that occupies so much of the 40k universe, but also exploring the determination of humans to survive. Our journey will be fraught with peril and is not for the faint of heart. You will face foes, both seen and unseen, as well as environmental changes as the power levels fluxuate and systems become off-line. If you are hoping to be unstoppable action heroes saving the day, you should seek another RP. There will be time for acts of heroism but, as you may discover, the line between bravery and stupidity is a thin one indeed. This RP will not be about massive battle scenes or the machinations of warlords, but rather primarily how humans, alone or as a group, face the horror around them and if they survive.
First up some housekeeping:
1. The post lengths I expect should be at least 2 paragraphs. Paragraphs should probably be 100-200 words, so about 300-400 words total is the minimum I would hope for. Of course more is allowed, but try and make it relevant to what's happening rather than a novel on what you're character had for breakfast.
2. At least one post per update. Usually that will be fine, but I'll let you know if an update needs more. Alternatively, conversations or interactions may require several updates between the group of characters.
3. No God-modding. This is really important and I can't stress this enough. We are going for survival horror here, meaning a lot of the trials you face will be challenging and many of your foes will pose a serious threat to you. In many cases, you may find the best recourse is to run and hide.
4. I won't say no killing other players, since it is possible for the death of a player to serve you at some point, but such possibilities will have to go through me and/or be organised between the players themselves.
5. Related to the point above, if you want pre-existing relationships/vendettas with other characters, that is fine. Just be sure to work out such a relationship before posting our character(s)
6. Updates will be fortnightly usually, but if everyone updates much sooner than that I won't leave you hanging and will endeavour to get a update up ASAP. Most likely Mondays, but I'll let you guys know if not. I also might extend it for real life of myself or the players getting in the way or other such situations.
7. PM me or post in the recruitment thread if you won't be able to post. If you don't, you may well find that your character has some bad luck in future. Similarly, I will let you know if real life stops me updating in a timely manner.
8. Just because you post up a character, doesn't mean you are accepted. I can and indeed may well ask for changes to be made to character sheets or bits to have more detail added to them.
9. Finally, stay in character. This is the most important thing here. We are not playing Space Marines or even trained Guardsmen. Most of you will be random civilians like, well, I imagine most of you are in real life. If you are struggling, imagine a wall was erected around your nearest city with you in it, a large portion of people butchered or disappearing in one evening and then the sun refusing to give you more than a few hours of twilight a day before plunging you back into night and with minimal technology working, then work out how you'd respond.
Now that that stuff is out in the open, we have the bit you have all be waiting for,
the character sheet!
Name:
Pretty obvious really. You can also feel free to include any nicknames here.
Sex:
Boy or girl really. If you have a particular disposition to play a transgender person that's fine by me too.
Age:
Life expectancy for a member of the lower hive is not great. I'll set a minimum at 13 and a maximum at 45. 13-18 is adolescent, although that still means you would have likely been expected to work before the 'event'. 18-24 is considered a young adult. 24-34 is a regular adult. 34-45 is considered getting on in years, and few would have been expected to live this long.
Vocation:
What did you do before the 'event'? You have some broad choices:
- Munitions manufactorum worker
- Food manufactorum worker
- Air recycling plant worker
- Power station worker
- Imperial Cult abbey steward
- Nurse/Medical staff
- PDF Private/Arbites Trooper
These will determine your skill with technology, food processing, munitions production and maintenance and martial and medical training, all of which are vital to survival but none of you will possess all of them. It also may well determine your outlook on life and your demeanour. Whilst I'm not enforcing a hard and fast rule of how many we can have of each vocation, I don't want everyone to all have the same vocation. As they say, variety is the spice of life.
Appearance:
I expect a pretty detailed explanation of what your character looks like. I want to be able to imagine them in my mind's eye. Also you should include here the clothing they are currently wearing/most frequently wear. Most will own one outfit they have chosen to live in, although they may have a few spares stock-piled where they live/hold up or in your bag/knapsack/rucksack. Feel free to add as many outfits as you like, but one is the minimum.
Personality:
Bar possibly the history, this should be your longest section. Your personality dictates how you respond to situations and your fellow man. It is what will give your character life. I also want some fears/things your character is uneasy about as well as flaws in here. As a fair warning, a character that reads as flawless/fearless will not be accepted.
History:
What was your life like in the lower levels of the Hive before the 'event'. Family? Friends? Lovers? All of these things are important. The history should include some details of the 'event'. Perhaps a scene you heard or saw in the inky blackness, or maybe that you spent it in the corner of a building crying and begging the Emperor to spare you. Also, if you are looking for any of your previous relationships or if you are only looking out for yourself.
Equipment:
Obviously you have your clothes and you all have a small rucksack/knapsack/bag, but at this stage you are unlikely to have much else. You must select 4 items from the list below. Note that a piece of equipment that require a battery pack/ammo is assumed not to have any in it (unless stated otherwise). The ammo/battery packs must be selected as a separate item:
- Multi-tool (similar to a swiss army knife, but larger. Although the blade is little good offensively)
- Rations (good for at least 3 full meals. Perhaps more with smaller portions)
- Laspistol
- Laspistol ammo pack (Good for 12 shots)
- Shotgun
- Shotgun shells (6 shells)
- Medical kit (assorted bandages, plasters, antiseptic fluids and a single scalpel)
- Glow-globe (battery included. Good for 3 hours of constant light)
- Rebreather
- Purified water (2l of water)
- Arbites stun baton
- Battery pack (used to power electrical items. Good for 8 hours of power, or 16 uses depending upon the device)
- Protective vest
- Fire-starters (instant fire starters. 6 blocks which can start one fire each)
- Knife
- A frag grenade
- Insulated gloves/boots (pick one. Proof against electrical currents and providing a measure of thermal insulation)
- Copy of the
Lectitio Divinitatus
Other items may be scavenged throughout the course of the RP, but to start with you will only have what you choose now. Some pieces of equipment will help you survive, some will help you gather what you need to survive and others still will help you
take
from others what you need to survive.
That's it for the character sheets. I'll add the successful characters below. I'm looking for a minimum of 5 players who are ready to commit to this RP, but if more players sign up and are accepted I can go up to 10. I look forward to seeing your characters!
Survivor roster:
1. Kirai "The Rat" - Ratvan
2. Gabriel Frost - Carrick1995
3. Samuel Holst - komanko
4. Kanis Strike - Shadow's Fury
5. Callista "Cally" Santigue - Sharukurusu
6. Pieter Hark - Asamodai
7. Angelus Mors - Robwar