Hello there
Finally started to rebuild my Imperial Guard army the way I like it: I have thrown out the medium and heavy tanks and regular infantry (soldiers and ogryns). These are actually for sale on:
http://www.heresy-online.net/forums/trading-area/126083-900-point-half-painted-ig-army-sale.html
(minus the veterans and the Exterminator, I have used them for parts. Price to be negotiated!). In go a whole lot of models from all over the place to build a irregular light infantry army. These will depict the ash waste nomads between two major hive cities on Necromunda (whoever knows the Necromunda fluff might remember them) and resemble a crossover between the Fremen from Dune and the survivors of a nuclear holocaust.
The actual rules for the Necromunda (skirmish) nomads can be found on:
http://files.sigil.biz/data/fo_031_ash_wastes_nomads.pdf
, so I am mirroring these rules. Meaning no flamers and respirators for everybody. I also give all models a grey coat under which they can take shelter and become nigh invisible in the ash wastes.
The only vehicles will be 6 sentinels and 10 rough riders.
The first part of this army can be found on my (Dark Eldar forum) page on:
Project Log: 'The Nomad Legion', Necromundan IG army
. Here (and there) I will add step two: taking a troop choice and turning it into an army.
For this, I have gathered models from just about everywhere and have started cutting and pasting and green stuffing.
Here are the models I have finished last year: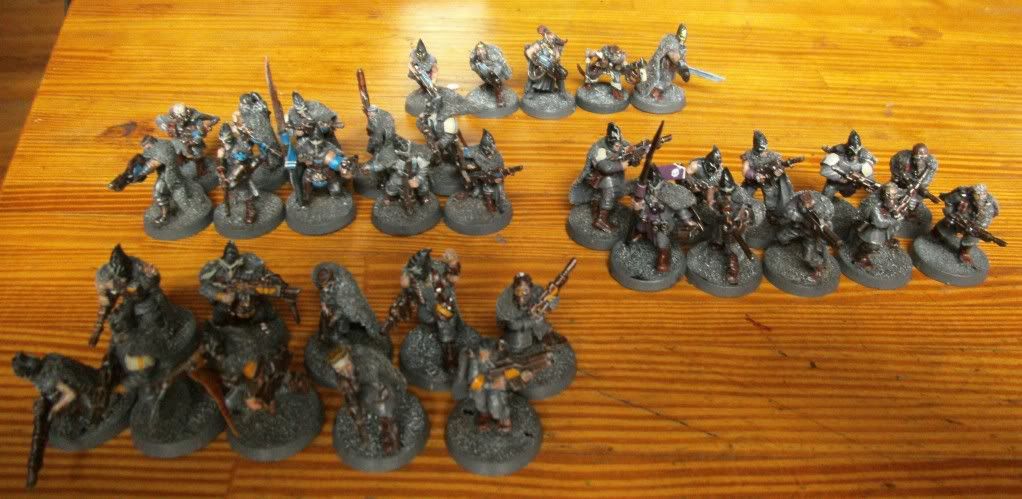 Here is the work that awaits my immediate attention: