Discussion Starter
•
#1
•
Working on finishing my first army, and figured I'd finally post a few pictures, as I've been lurking around on the forums, reading strategies, etc for the last few months. Would love to hear comments, suggestions, and the like. I play Blood Ravens, since Dawn of War was my introduction into the 40k universe.
Blood Ravens Space Marines:
Cyrus- This was my first attempt at making hair out of Green Stuff. He's modded from the Telion model.
Terminator Chaplain- Nothing overly special about this one, was just the first model i ever painted from start to finish.
Gabriel Angelos- The hammer is actually 5 separate pieces, the shaft of it is made out of a long scroll from a librarian model, with a fair amount of green stuff work.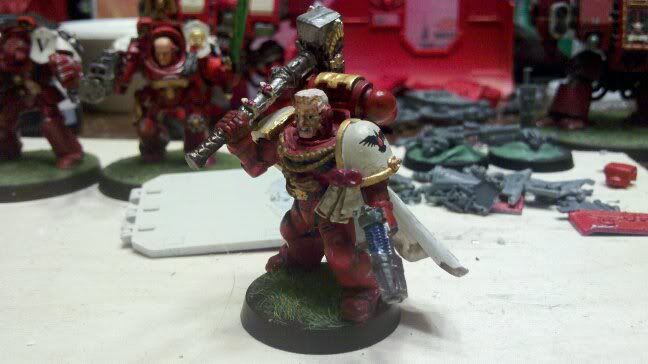 Dreadnought- Nothing too special about this one, really. It's just one of the few models I actually have finished completely.
Terminator Librarian with Warp Energy Arc- I decided to be creative, and wanted a librarian model that had warp energy flowing from his hands. For a first attempt at a model, I'm fairly pleased with this one. I want to do more with the painting on this one, but not sure where to go from where it already is.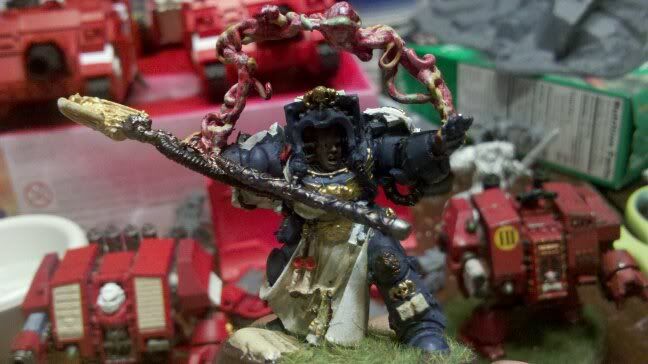 Termy Librarian and Gabriel Angelos