Discussion Starter
·
#1
·
Got this stuff of bell of lost souls:
* There will be Daemon Princes, but it will be a 'poor choice': fluff-wise they are despised by Daemons, being half-humans in nature (Alessio's words). It's unclear how (and if) they can be possibly worse than they are actually ... no source confirmed that they can be taken as Heavy Supports, but it is highly probable.
* HQ choices will be Greater Daemons and Heralds. Heralds will be 0-2 choice per HQ slot. Heralds cannot be attached to squads with different Marks than their own.
* Greater Daemons will be valid units (no more Independent Characters).
* Daemonic Gifts will be back again... but it is unclear which ones will come back, and if they will be available only to Heralds, or they will let you customize your Greater Daemons.
* There will be a "Daemonic Tank" as Heavy Support choice (Daemonic Engine?): it will be half-daemon/half-vehicle, born out of the wreckages of Predator, Leman Russ etc. which are left in the worlds scourged by warp storms. Alessio referred to it being the 'coolest models he has ever seen'. (see pic below)
* ALL Daemons from past editions will be playable again (I'm expecting Beasts of Nurgle and Fiends of Slaanesh!).
* Daemonic Special Characters will be detailed (OK, nothing new here... I'm hoping to see Doombreed and Foulspawn again!).
* All Daemons will be Fearless and, not being summoned, they will NOT be instable. An 'all-daemons invasion' in Warhammer 40K occur whenever Warp Gates open and daemonic powers feast upon the innocent inhabitants of the nearby planet.
* It will be a HTH-oriented army, though Horrors, Flamers and the new Daemonic Tank/Engine will provide a good amount of firepower. No words about the 'Unbound Defiler'... which doesn't mean, of course, that it is a fake.
* ONLY DAEMONS in this Codex. No Lost and the Damned, no Mutants, no Cultists, no Chaos Space Marines.
-Note how alot of this stuff starts to make sense in the context of that sneaky little Daemonic Legion armylist GW dropped into the bottom right hand corner of P.171 of the Apocalypse book.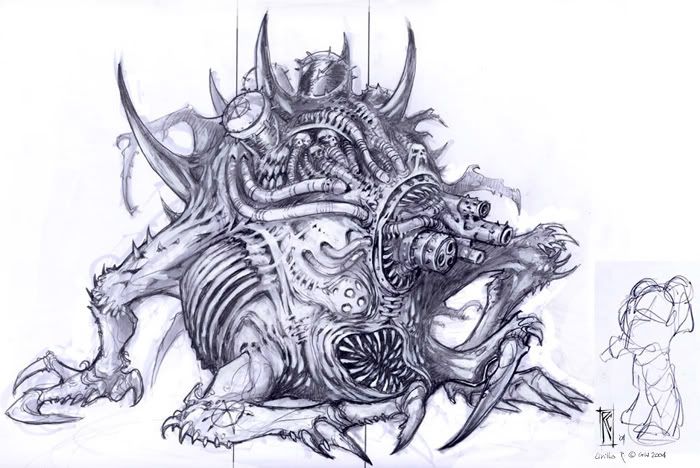 This could get very interesting