Discussion Starter
•
#1
•
1)
The first step is to determine where you want the flames to be on the object that you are painting. To do this you will use a detail brush to create "Fish Hooks" and sweeping "S's" on the object.
2)
The problem that you will most likely run into here is that your "points" aren't very pointy. The rounded ends that your brush made need to be sharpened. To fix this you will once again use your detail brush and clean-up the points by using the base colour on your object. (On the example above it would be black)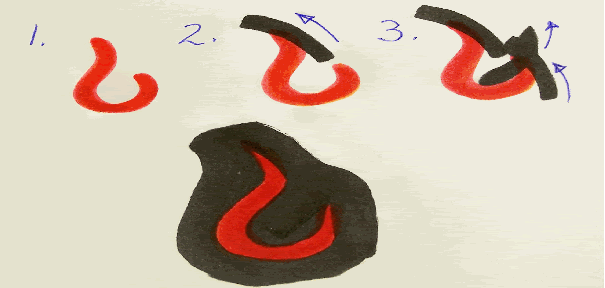 In this example I used a white background so as to demonstrate the brush strokes that you would use. Remember, the colour that you use is the same as the background colour.
TIP:
This technique can be used for any shapes that you are trying to create. Not just for flames.
k:
3)
The next step is to "fill in" the rest of the flames. You can achieve this by draping "U" shapes from one flame to the next. Remember to keep your transitions smooth and make any corrections by using the same technique as in step

2
(Try to leave a little extra space at the bottom so that you will have room for your next colours.)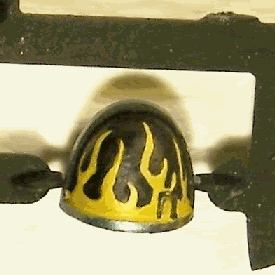 4)
Now the easy part! Just fill in a thin line of you next colour while trying to ensure that you don't completely cover the previous colour.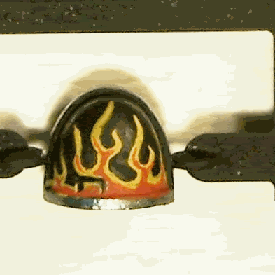 I could have done this neater, but you get the idea
5)
Finally, fill in the last colour at the base of the flames. (Generally you don't want to travel up the flames with this colour because the scale is too small and they will tend to get messy if you add too much)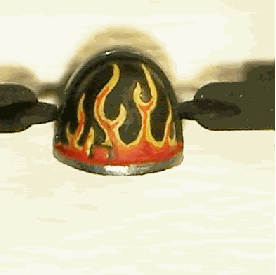 Again, clean up any mistakes (As I didn't do here) and
Voila!...
You now have some cool
Hot Rod
style flames that will look impressive on your army.
Practice and expirment with your technique and colours & good luck!:victory: