Discussion Starter
·
#1
·
This guy shall be my guide into the world of Sengoku period Samurai shenannigans.
​
Hello, guys. Some of you may remember that I got that funky little rules set Osprey released last summer that caused quite a stir in the wargaming world - Ronin.
No, I have no idea why they chose that for their cover art either. I mean they're Osprey, they got more than enough really cool Samurai art lying around and they put that drab, way too dark and unappealing bit on their rulebook. Oh well, it's the inside that counts, right?

Samurai and stuff. First step, as always: The mandatory leafing through of the rules, then it's straight off to buying toys. My gaming nemesis/buddy has large amounts of Perry Ashigaru lying around (because he's got large amounts of everything lying around ;-) ) so I traded some oop GW minis for a bunch of Ashigaru with Yari and bows and ordered a bunch more, mostly samurai and Ashigaru with arquebuses. The Perry minis are excellently nice but come in sixes. Fortunately I was able to split most of the packs with other guys. Ordered a bunch of naginatas as well, six samurai in everyday clothes (because they look so darned good), a bunch of cheapo plastic bamboo and one of those 4Grounds japanese houses for good measure as well. Buying toys is good.
First I built and based the whole group of 23 figures. For my Bushi (= army regulars, basically) warband I don't plan to need more than 10 or so but you know how it is. First, you want to have a lot of options (even though I'll probably end up playing the same list all the time anyway), second you want to have minis for a second warband just in case any of your friends want to give the game a go. Third, many toys are required to be happy. Then I got to put the house together and this is what it looks like after a few hours of work:
I didn't do much to the whole thing really but I did have to redo the white parts and the brown beams running across them because the white wasn't done well at all (so much for 'pre-painted') and around the windows were unsightly laserburn marks. 4G do impressive stuff with MDF/HDF but I really don't care much for anything pre-painted (naturally). MDF buildings are suited for some things and for Japanese buildings the medium is spot on. For stuff like a medieval fortress and many other things it's completely rubbish on the other hand. But for this it works. There are three doors on there, two slidey(one of which comes with a little bit of paper to build into it. Pretty detail) and one swing-y door on the other side. The teddy fur also comes with the set. Really not cheap but it does the job. The roof is removable too as you can see in the picture.
Then I thought it was about time to get started on my models and immediately realized that I had no idea what Samurai or especially Ashigaru should look like. So I spent the rest of that day googling, leafing though Osprey books and so on. The other two guys I'll play with each one got a black-ish warband (led by a lady samurai. Looking forward to seeing that) and a blue-ish warband, both Bushi with big weapons and armour and all that jazz. Blue warband also is of some clan (Tokugawa?) which I was told goes very well with (or rather against) Takeda. Of course it would have been cool to play dudes from "that clan who have the triforce for their coat of arms" but four rectangles I'm okay with too.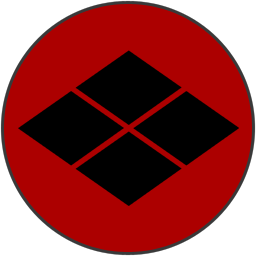 ​
To contrast the other two's warbands, and following the background of my guys I went with an overall red scheme. Without much further ado, here are the first WIP Ashigaru:
I have to say that so far, I'm not very happy with the guys because I have no idea what I'm doing. Recently I started questioning the way I paint skin which only adds to my overall confusion. The red I went for is much more wine red than usual simply because I wanted to use the colour for once. I went for some extreme highlighting on the armour parts because ... I'm not sure why. I guess that's what I do when I have no idea what else to do. As you can see the clothes underneath the armour is just the guys' regular clothes to add some individuality. It's a lowest level skirmish game after all. I also have to say that the Ashigaru moulds seem to be a bit worn out already because some detail around the hands and such could be better (and probably used to be). Still, great sculpts. Possibly even a joy to paint some day, once I figured out what the heck I'm doing.
Oh, I also downloaded all the episodes of the probably excellent Samurai Archive podcast, but I'm still in the middle of listening my way through the certainly excellent American Civil War 1861-1865 podcast.
So what do you think so far, good people?