Discussion Starter
·
#1
·
For those of you that have been following my Blood Reavers log, you know I've been talking about this project. Well, here it is. My scratchbuilt Stormraven. This will take a while to finish. I will take it through from start to finish on the first one, and then show only the finished bird for the second when it is done. But with out any further delay..
Looking for a cheaper and unique alternative to the Valkyrie kitbash that is going around for the Blood Angel's Stormraven Gunship, I found plans online for the Hercules Dropship. I loved the look and decided it would be my Stormraven, as it would be cheap to make and easily modified to fit into a 40k army. Here is what the finished product will look like before any modifications:
Now, obviously it has to be clad in black and red to fit into my army's colour scheme. Easy. But it also has to be armoured up and have some weapons thrown on. Easy enough. Not so easy..is the cutting and assembly. Here is why..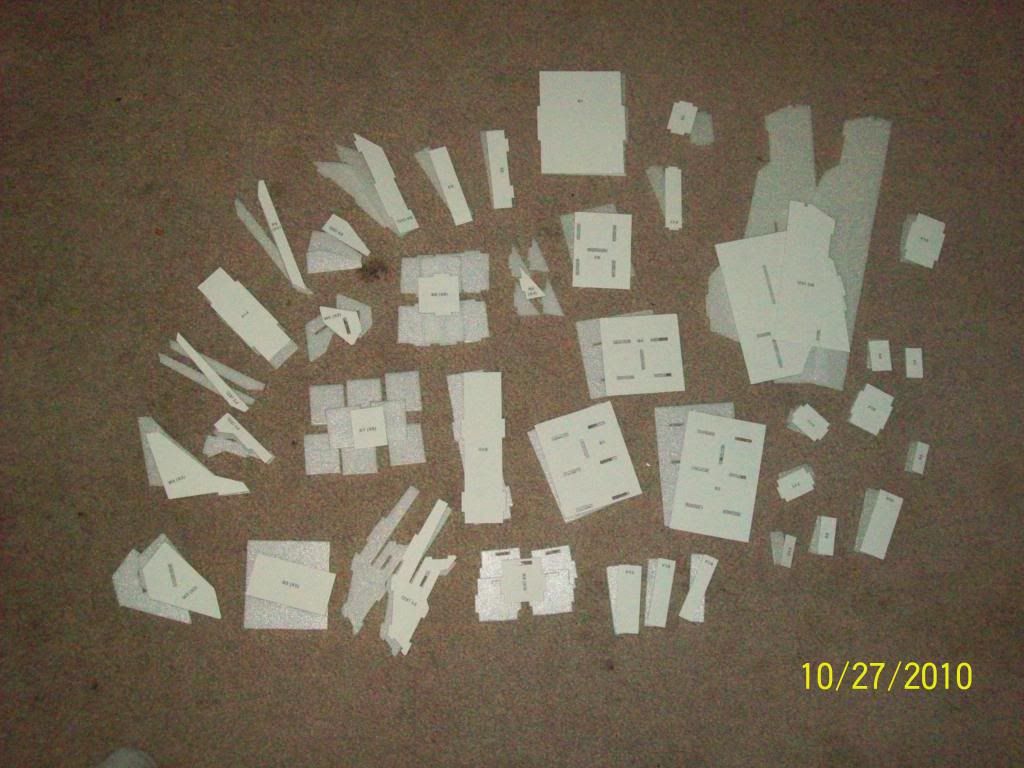 That, my friends..is all the pieces, plus templates, I had to cut out of a sheet of Depron(Cardless Foamcore) to start this project..66 pieces for the model and 41 template pieces. My hands hate me for it. My pocketbook loves me for it. Instead of spending close to $100 for the Whirlwind/Valkyrie kitbash, I spent $5.50 for the Depron and $7 for Styrene tubing packs..so a total of $12.50 USD vs $100..yeah. I'll take the hurting hands.
Now onto the next phase of this project..assembly. Putting this bad boy together is going to take a day or two. then I have to cover it in card and add on the extra armour to bulk it up a little, and determine where I am going to put the weapons. For this one, I am going to be arming it for speed assaults. Twin-Link Assault Cannons, Typhoon Missile Launchers, Hurricane Bolter Sponsons, and the obligatory Bloodstrike Missiles.
I will update this as I make progress. C&C welcome.