Discussion Starter
•
#1
•
Hello Heretics!! :biggrin:
I recently joined the site and I'm loving everything here! The people seem very cool, lots of very helpful articles, and great armies all around! I'm putting up my own project log to motivate me in finally finishing these little bare plastic and metal thingies into a proper painted fighting force!
As the thread title suggests, I'll be working towards a small Night Goblin army first. Half of the BFSP boxed set which I started a few years ago but never quite made it to the finish line. (I've posted these in
some other
forum before, so a few of you might have seen this already.)
Waaagh Gualibee!
1,000pts. of spiteful Night Goblins, plus a few "friends" they convinced to join them.
I'm going for a natural look with this army. Painted their skin in a pale green / almost yellow colour to mimic grass left in the shade for a long time. Gave them brown cloaks instead of black because I figured brown was more common, and you'd need to dye the cloth to get black. Command and heroes have some green in their cloaks, maybe from looted Dwarven or Bretonnian banners. Heroes also have red in them just to pick them out from the rest of the army at a distance.
Here are a few finished minis:
Gualibee the Short, Night Gobbo Warboss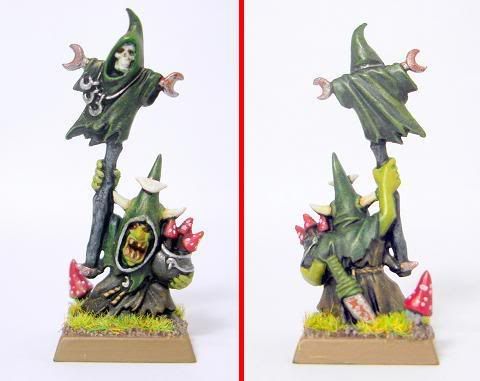 Night Gobbo Shaman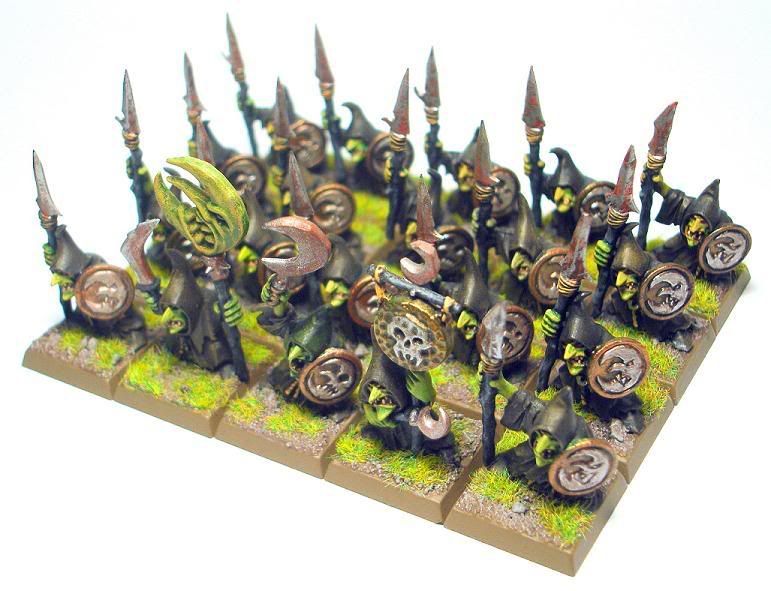 Spear Gobbos (Front)
Spear Gobbos (Back)
Night Gobbows
That's it for now. I still don't have my 8th edition army book with me, so until then no army list yet.
Thank you so much for viewing! Comments would be most welcomed!
Stay tuned for more!
:grin: