Discussion Starter
•
#1
•
Plenty of folk are aware that Mr. Dandy announced a while ago that they'd be producing a group of various barricade sets. Xenos 40k players all over rejoiced, since they're looked great as Aegis line alternatives for various races across of 40k, and also came with a 4 gun turret to match the sets. Personally, I've went for the Mechanoid set for my Tau.
Various flavours of them can be bought on Mr. Dandy's website, priced at $44 (US) for a length of barricade and a quad gun:
http://www.mrdandy.com/wargamma-linked-barricades/
I've had these on pre-order for a while now (since shortly after the new Tau Codex), and after more than a couple of production delays, Mr. Dandy have finally been able to start shipping them. I've just finished my first unpacking of the barricade set, so thought I'd share a bit with everyone.
Everything arrived pretty quickly once I'd got the shipping email - took about a week to get from the US to me in Scotland. The whole lot was packed up in a jiffy bag, and once I opened it up, I was greeted with what appeared to be a fish supper: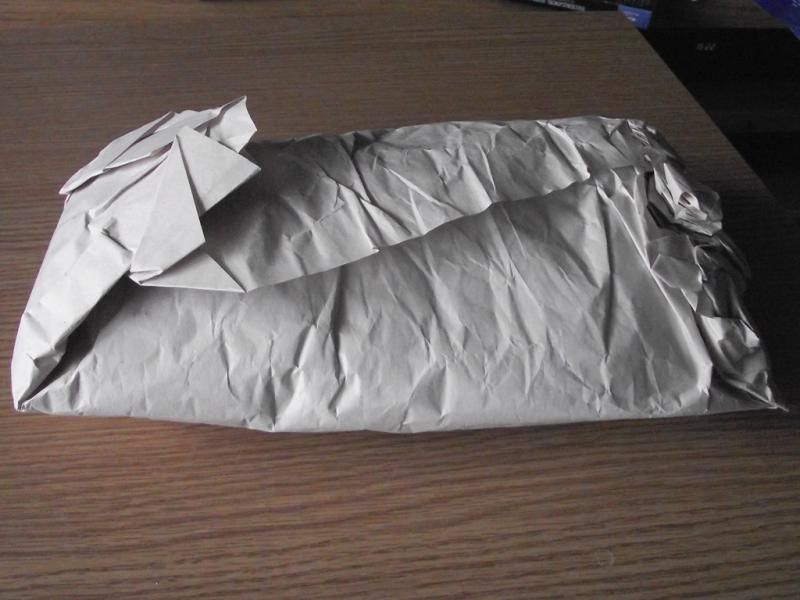 Unwrapping the paper, inside was a good amount of bubble-wrap: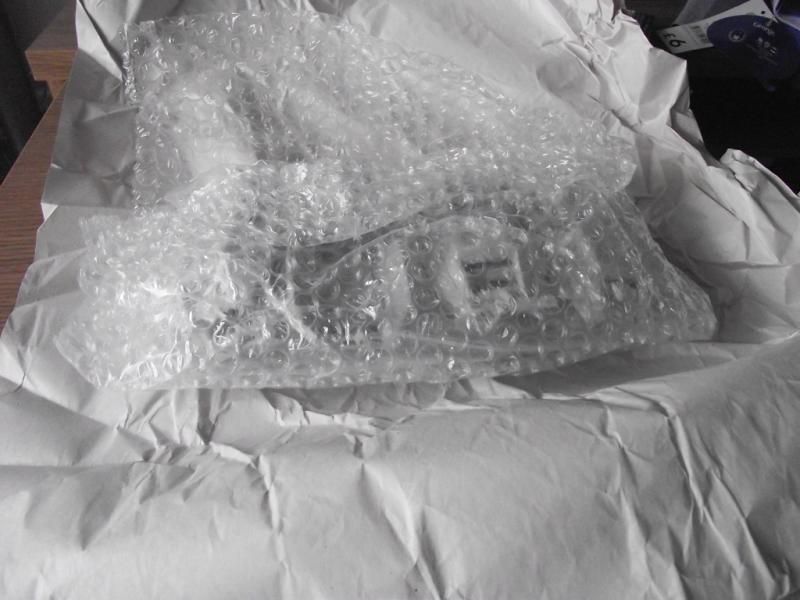 And inside that are all the parts in a couple of zippy bags: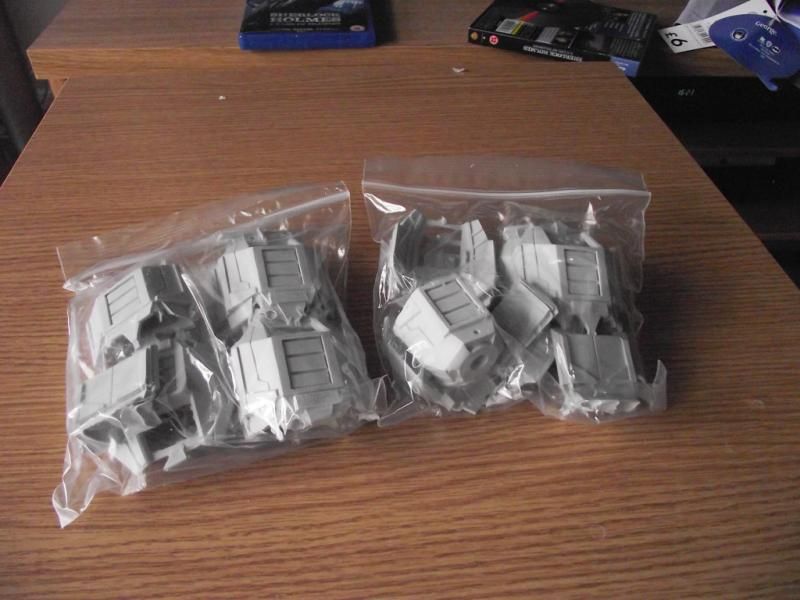 So packaging is all functional and sensible, if unremarkable. Everything seems to have got to me from across the pond without any breakages, so no complaints here.
Taking the main pieces out of the bag first of all, we have the wall pieces. Everything is cast in nice, solid, grey resin. The main walls consist of 12 taller shield sections (roughly 26mm to the lower part of the shield, 40mm to the top), and 4 connecting walls (22mm in the low part of the wall, and about 25mm at the edges, about 36mm wide). First a view from the front:
There's a bit more detail on the reverse: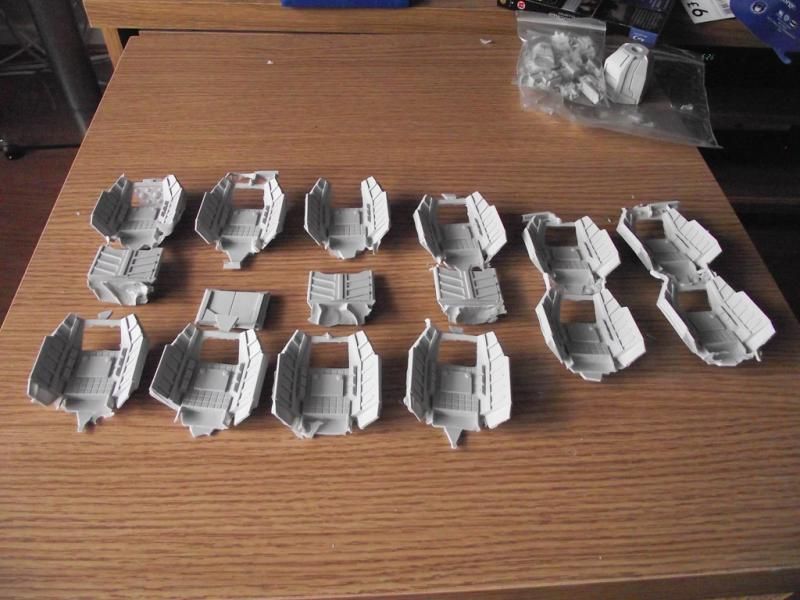 And a few close up shots of the pieces. There's a fair amount of very thin flash from the mould lines, but nothing too unusual. Plenty of gating pieces to be removed, but none of them look like they'll be too hard work.
First up a couple of the shield pieces:
And one of the walls: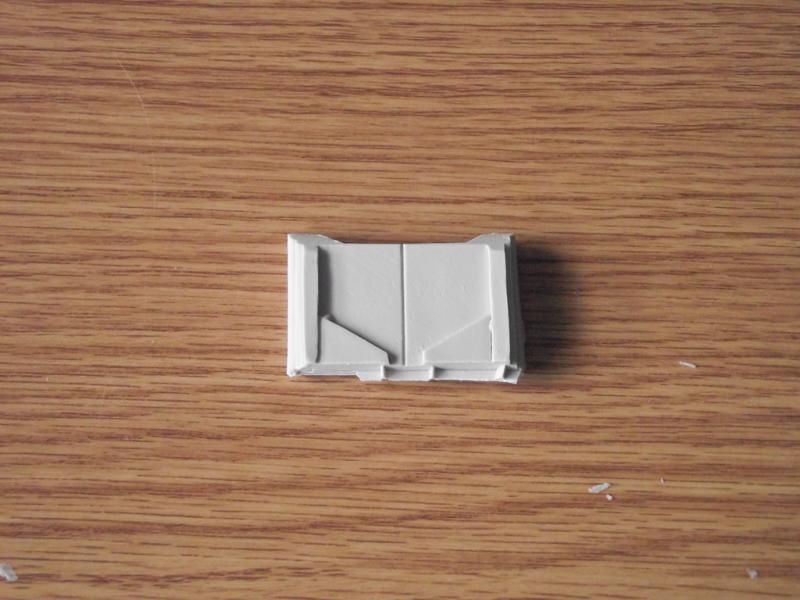 (from a dry fit, the wall pieces seem to fit snugly into a little groove on the edge of the shields - should allow them to sit at anything from a straight wall to roughly a 45 degree angle).
A few additional pics of what look to be the messiest pieces - this is 99% very thin flashing, though, and nothing I'm too disappointed at: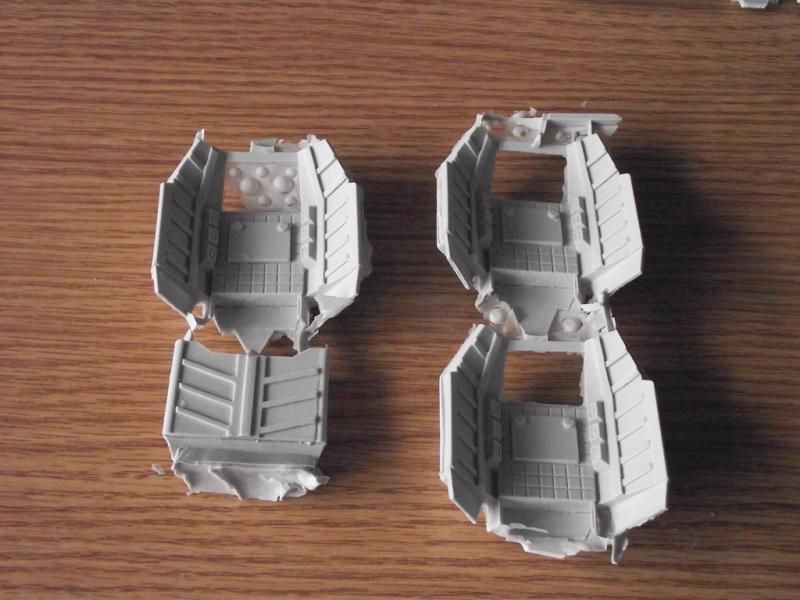 Overall, I'm satisfied - there's not a huge amount of detail on the wall sections, but enough for it to look decent, and what there is has been cast crisply. Things that should be straight seem to be straight, with no obvious warping that'll need to be fixed.
Next up is the gun turret - the main block of this was loose with the wall sections, with the parts for the 4 guns in their own little bag: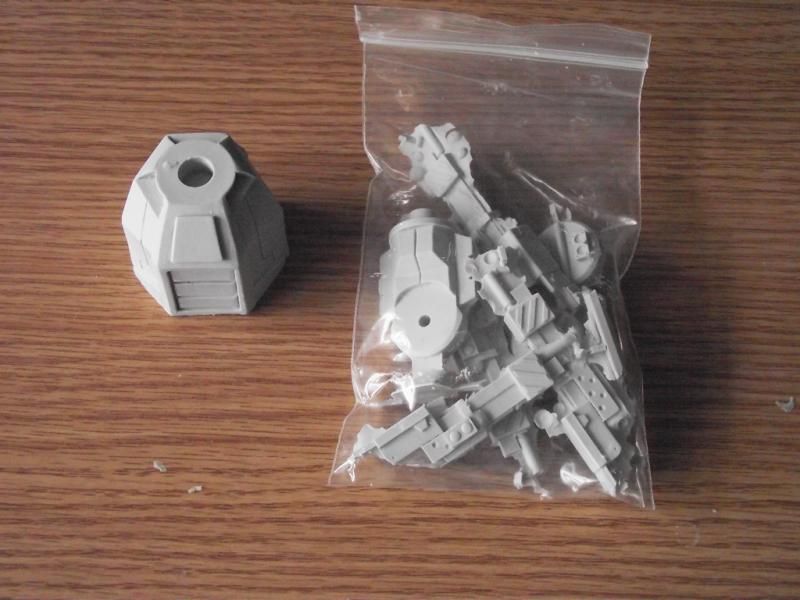 The main foot of the turret is 1 piece, as is each of the 4 guns. A simple 3 piece assembly joins them all together (the circular piece at the bottom and the one in the centre are the same - one goes each side of the bulkier piece on the left to allow the guns to attach):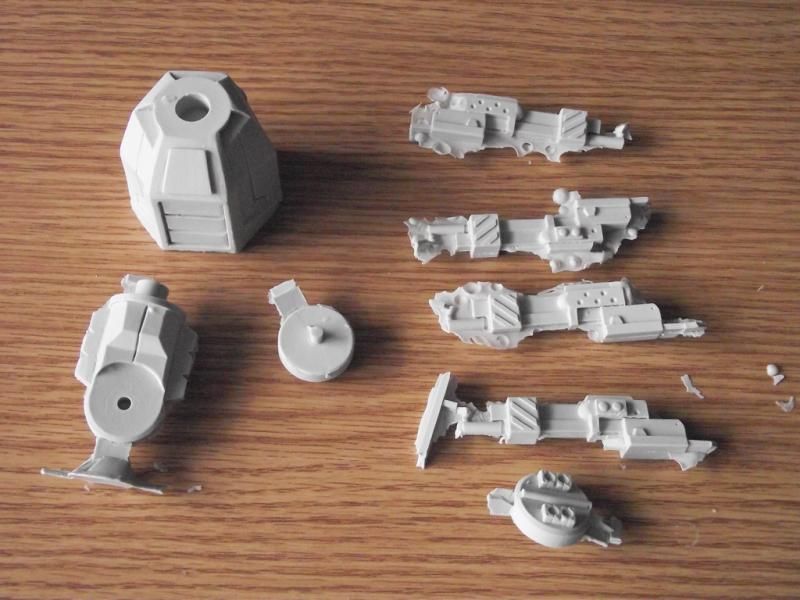 Again, the detail seems crisp, and other than the papery flashing these pieces don't look like they'll need anything too serious in the way of clean-up.
Overall, first impressions are good - everything looks as I expected it to, seems nicely cast and looks like it'll clean up and go together easily enough. One thing I wont be terribly sure about until I get things clipped off of the gates and put roughly together is how they scale (26mm to the lower part of the shield sections is a bit taller than I was expecting). I'll make a follow up post with more pictures of how they look standing up next to some Tau when I get that far with them. I wont bother with assembly pictures presuming that everything goes smoothly (and I've no reason to think that it wont).
I wont bother with a rating or anything, but I'll say that at this point, I'm happy with what I've received for the price.