Discussion Starter
·
#1
·
I finally got enough of these expensive buggers to start a WIP thread. As you may know from my Dark Angels, I like being different. So far, all I've done is primed all the minis and based their feet, elbows, hands, heads and weapon hilts with Mechrite red. I now hate foundation paints for one reason. They dry up too fast. It took me over half the paint bucket just to do the first base colour.
I took my Justicar and decided to finish the red/orange on him first.... The medium for this section is actually orange, but I didn't want it to be too bright. So it's mostly a red.
Here's the justicar. More pics soon.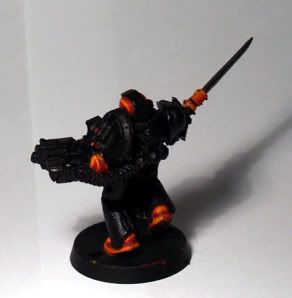 The rest of the armour is going to be black. Most the metal will be gold with some silver in it.
Comments?
Please ask if you want a tute on doing the red like this.