Discussion Starter
·
#1
·
What to do to get myself back into the Hobby??
After talking with the missus about ideas a shared Army to try and get something finished and playable it came down to Dwaves or Nurgle WoC, a great idea but we couldn't agree
and although her painting is good I couldnt bring myself to hand over conversions anyway...
So what's the plan? Well I went with the Nurgle and she took the stunties, Doesn't really cure the getting things done issue though.
With that in mind we made a purchase and paint pact, no new boxes of minis till the previous one is painted. We both went mad buying stuff before with other armies and ended up with large piles of minis which we are both convinced has kinda killed our enthusiasm for actually laying paint to mini
So off to the local GW to get a box of warriors and Army book for me and a box of Dwarf Warriors for her (she'll buy the book on her pay day), typically No WoC book, so Dwarf book for her and a box of Warriors of each type ( Now she'll buy me my book on her payday which also happens to be GW delivery day).
For me conversion is king so time to get at those Warriors..
Working a rank at a time from the back, guessing at about 15 for a unit ( no book
) the first job is to get rid of the pesky Undivided iconography off those shields and make the Warriors a bit more Nurglely without going overboard.
Simple horn cut offs and single central replacement to give the guys a more followers of Nurgle feel.
Bit of GS (well brown stuff in this case,, no, not that type) to hide the cape fur join, horn joins etc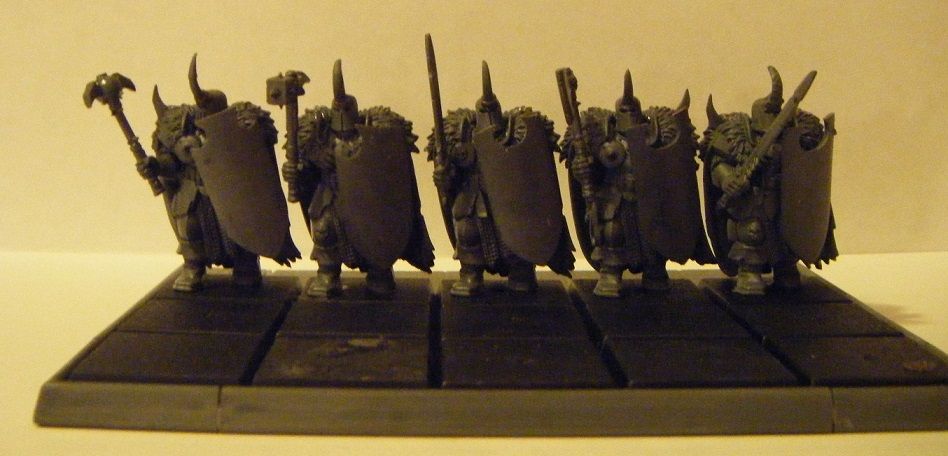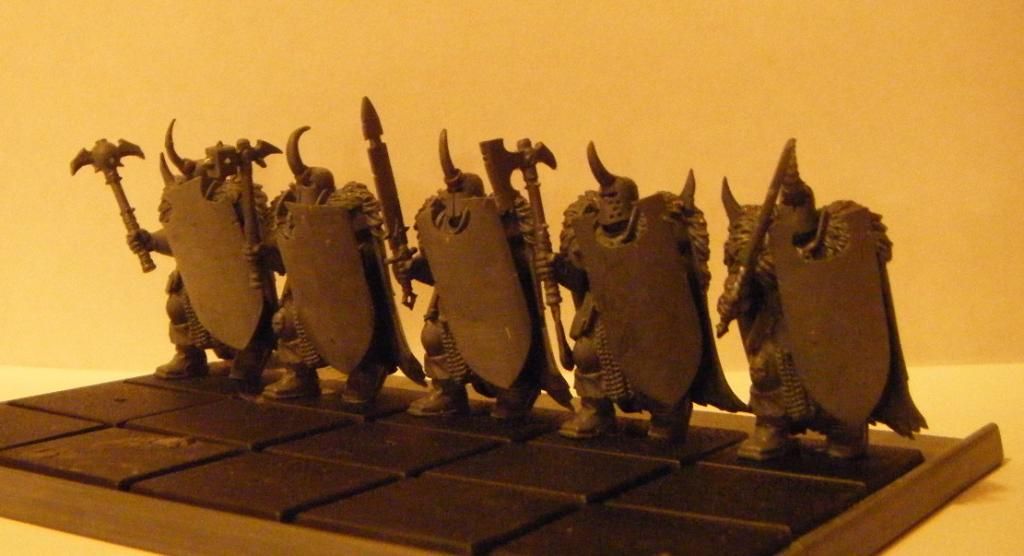 Now shields, that is where the interest really is with WoC, such a large area waiting on attention, almost a shame GW put stuff on it and stopped people doing their own detailing (I miss all the wacky hand painted stuff people used to do).
Gonna pretty much wing it on these, grabbing all ideas Nurgle and GSing them.
Here is the first shield with a Forgeworld Death Guard shoulder pad that inspired it.
Now to get some more done.