Discussion Starter
•
#1
•
Well after my first attempt at painting pale skin which resulted in the following picture, I've been asked to do a tutorial on it.
This is similar to the tutorial in WD350, but with my own twists.
Here goes.
Step 1.
Undercoat your mini
Step 2.
Basecoat your mini in Tallarn Flesh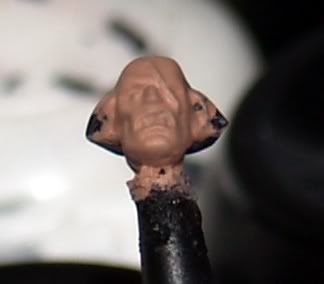 Step 3.
Give the mini a watered down wash of 1:1 Bestial Brown and Ogryn Flesh.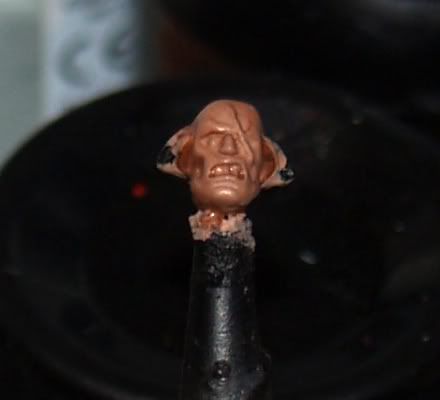 *OPTIONAL STEP*
Give the mini another wash of 1:2 Chaos Black and Scorched Brown. Ensure this is really watered down. This is to achieve the really dark lines shown in the example picture. This was not done to the face in the tute.
Step 5.
Rebase the mini with a mix of 2:1:1 Tallarn Flesh, Astronomican Grey and Bleached Bone. Ensure you leave the wash showing in the recesses.
Step 6.
Highlight with a 1:2 mix of Tallarn Flesh and Bleached Bone. Don't go overboard with this.
Step 7.
Highlight very carefully with pure Bleached Bone. Only highlight the raised edges of the skin, following such places as cheekbones, jaw lines, creased forehead, eyebrows and nose bridge and chin.
Step 8.
If you wish, you can go even further and highlight with pure Skull White.
This is not really required, but can achieve great results.
The photos didn't turn out as well as I'd have liked them to, the head being so small and hard for the camera to focus on. Lighting wasn't great either. Sorry for the poor photos, but the end result is similar to the one in the example marine head.
Hope I helped all you people who hate painting skin.
PS. The camera ran out of battery as soon as I took the last photo, and didn't get to finish the eyes or the scar. I'll add to this tutorial when I recharge the camera.