Discussion Starter
•
#1
•
HOW TO PAINT TYRANIDS
This is meant to be a simple guide with speed in mind-- while this won't produce a Golden Daemon winning model, it does allow you to paint several in short order to a standard that looks good on the tabletop. All the steps are very easy for beginners to learn and reproduce, as a very loose style has been used with lots of washes and drybrushes to get the final result.
HOW TO PAINT TYRANIDS- GENERAL PREP
1. Assemble and clean your tyranid genestealers miniature as normal. For the vast majority of models, this just means filing away some mold lines and putting the model together with either plastic glue or superglue.
2. For this tutorial, we're going to be painting a Tyranid Genestealer. The basic principles in painting this model apply to any other Tyranid monster you want to paint. I happen to be quite partial to Hive Fleet Leviathan's color scheme, so we're going to be painting this Genestealer as part of that hive fleet.
3. Start by priming the Genestealer with black spray.
4. Now that we've got a basecoat to work off of, mix up equal parts of Games Workshop's Dheneb Stone foundation paint and Bleached Bone. Then, mix in a bit of Sunburst Yellow. There's no precise mix, I've found—this is very much a basecoat that gets almost completely covered, so precision here isn't that important. I load this mix into a spraygun, and undercoat an entire unit at once with it.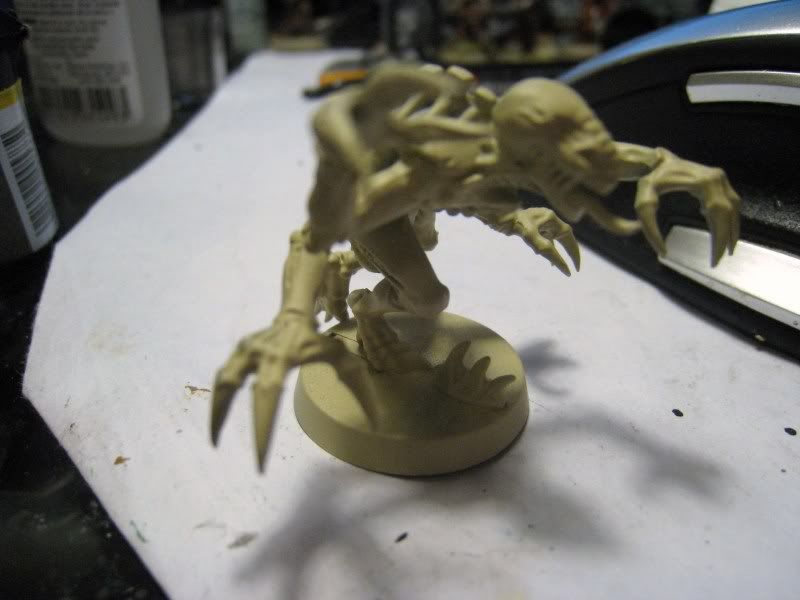 HOW TO PAINT TYRANIDS- BASECOATS
1. Now, we're going to wash the whole model with Leviathan Purple. This is mostly to give that slight purple tinge in the recesses.
2. This takes a while to dry. In the meantime, let's basecoat the claws with black again, since they're going to end up being red.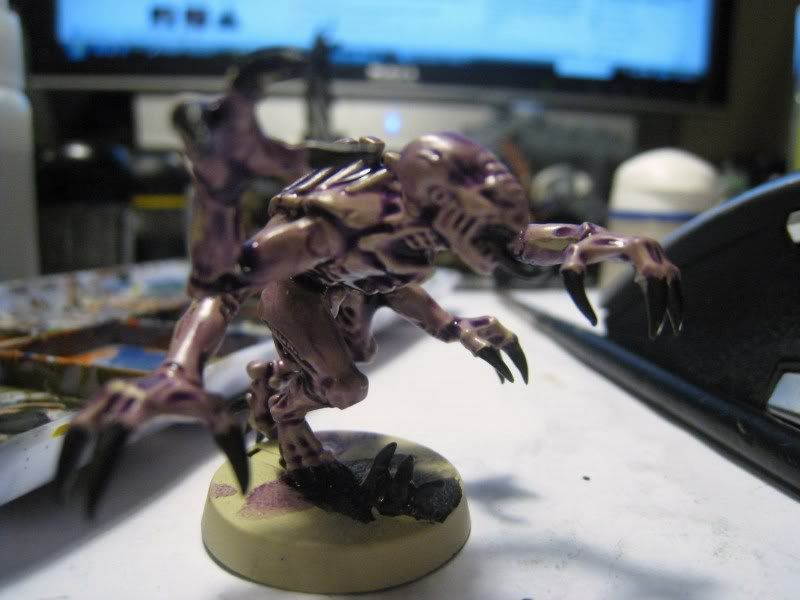 HOW TO PAINT TYRANIDS- SHADING AND HIGHLIGHTS
3. Once that wash is dry (which takes quite a while—you may want to come back in an hour or so after you apply it), we're going to start working on the genestealers off-white carapace. We'll start by mixing up some Reaper Polished Bone (or GW Bleached Bone) and applying it everywhere we don't want that purple shadow. I deliberately left the shoulder bits on the genestealer alone, as these are going to be purple later.
4. Once the bone color is dry, we're going to overbrush it with Reaper Leather White. Alternatively, you can use a 75/25 mix of Games Workshop's Bleached Bone and Skull White.
.jpg
5. Now, undercoat the shoulder plates with Reaper Imperial Purple. Games Workshop's Hormagaunt Purple mixed with some black works fine here too. If you're painting a larger tyranid monster with this tutorial, apply the purple to all the chitinous plates on the body. Genestealers are slightly less "platy" than other Tyranids, which means I probably should've picked a gaunt to use for this tutorial instead. Oh well…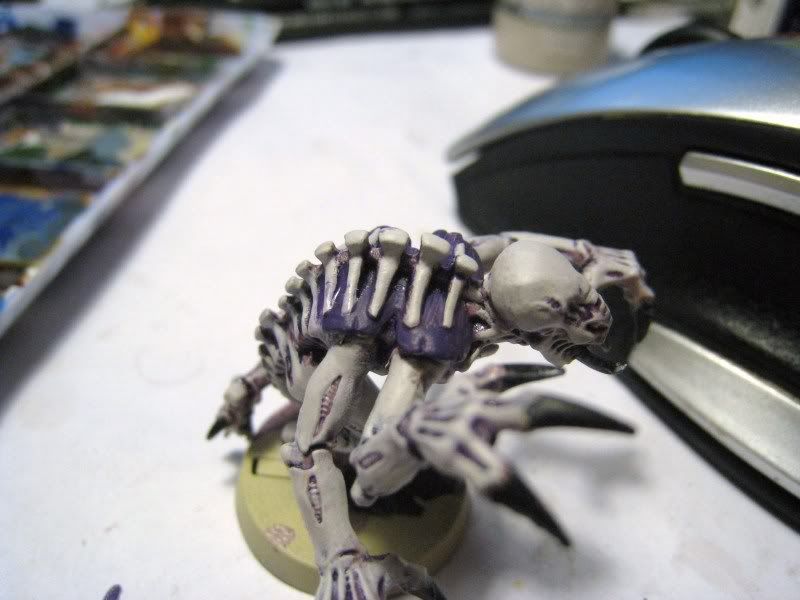 6. Undercoat all the claws, eyes, and tongue with either Reaper Bloodstain Red or GW Scab Red. If there's a bio-weapon that has cables, red is a good color on those, too.
7. Now, apply a layer of Reaper Imperial Purple mixed with some Reaper Amethyst Purple, to the shoulders and any chitinous plates. Games Workshop's Hormagaunt Purple, thinned a bit, will work here too. Then, mix some white in and feather that in from the edge. A straight edge highlight works if you don't know how to blend.
8. Break out a good mid-tone red like GW's Red Gore or Reaper's Clotted Red. Add a layer to the claws and tongue with that. Then, highlight it with a lighter red such as GW's Blood Red or Reaper's Carnage Red.
HOW TO PAINT TYRANIDS—FINISHING DETAILS
1. Dot the eyes with yellow. Be sure to leave some red showing.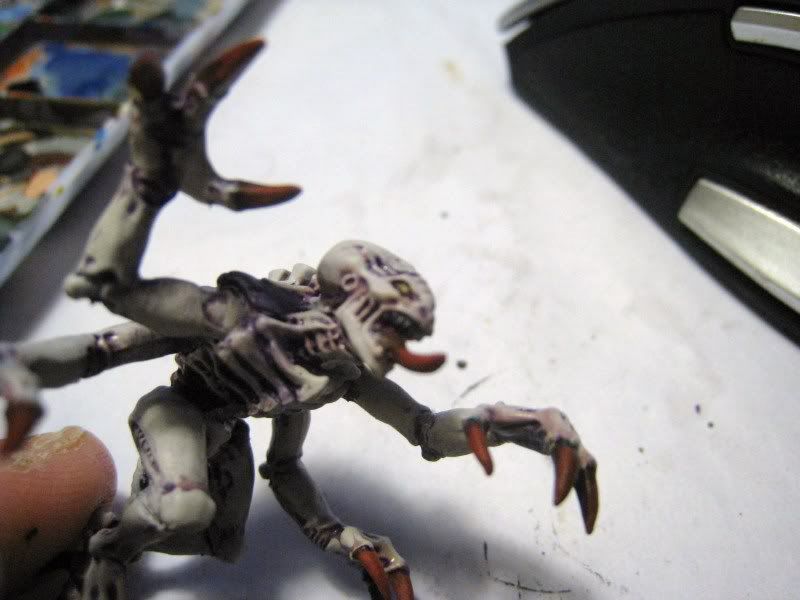 2. Pick out the genestealers teeth with white.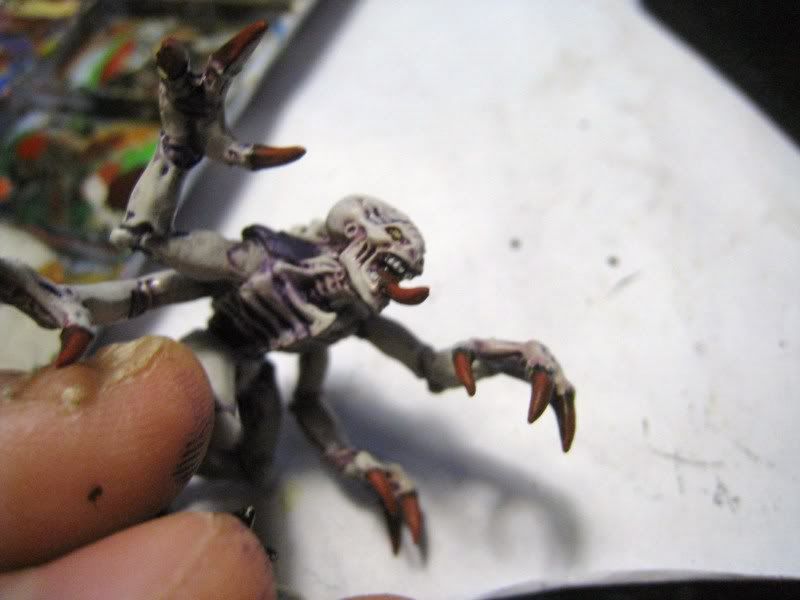 3. Give the model a once-over and make sure you didn't accidentally obscure any detail on the overbrush of white. If you did, like I did on this arm, just apply a targeted wash of Leviathan Purple, thinned a bit.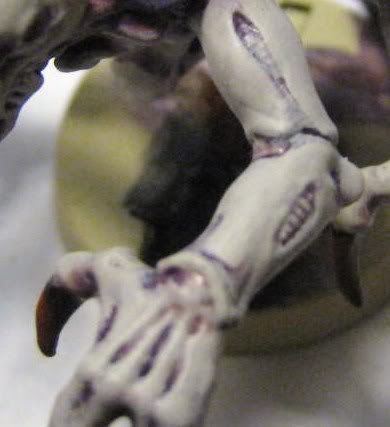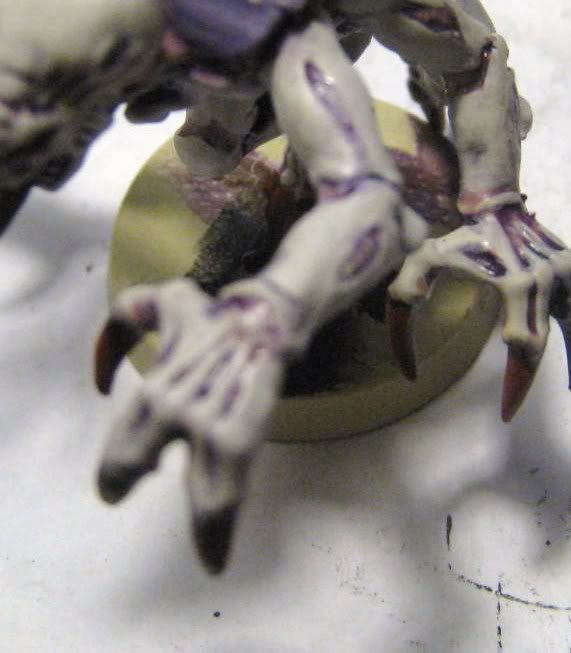 4. Give the tongue a pink highlight. I just mixed some left over white into some red from the last step with the claws.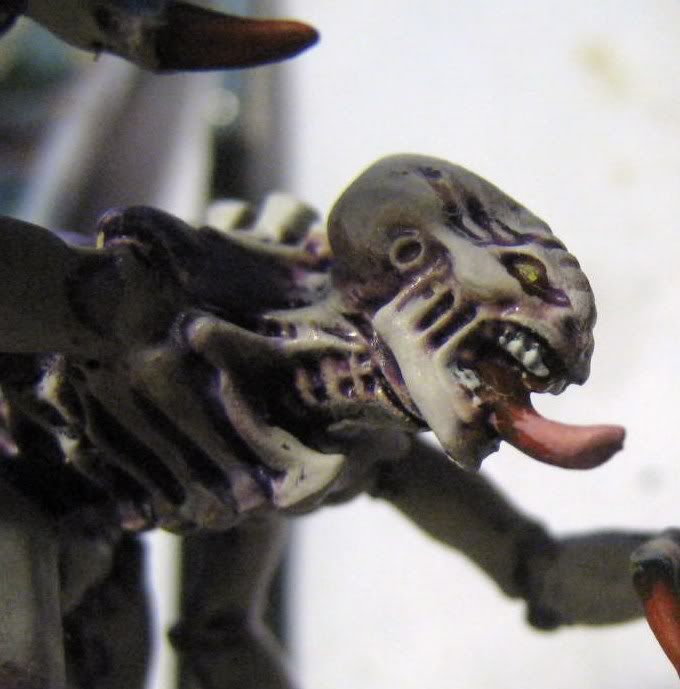 5. Finish the base as you see fit. I clipped the random plant thing away, even though I'd undercoated it black earlier, and just painted over the base with GW Khemri Brown. From here, you can apply any basing material you like—it's not really the point of the tutorial to show how to do basing, so we'll leave it there.
And now we have a finished Genestealer Tyranid for the How to paint guide. All in all, this should take only maybe half an hour of work, and if you paint the rest of the brood at the same time, you'll find it goes very quickly. Since you've probably got a million models in your army, finding an expedient way to get them on the table is important!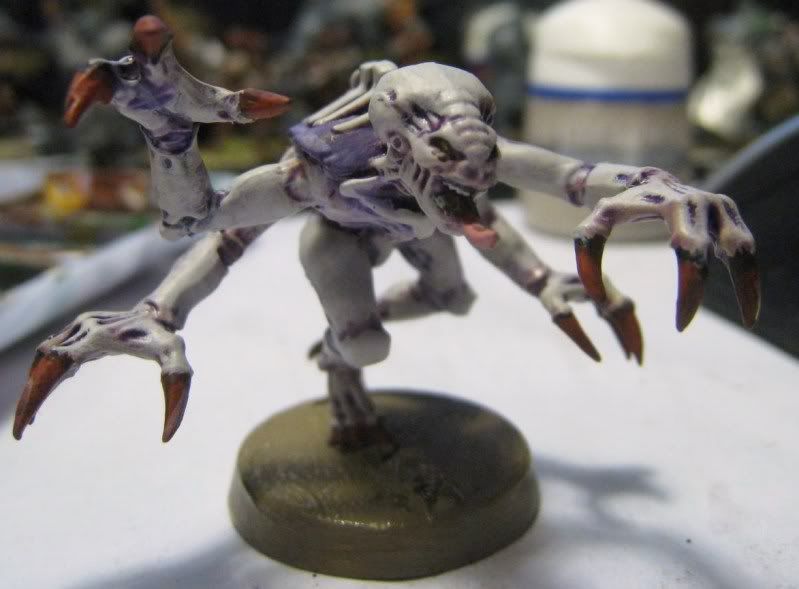 Check out our other how to paint guides.
How to paint Tyranids - Genestealers
How to paint Ultramarines
How to Paint Dark Angels Space Marines
How to Paint Space Wolves
How to Paint Blood Angels Space Marines
How To Paint Imperial Guard
That concludes the How to paint Tyranid Genestealers guide. Hope it helps.