Discussion Starter
·
#1
·
Hi everyone!
Well the X Legion Tactica Tournament held on Saturday the 18th and Sunday the 19th is finally over.
14 players played 6 games over two great days at Landford. There was an excellent mix of armies with Eldar, Chaos, Orks, Blood angels, Necrons, Dark Angels, vanilla marines and Imperial Guard armies all represented which made for an interesting and varied set of opponents for everyone.
Whilst everyone was competitive, the atmosphere was relaxed and all the games were played in a very friendly and positive attitude with players even giving advice to their opponents!
Just like the last X Legion Tactica Tournament the weekend went right down to the wire with a late push in game 5 by David's Dark Angels inflicting the first defeat on Adam Whittaker's Eldar. The two players would meet again in the final to decide the overall champion. Adam managed to change his tactics in the final 6th game to eventually come out with a win and claim victory in the tournament!
Unfortunately David's defeat saw him usurped at the last moment by the other players all battling it out for second and third place. Dan Fortnum's horde Orks managed to swamp Andy Kent's Chaos Marines to catapault him above David into second position and forcing Andy into a very respectable 5th place.
In the other battle for the top positions, Mike Lock's Blood angels managed to overcome Marcus Hawkesford's Necrons to again leapfrog David and gain third place!?
All in all it was an excellent tournament, hotly contested by 14 great people with 14 great armies!
Here is the overall Results Table.
Overall Results Table
Rank Player Name Tournament Points Victory Points
1 Adam Whittaker 15 +5638
2 Dan Fortnum 13 +3592
3 Mike Lock 12 +5456
4 SpikyDavid 11 +1561
5 Andy Kent 11 +1331
6 Charlie 10 +1380
7 Marcus Hawkesford 9 -988
8 Steve Harrild-Jones 7 -994
9 Sam Roberts 7 -1918
10 Pete Mason 6 -3931
11 Chris 4 -3004
12 Victoria Harrild Jones 3 -4622
13 Robert Reynolds 3 Did not play second day
14 Robert Tillman 1 Did not play second day
Here's the overall champion Adam Whittaker receiving his certificate and £20 GW Gift vouchers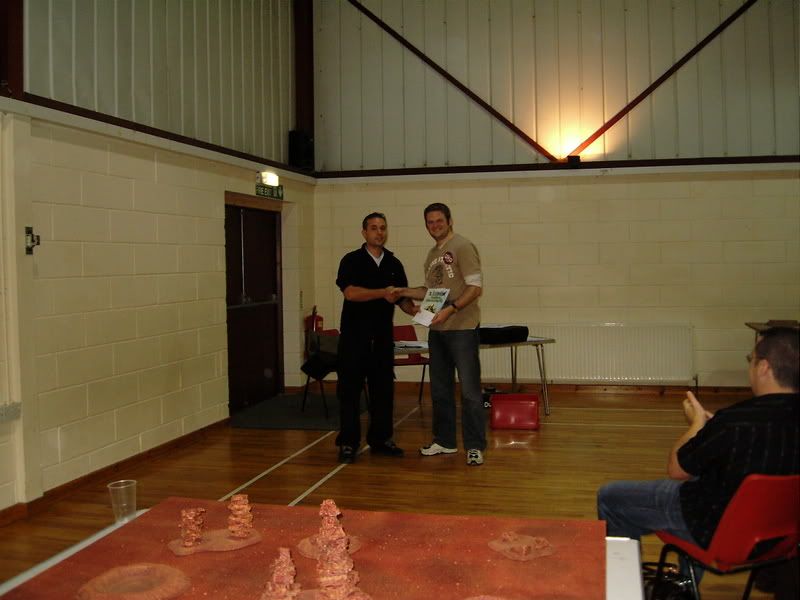 Second place Dan Fortnum
and third place Mike Lock
and here's the winner of the best painted army competition Sam Roberts receiving his certificate and £10 GW gift vouchers
This is Marcus' Necrons doing battle with Pete's IG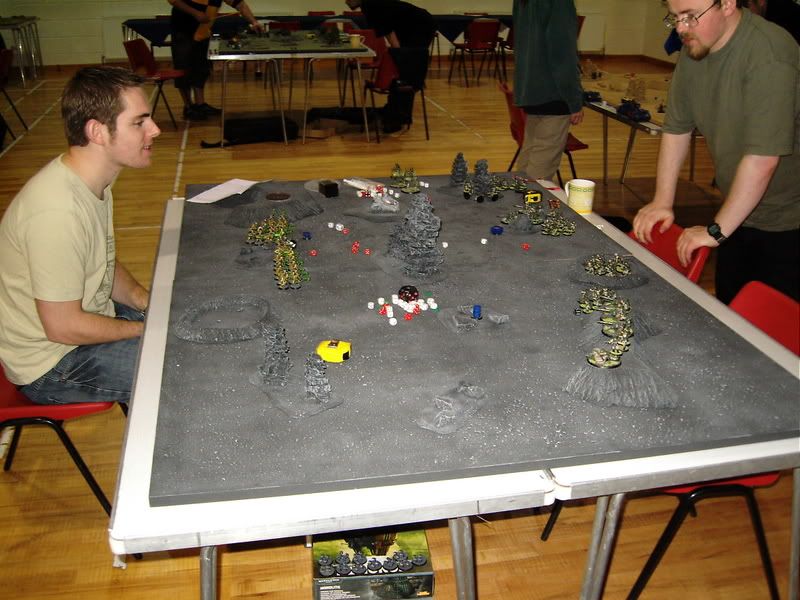 Steve's Orks going up against Chris' Chaos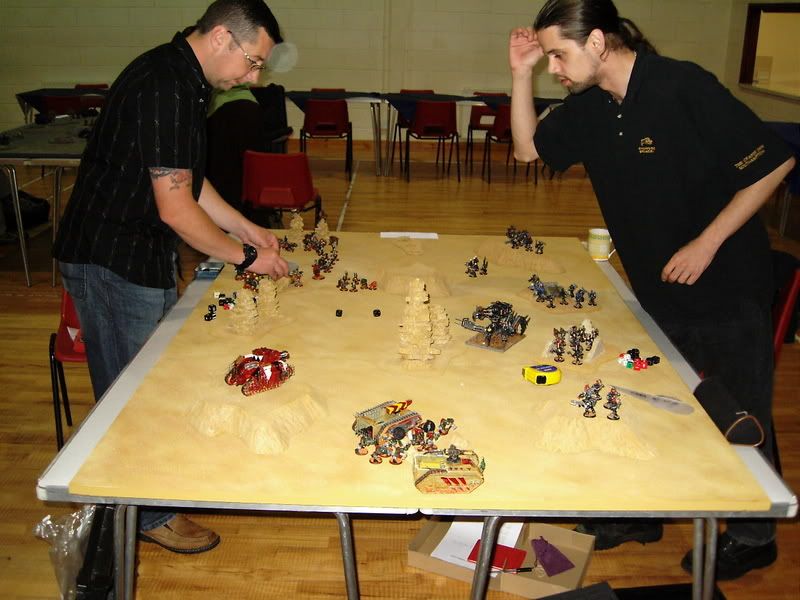 Andy's Chaos vs Charlie's Marines (note Andy's cup on my lovingly hand made board!? lol)
Here's Sam's marines taking on Victoria's superb all jump pack Blood angels - not one long range anti tank weapon in the army! Beautifully themed and awesome to behold on the tabletop!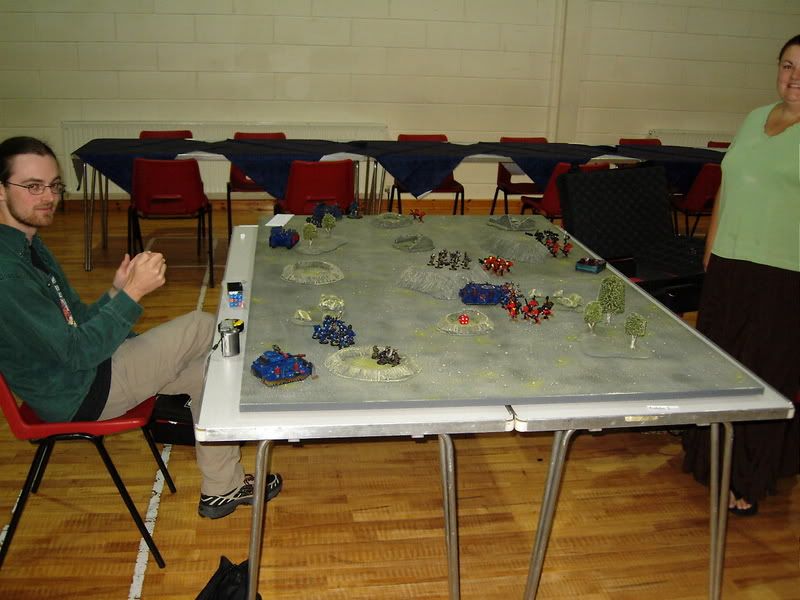 This is Mike's Blood angels going up against Andy's chaos in one of the most hotly contested battles to determine 3rd place. One moment Andy had the upper hand - then Mike and back and forth until Mike finally clinched it!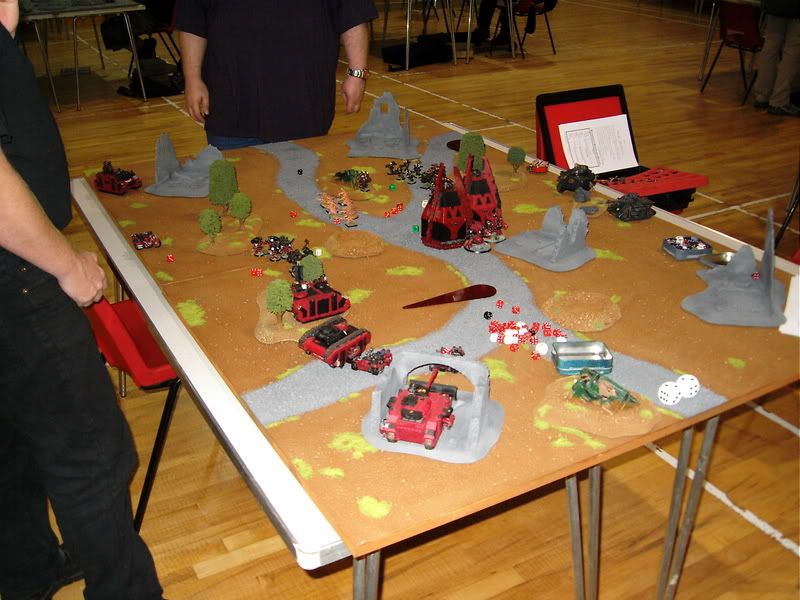 This is Adam and David's first encounter at the X Legion Tactica Tournament where David won by an impressive margin against an otherwise unbeaten foe....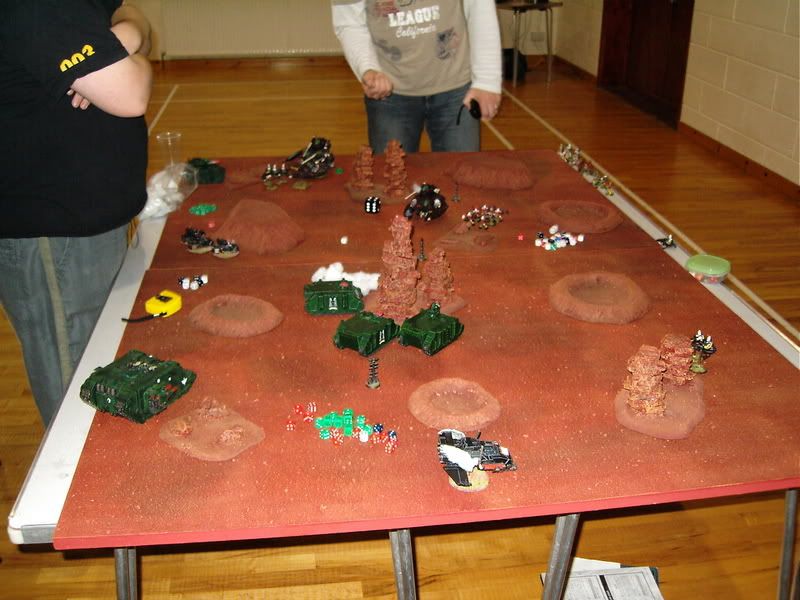 Earlier in the day Dan's Orks challenged Adam's Eldar for supremacy but were eventually defeated.... I think Dan yelling DAKKA DAKKA DAKKA! when rolling the best part of thirty dice for shooting and WHOOSH when he fired missiles and other things like DINK when the said missiles failed to glance or penetrate a vehicle were the highlight of the tournament for me and many others! lol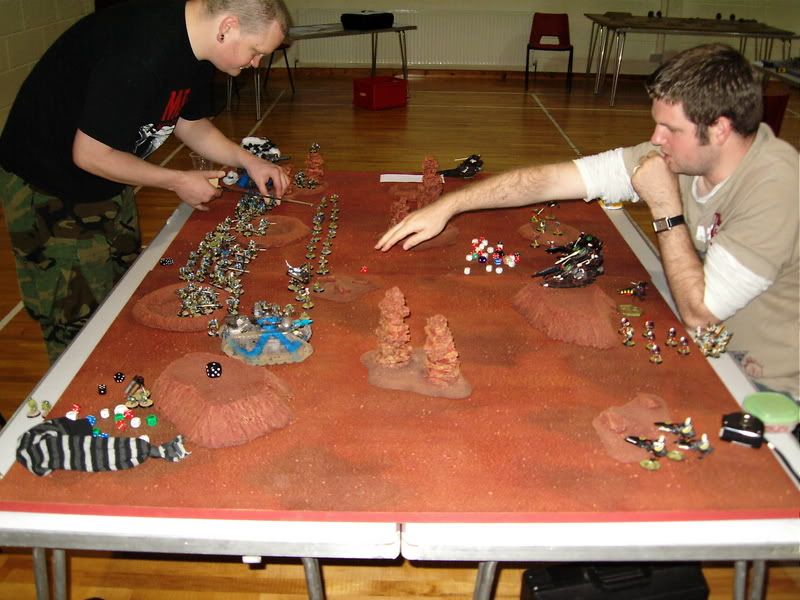 Here's Pete's IG up against David's dark angels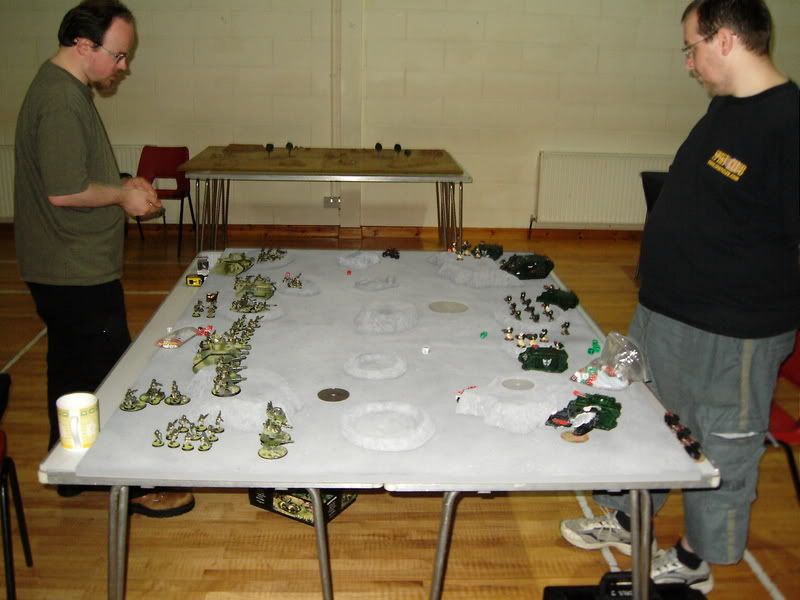 Mike's Blood angels vs Marcus' Necrons
and here's my IG lining up against a proper horde - Dan's Orks!
The next X Legion Tactica Tournament 03 will be held in Febuary 2008!!!