Discussion Starter
•
#1
•
Afternoon Heresy, it's been a long time since i posted anything painting or modelling wise upon these here pages yet i am ashamed to say i have nothing to show for this time. I have started several projects and finished none of them succumbing to magpie syndrome every single time, shiny new things distract me from what is really important, finishing a damn army for once.
And so i make this log with a solemn promise to finish the things i start within these pages. The main reason for my turning point has come in the suspension of my source of income for the moment and so i have no funds to purchase any more models/kits, and as such im going to work with what i have to make as much as i can, including scratch building and loads of greenstuff work. and so we begin with a few 40k pieces i am working on at the minute;
Dark Vengeance; I bought the DV box set on the day it was released but don't really like dark angels that much, so they went away in a drawer to gather dust, now though i have decided i want to make a SW force using the DV pieces. I dug out my bitz box and started sifting through the pieces till i found a rather large selection of SW pieces i can use. The Librarian was the first model i started on, replacing his shoulder pad and sword arm with a SW version and greenstufing fur over his cloak at the front as you can see below, i also Gs'd a rune on a rope to cover the keys he had hanging there;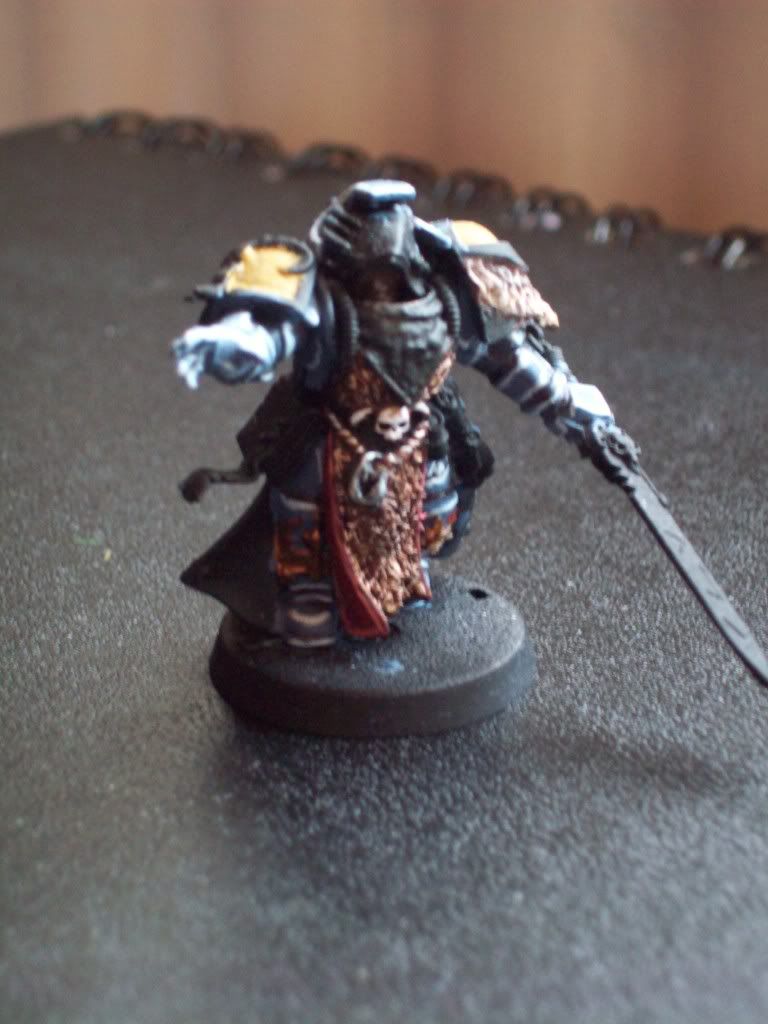 Whilst on my search for SW pieces i found enough to whip up a wolf guard model to lead the grey hunters i am going to turn the DV tac troops into. This guy was my first attempt at truly following a GW painting guide from white dwarf step by step and took far longer than i thought it would but i think the guy looks cool and is worthy of being fielded;
The next guy is a Pre-heresy Imperial Fist guy i am working on, probably to be my praetor. The model uses legs and torso from FW along with the commander culn head i had in my box. The sword drawing arm is created from a sheath off a chaos knight, i believe, and pieces from several GK arms i had available. Overall i like the effect and i am currently using the yellow scheme from the SW shoulders above to paint the IF scheme on him;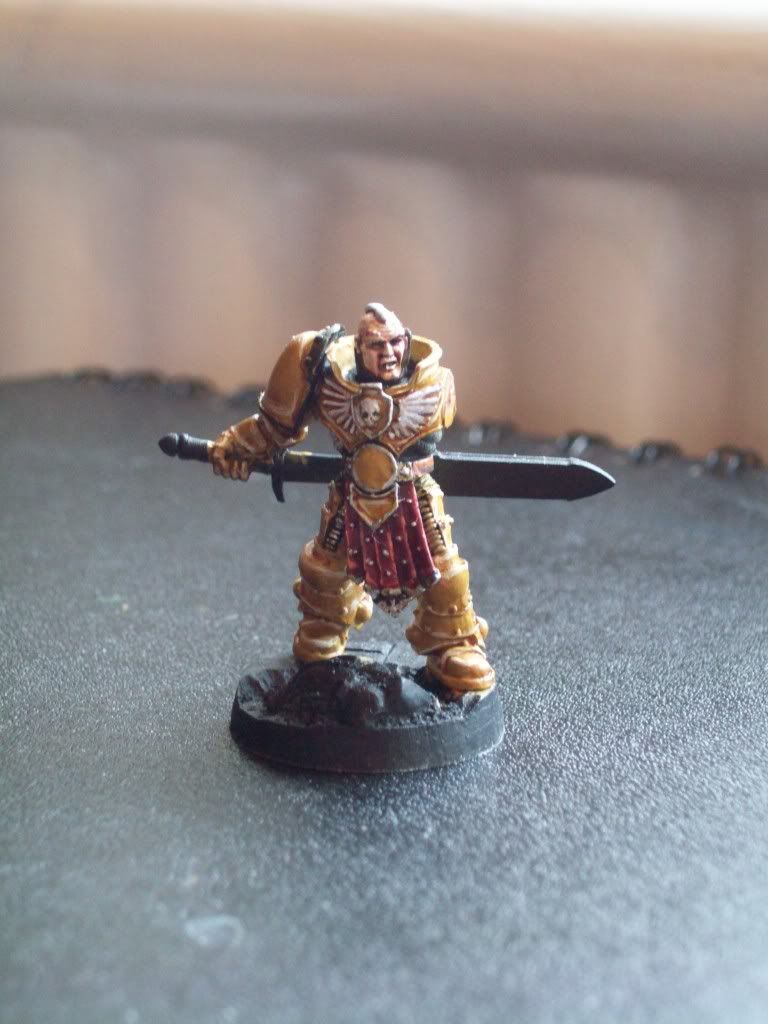 Fantasy; I found whilst digging through my model filled drawers that i had an unbuilt mortis engine/coven throne and the dreadfleet box lying in hiding. SO it got me thinking of a Dark Elf blood cauldron conversion i wanna try using the terrain from dreadfleet and a few coven throne pieces and so was born the begginning of a blood cauldron. At the minute i have only a picture of the base to show with a piece of dreadfleet terrain and the flying skulls from the coven throne attached but soon i will hopefully have a few pictures of the 'floating' blood cauldron;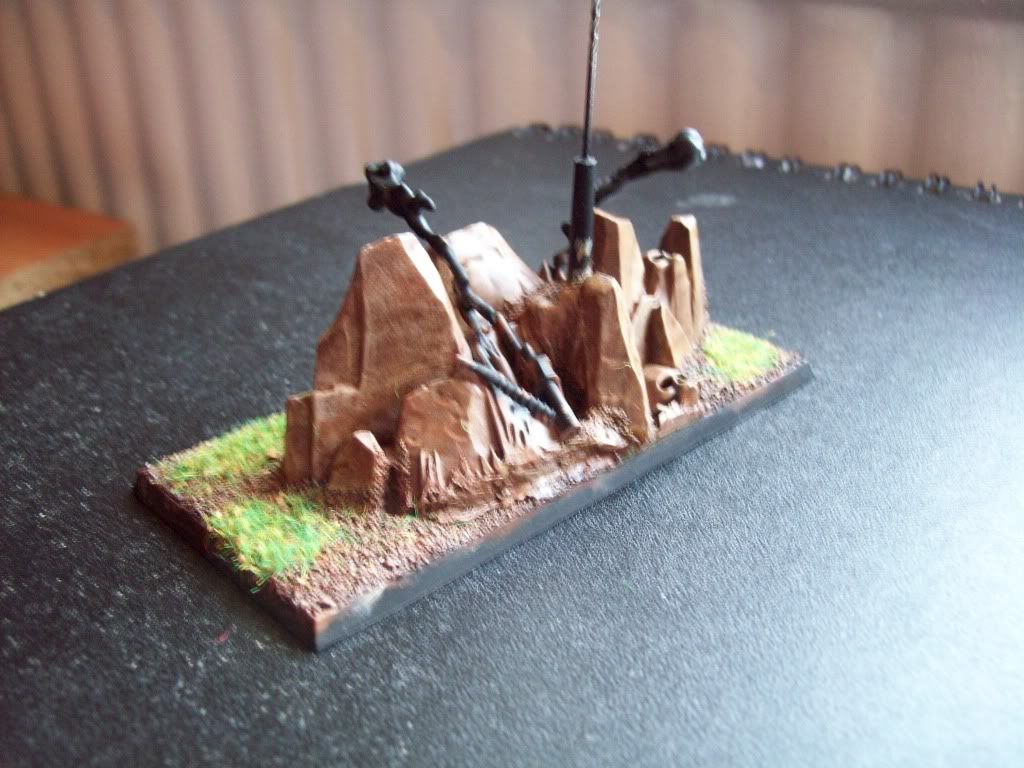 After grabbing the pieces i needed to make the cauldron i found i had aot of the engine still spare but not enough to make the actual engine, i used the steps and other important parts. i still however, had the bansees the vampires and the necromancer guy to play with and so i cut them out and started making them into single characters/models on bases. The first one i can show is the WIP of my vampire on horse, the horse has been removed from the ghostly part of the throne/engine and will be trimmed and greenstuffed to the best of my abilities to make it simply look like a vampire horse thing. Then i placed on of the vampire on it as if she was sitting side saddle. The weapon options havent been modelled on yet and the piece is very very WIP but i hope you can see how i am making the most of the bits i have available;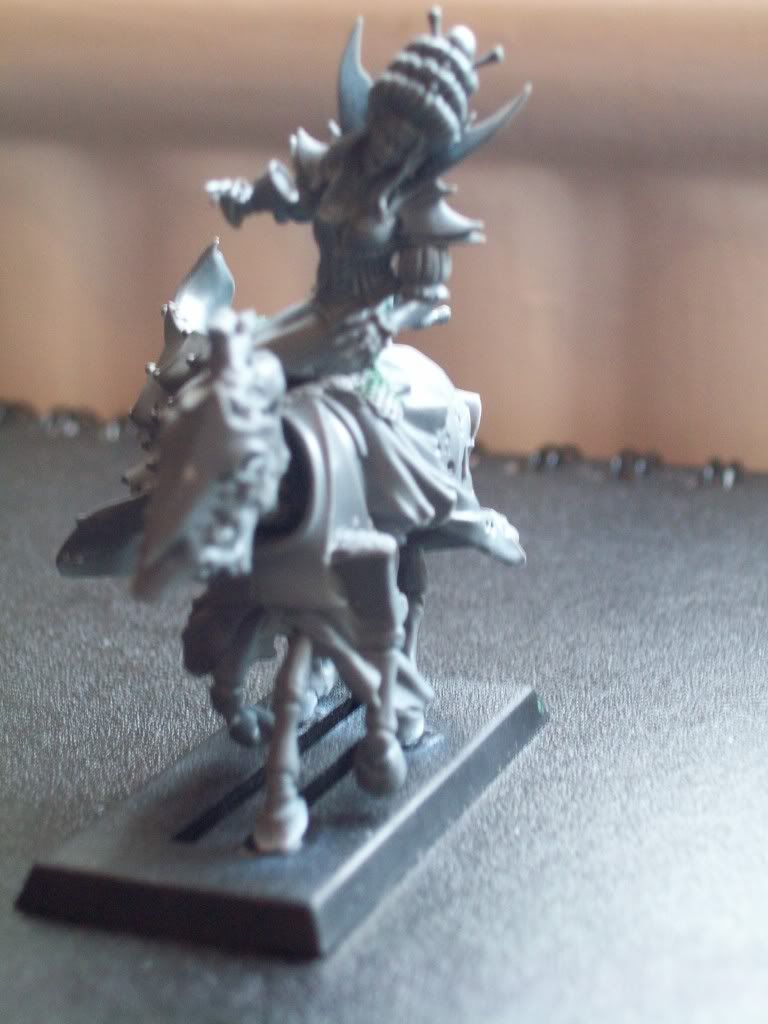 Well that is all from me for now guys, i hope i haven't bored you all into not finishing this post with all the writting and not many pictures, and also i apologise for the photo quality as the weather is crap here today and i had trouble getting any usable shots at all.
Comments and criticism is, as always, welcome and appreciated. i am always looking to imrove and you guys have far more skills than me in most if not all areas
Cheers
Liam