Discussion Starter
•
#1
•
For my next project and a bit of fun after finishing (for the moment) my 1000 point chaos army decided I would let some Orks 'recycle' a Tau Hammerhead Gunship. Mostly doing this for a break from painting and building things set to a scheme and just to have a bit of fun and annoying some of the Tau players out there is a bonus.
Started out with this pile of bits sprayed white, using a Ork Trukk for extra parts.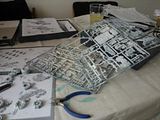 After removing everything came across a nice 'hot rod' type engine that I wanted to use so cut a small hole in the front middle of the tanks nose cone.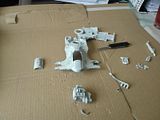 After a bit of chopping to get the pipes on the engine to fit, and a bit of trimming on one of the pipes to make it more of a short exhaust than leading to a upright, now have this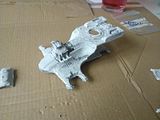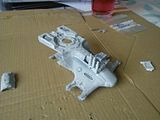 And while digging through my box of bits came across a old metal saw blade I bought ages back thinking to use it for a project that never got started, cut myself another rough hole straight in the front of the nose cone to create a sawblade-ram.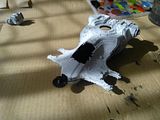 Removed the extra parts that I had added and glued together the main body of the tank, minus any hatches or the rear door and based and washed the main body and blacked out the inside.
Any ideas on some extra bits to make it more Orky would be welcome and also any tips for using the liquid green stuff to look like welding work would help.