Hey guys, (I hope I'm posting this in the right forum)
I just got offered an airbrush set for relatively cheap as part of a package deal with a lot of paint and some minis, however I was wondering what your opinion was on it, as it isn't THAT cheap :laugh:
The compressor is a "Mini Air compressor AS18-2"

with these specs:
Type piston compressor, oil free
Output 1/5 HP (150W)
Rotation speed 1450 / 1700 rpm
Standard volume 20 - 23 l/min
Pressure setting range 0 - 4bar
Adjustment range on: 2,0bar out: 4,0bar
Actual operating pressure in continuous operation approx. 2,5 bar at 0,2 mm nozzle
approx. 1,7 bar at 0,5 mm nozzle
Max. pressure 4,0bar
Hose connection 1/8" (9,51 mm)
Cable length 1,9m
Nozzles suitable for all types of airbrush with nozzles 0,2 - 1,0mm
Dimensions 255 x 135 x 170mm
Weight 3,9kg (light and portable)
Noise ca. 47 dB (low noise level)
Overheat protection available
Shutdown start / stop automatic
The brush itself is a Paasche VSR90#1
an older model Dual Action gravity feed brush
He is also throwing in an airbrush booth like this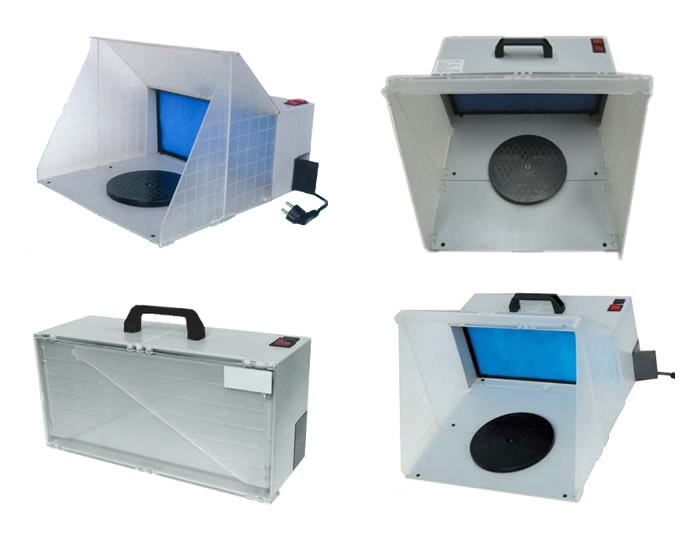 What are your opinions on this set? It will be my first steps into airbrushing and the appeal to me is that it's a complete working set, where I don't have to buy anything else for a while.
The main use will be to get smooth basecoats and OSL effects.
Cheers!