Discussion Starter
·
#1
·
I figured I'd show off some of my conversion work. Right now it's all blood angels/space marines, but as soon as I can borrow a camera again, I'll post osme of my tau and CoD stuff.
Too bad I don't have the time or skills to actually paint any of it.
Here's some shots of my chaplain. The first is before I turned his back banner into a bannerpole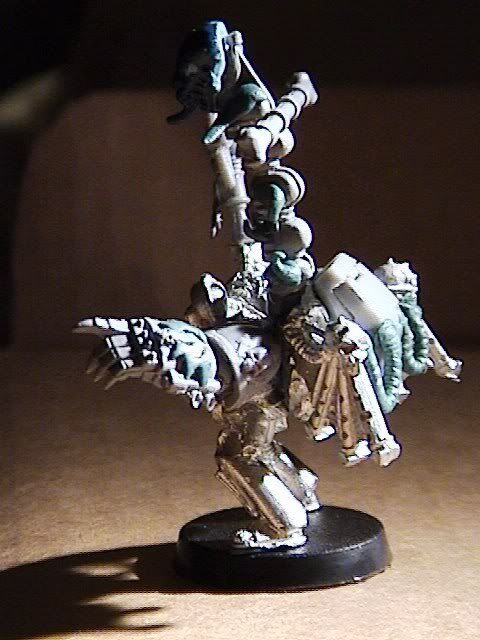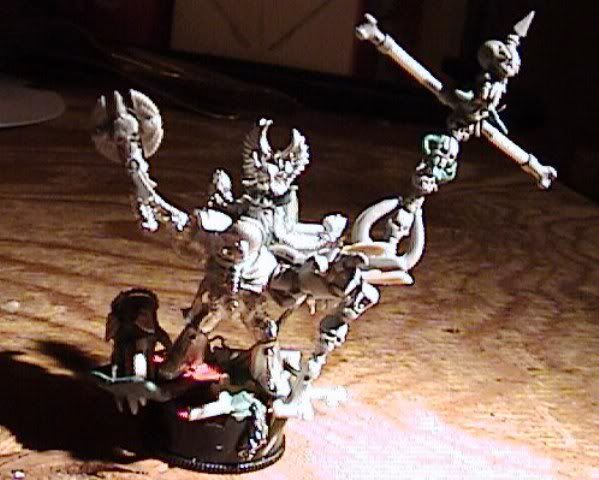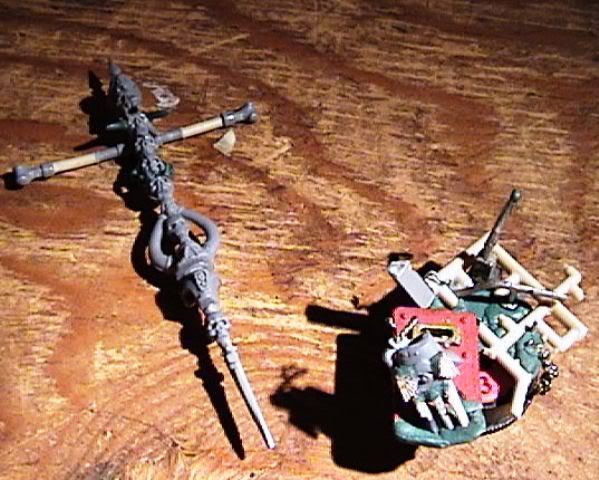 I need to build a bigger base to slot his base into. I want to kepe that base because it's got a clicky counter on the bottom, rotate it to count down his wounds. It;s pretty slock. But I figure a 40mm or bigger 'display base' with a hole cut for that would be cool, and give me a better place to plant his banner. (not to mention a bigger base is better in CC)
He's equipped with dual LCs, but I liked his bionic arm and homemade CA too much, so I modeled his other claw stuck into a piece of tank armor, like it got ripped off in the heat of battle and he grabbed his trusty CA to rally the troops. The mini is a Legion of the Damned sarge. The CA is made from a skaven drumstick head, an old plastic stikbomb and a coupel of bannerpole toppers. The LCs are powerfists with knife blades. The JP is an old raptor pack with a cut up JP thruster on it. Hosework, BA seal and horns are hand done GS (my first attempt at sculpting)
He's my favorite...and I know he costs a freaking fortune to field, but he's worth it.
Here's my libby and familiar.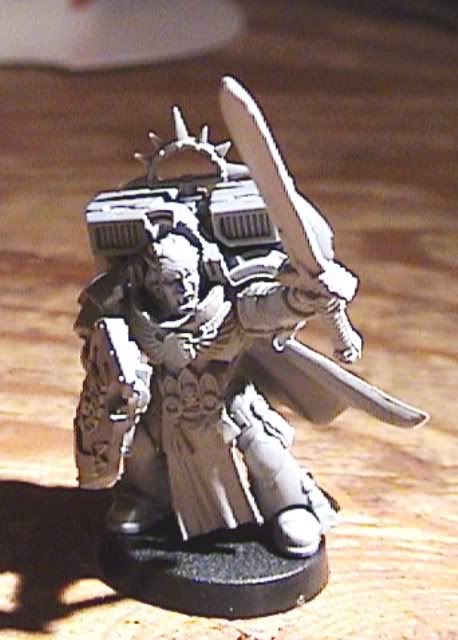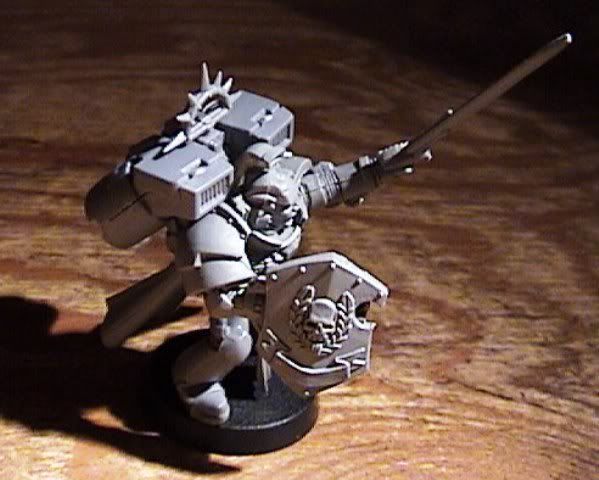 Libby made from spare commander bits, a khorneite 'vampire' head (Hey, he's BA) and company champion bits. I;ve since improved the model with a plasticard and GS book on his chestplate and some guitar wire running from the hood down over the front of the armor and behind, as well as some guitar string leading from the sword hilt, twisting around his arm and vanishing under his cloak. Updated pictures will come when I can get a camera in my hands.
The familiar has been demoted to a Grail Bearer for my chappy since I refocused my librarian to be more squad disruption than melee tank. I'll replace the back banner with a grail and either base him on the extended base for my chaplain or just have him trail after the DC. Note the inquisitorial shoulder pad, the little bugger's on loan from a friendly inquisitor ;-)
My as yet, unfielded SHP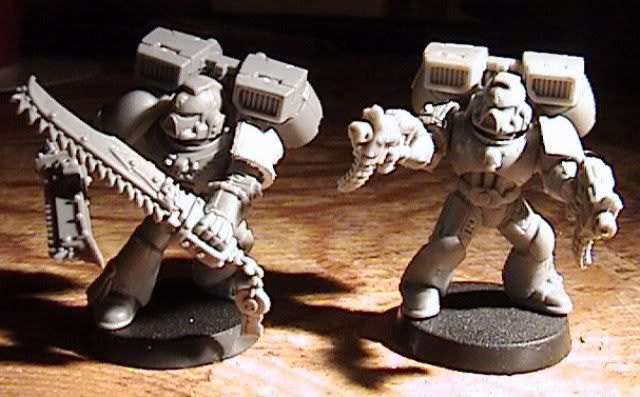 A couple of my deathco. Khoneite chainweapons are too cool to pass up.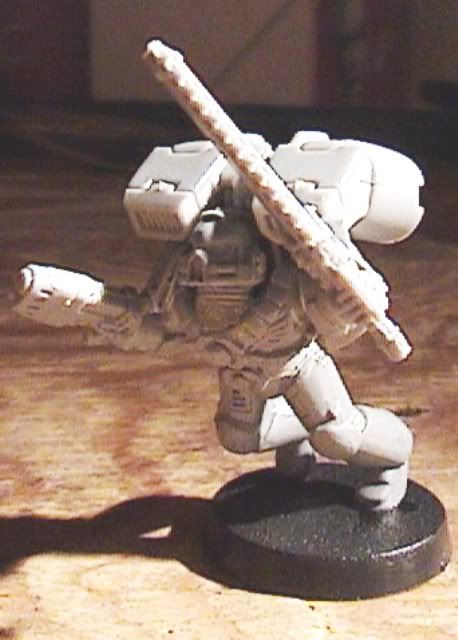 plas-pistol marine in mid lunge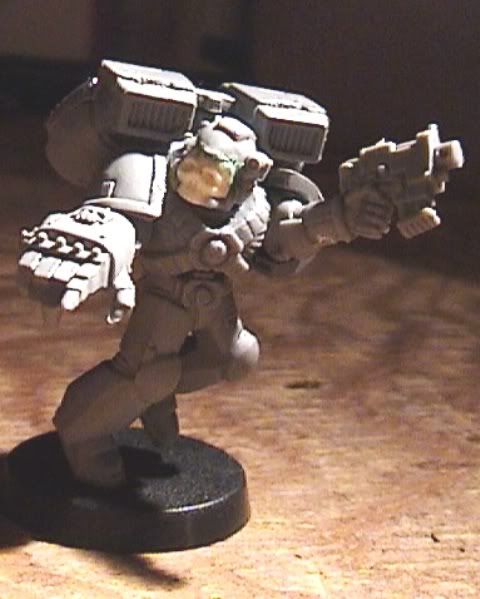 Assault sarge. His skull faceplate was cut form an old heroquest skull, but I think it might sit a little too low.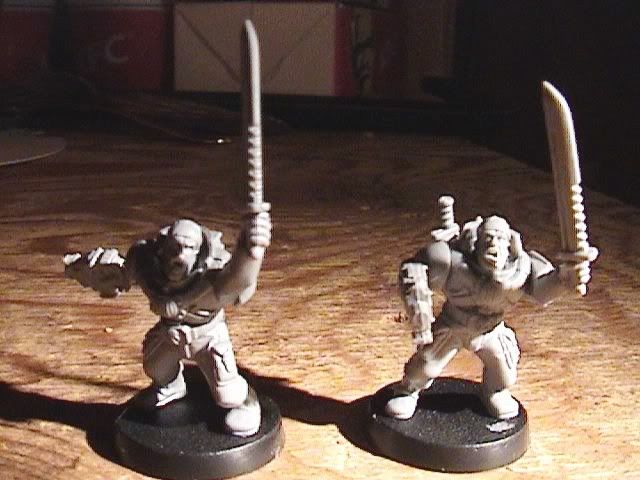 Some scoutds I whipped up from spare SM torsos and a bunch fo catachan parts. Cadian arms though. eventually I ran out of usable cadian arms so I ordered some genuine scout arms to finish the squad. Now that I have a good source for discount GW stuff, any future scouts will be bring and out of the box because, well, it;s so much easier.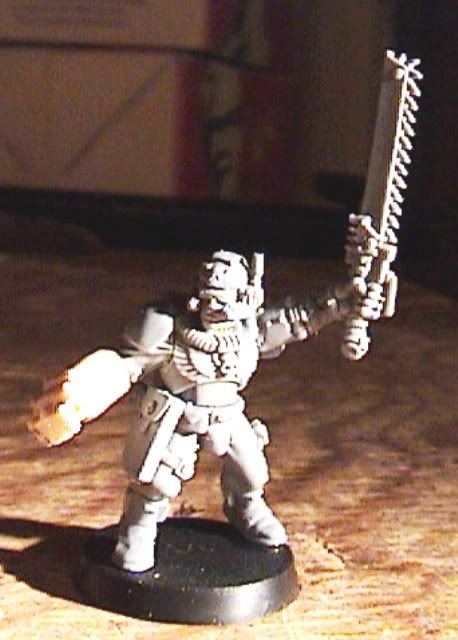 This guy, however, was made out of some spare sniper scout parts (I already had plenty of pewter snipers, but my megaforce came with plastic ones too). I hollowed out a SM helm and cut the face off and stuck it to a catachan 'duke nukem' head. The powerfist is left over from my very first set of plastic marines (RT era). Bionic arm frm the SM commander that came with my megaforce. The sarge doesn;t actually have bionics, but it looks cool.
Lascannon 'sniper' I've since dropped the bipod.
I made a scratch built lascannoner out of a cut down IG lascannon. Pics fourthcoming, ocne I get a cam.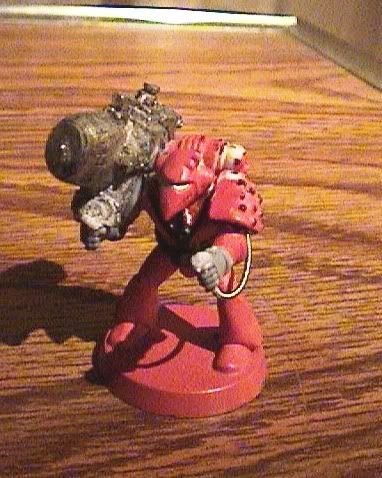 A blast(template) from the past. RT era marine with 2nd ed plascannon and a rigged up trigger made from a 4th ed marine fist and some guitar string.
Sometime I'll have to post pics of my dev squad. A missile launcher from every edition boxed set.
Speaking of hot, plasmaey death, that's exactly what this poor SOB fears. I brazenly stole his pose from another poster on B&C (but he admits to stealing it from someone else, so I call it fair game) bannerpole arm and missile launcher arm. If I hadn;t lost my tiny d6 I;d have one on a thin piece of ire on his base, like it;s in mid-toss and he;s waiting on the result.
My "Sprue Armor" extra armored Baal predator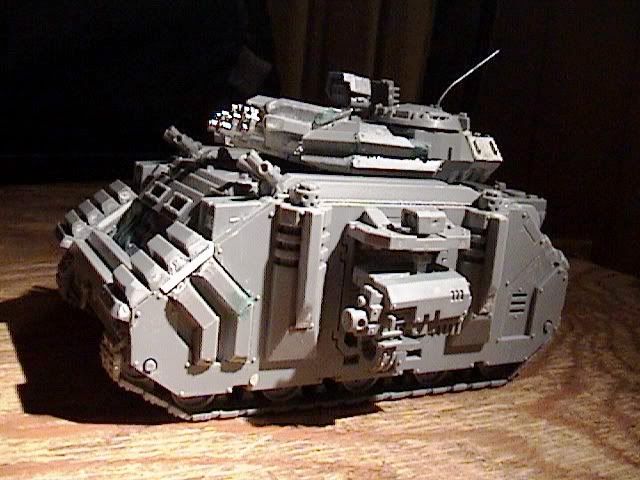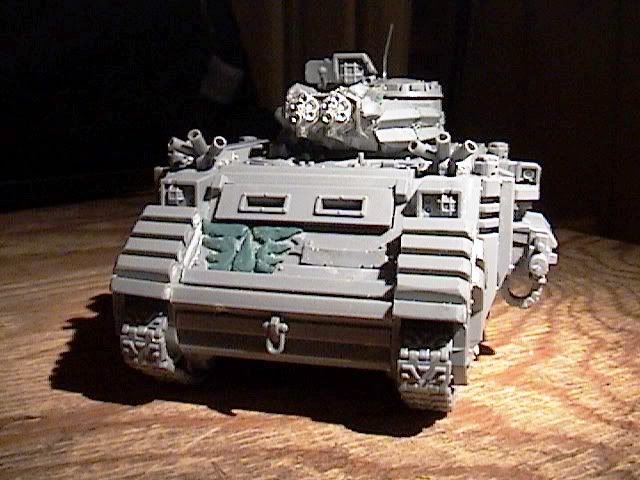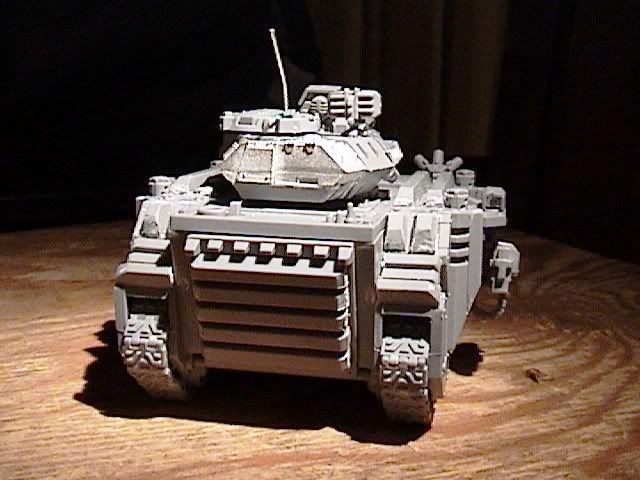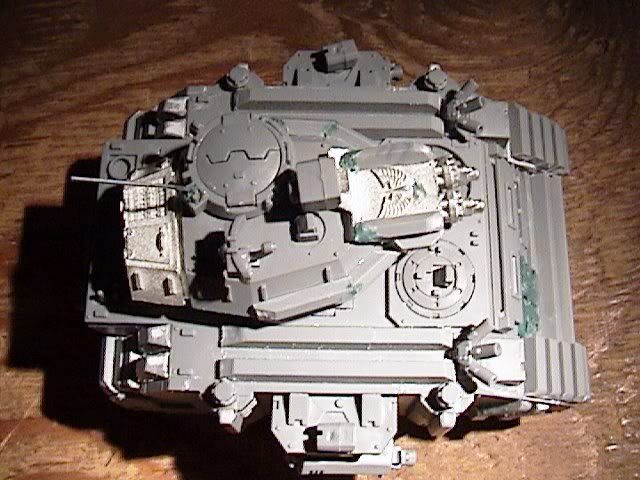 Simple, effective and free. Just very time consuming...and getting the angles right can be a royal pain
My homemade "Scorfa Pattern" (razorback style) Baal turret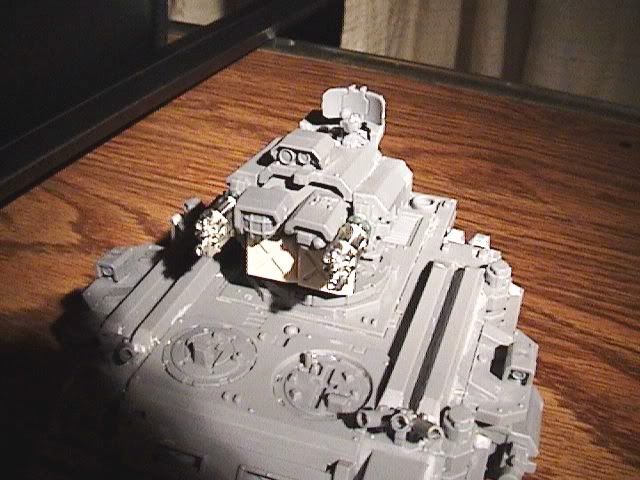 Could also double as a representation of PotMS, since it gives the tank a very unmanned, automated look
My scratch-built vindicator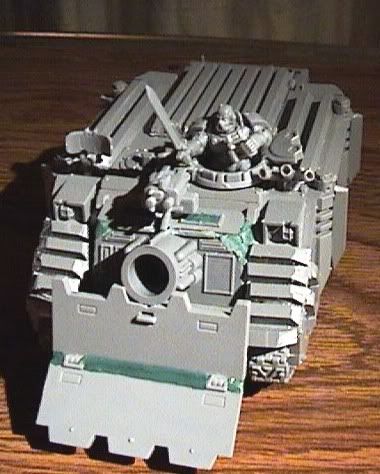 Gun/front armor made from the bulkhead out of a land speeder. I cut a replacement bulkhead out of plasticard and carefully sliced the seat backs and piping off the original and glued them on, then stuck the tornado stowage pieces in to cover thefact it;s hollow under the side hatches, so I was still able to build a perfectly finr tornado.
As you can see, I didn;t have the patience to do the sprue armor justice. It looks a fair bit rougher/sloppier than the armor on the preds. It takes a fair amount of patience and I'd used most of it on the initial conversion. Oh, dozer made from rhino hatches.
Brother Claymorous, my Furioso. I used an old fantasy elf shield and a spare defiler faceplate to make a more itneresting sarcofagus..but when I realised a) the inside was so hollow and b) you could see through the eye holes, somethicn just clcked and I ran to radio shack and got a bi-color LED and rigged it up. Flip the batteries one way and it;s red, flip it the other and it;s green. Good for doubling him for Moriar.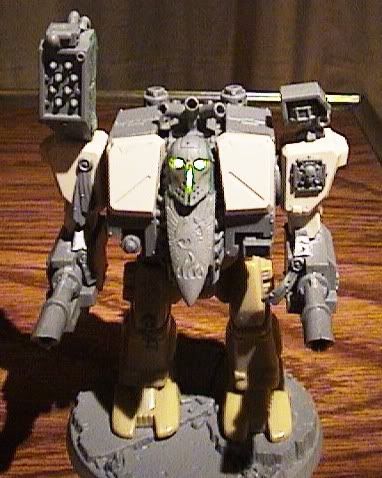 His cousin Brother Obliterus. He's a 'warhammer pattern' dreadnought. The idea I got from another poster who did a similar thing on B&C. I used the legs off an old robotech/exo-squad toy (to add authenticity) upper arms off an old gundam mocel (It was just a GM!), lascannons are sponsons. The missile launcher is a flipped over and cut-down drednought missile laucnher, of course. Cut way down in length.
Same sarcophagus and lights as Claymorous, except he;s got sa phoenix on his shield. Seemed appropriate.
And Versitus...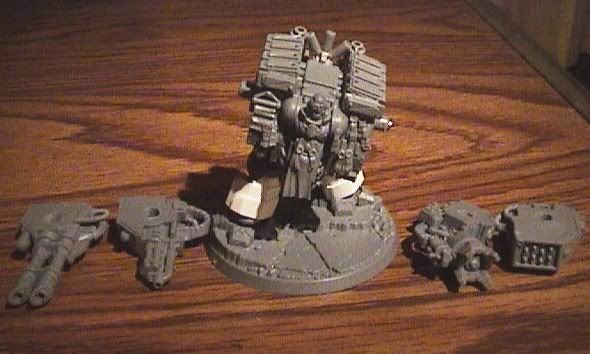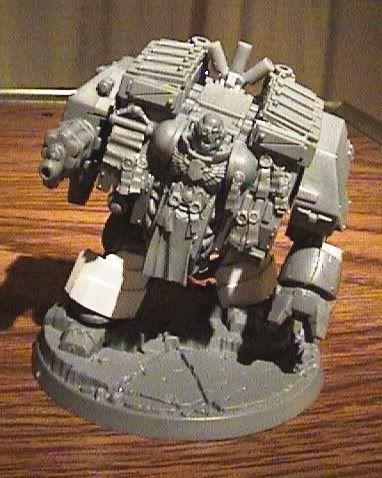 Is what happens when I get my hands on magnets...and then promptly run out of shields and defiler faceplates. So, I figured, "Hell, this guy's a blood angel, so I say screw the sarcofagus! This old dude wants the wind in his face and the blood in his eyes. I need to get him a furioso arm because he seems mighty furious. Same idea would work nice for chaos dreads too.
I made him venerable my stickign every purity seal I had in my bitz box on him ;-) When he ever gets painted, I plabn to show a silver patch through his flesh, to show he;s got an adamantium skull (and therefore is protected from fire just as well)
Well, that's all I got pics of so far, but more to come. And maybe someday I'll get them painted...