Discussion Starter
·
#1
·
OK, so...I've had this idea in my head for ages now for Noise Marines which was to paint them to like Steve Vai's
crazy swirl-finish guitars
:
In the books Noise Marines are described as this demented mish-mash of clashing colours that's hard to even look at, but most of the time when you see actual Noise Marine miniatures they're just pink and black. The fluff says every colour ever, all at once...the models are pink and black. This bugs me (I have a similar mini-rant about Tzeentch Marines, who cleave to the Great Mutator and Changer Of The Ways, and are *always* sodding blue and gold!). So, I tried to get as close as I could to the swirl-guitar paint job on this paint test model; yes, I know, the metals aren't fully highlighted, but the main focus of this is the armour colours.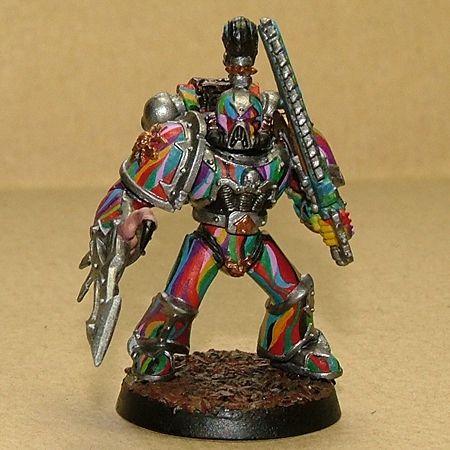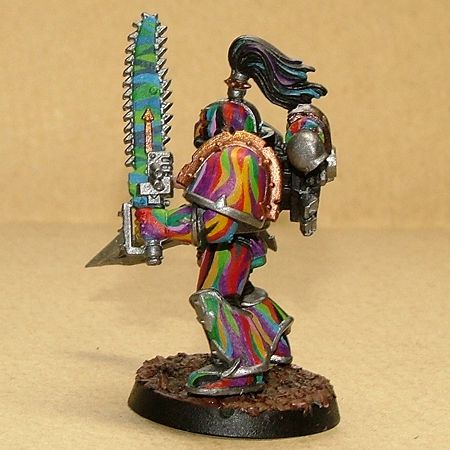 The current plan is to paint up one squad of Dark Vengeance Chosen (with some conversion work on them just to make them individual, they're hard to convert much with all the detail that's on them and given how they assemble) in this colour scheme so they can function as Noise Marines or Slaaneshi Chosen. This colour scheme is an absolute
bitch
to paint but I think it looks kind of distinctive, so I'm curious to see what people think of my first attempt at a genuinely noisy Noise Marine...
_____