Discussion Starter
·
#1
·
One of the things I'm often entrusted with locally is handling the black boxes when they come in. If you're not familiar with the black boxes, they're sent to stores a few weeks before product is released for demonstration and display purposes. Now, I don't know how GW handles them, but the FLGS just hands it over to me when they come in, and in exchange for painting up the contents and putting them in the case until the release, they're mine to keep.
As a Warriors of Chaos player, I couldn't resist laying into the Daemon Prince first-- while the daemon prince is often cited as an iffy choice in an army, I've always liked the models GW has done for them, and that's always been reason enough to at least have one painted up and ready to fight.
I decided that this daemon prince would be a prince of Khorne-- I even took a bit from the new Bloodcrusher sprues to put a sigil of Khorne on the model's belt.
Anyway, I thought I'd show off the new model, because out of all the new daemon releases, it's by far the best of the models.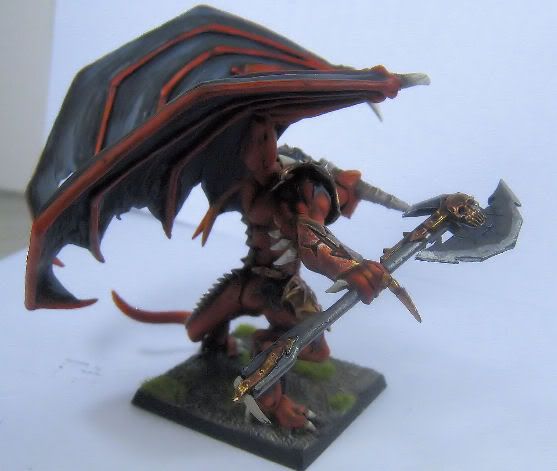 And for scale, this is the new model next to Be'Lakor, who stands roughly twice the height of a Space Marine. Make no mistake-- the new daemon prince is BIG, and the photos GW have released don't show its scale at all.