Discussion Starter
•
#1
•
Zod plodded across the shifting wastes as red lightening ripped through the bleak skies, thunder doomed loud enough to shake a man to his knees however that mattered not to the massive dreadnought.
The resource cache that was located in the north sector was secure as reported by the scout detachment and Zod would see to it personally that it would not fall into the hands of raiders, an opposing clan, or more sinister forces. Seems like only 200 years ago that Zod was racing across this same torn waste to recover a recently unearth weapon cache. It seemed like only yesterday when he and his battle brothers of Mordant squad held the outpost on the fringe world of Rav IV from a tyrannid attack, an attack that would change everything for Zod.
As the bodies mounted and the ammo of Mordant squad nearly spent Zod held his ground pressing his cybernetic superhuman body to the utmost holding a wall breach for nearly 3 hours with a scything talon he ripped from a filthy nid.
as re-enforcements touched down clearing the zone with cover fire it was then Zod's body at last failed him collapsing the heap of bodies piled about him and darkness swept over him.
all he could hear were muffled words and then a hiss and a low hum as his interface began running a system check.
Mordant squad and all of clan Gyaxe saluted the newest dreadnought. Zods snapped back to matters at hand as warning signal alerted him of approaching bandit forces, " perhaps his wont be so dull after all." he thought....
This is my first dread ever after a 2 year break I think it turned out rather will there are some minor addition I wish to make but over all save for sealing hes done Zod of clan Gyaxe
Gyaxe(in honor of Gary Gygax) will is my Iron Hands Clan (since 8 or so clan are unmentioned) well enough of the song dance and store here are the pics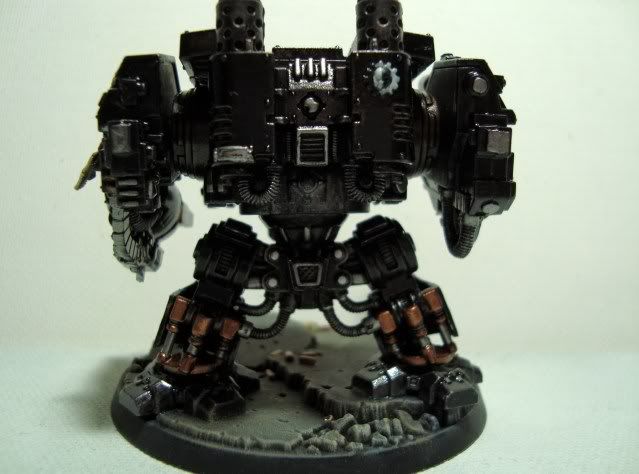 pardon the fuzz my camera has been giving me fits >.<