Discussion Starter
•
#1
•

January 2014 Voting
​
Voting is open to all members of the Forum. All entrants must vote, and cannot vote for themselves.
Each member of the Forum can cast one vote in each of the two categories by posting in this thread:
Most Innovative Idea:
This category covers the pure imagination that fuels conversions so is for the cleverest idea irrespective of technical execution
Best Executed Idea:
As well as ideas conversions are works of technical skill, so this category covers the ability to make a converted model look as if it has always been that way irrespective of how ambitious the change was.
Voting will close at
midnight GMT on 8 February 2014
.
Vote do not need to include a reason but they are encouraged.
For example, I might put:
Most Innovative Idea: The Mod Team - the Conversion Deathmatch is a great idea
Best Executed Idea: The Mod Team - the Conversion Deathmatch has been run very well.
The current full rules and FAQ can be found in the
Rules thread
.
This month's entries are below. There are more shots of many of the conversions from other angles in the
Entry Thread
:
Fiddlestix
Scratchbuilt Ork Deff Dread out of misc bits and Gundam pieces. I've taken to calling it Metal Gear WAAAGH! Everything is movable and removable to swap out different weapons and arms.
Before:
After:
iamtheeviltwin
here is my Empire General on Griffon conversion: I took the General of the Empire kit, the Island of Blood Griffon, some Milliput, and knives:
Before
After
Nordicus
Converted Noise Marine Blastmaster, who is gradually turning into a Daemonette due to his... excessive worshipping of Slaanesh.
Before
After
Kickboxerdog
a libby converted out of my bits box
Before
After
Brother Droopy
Before
After:
HokieHWT
The first, of many, converted Slaanesh Daemonette Warp Talons.
Before:
After
Stormxlr
Before
After
Jacobite
4 bit's box Pyskers
Before
After
Swede Marine
Hes going to become my new Chapter Master as i tend to throw him into fights pretty often.
Before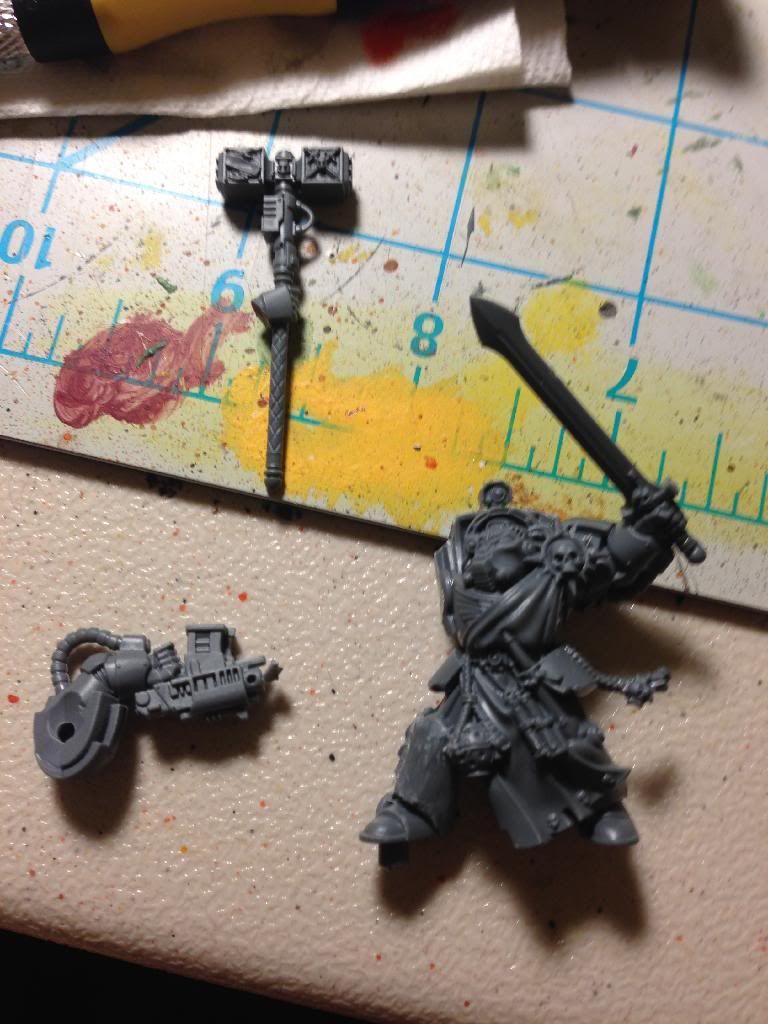 After