So, the project I've been waiting for having gotten my hands on a Warhound Titan [justified by using money i made selling a load of minis on ebay;] picked up an airbrush and practised using it on a valkerye.
Now i've wanted on of these, like, forever so I wanted to the best job possible. To that end I made sure i'd have the tools i might need and was sure to clean flash, dry fit, clean the resin and check carefully for miscasts before I started.
I'd a colour scheme in mind based around a Titan Legion who's forgeword is from a system i'd invented for my homebrew marines, guard armies [still very much WIP lol.]
Hence the Legion Tenebris; motto: Lux ex Tenebris.
The Warhound's name: Lupus in Fabula [Speak of the wolf and he will come]
I'll admit the colour scheme changed slightly at the 11th hour. But i'm pleased with where things are going.
There is a rever Titan log on the go atm and I have to admire how helpful the real step by step stages are; sadly I'd started to document this project before that and i've no captured each stage as well, apologies for this.
Anyways, cleaning etc out the way, the first stage of assembly is the feet and legs. I'd heard horror stories but actually this part was pretty easy if a little time intensive siomply to finish the feet.
You do need to plan/dryfit carefully though as there are a couple of points where you could glue stuff and make life really difficult adding some of teh pistons. [The instruction pamphlet really isn't that helpful.]
It also should be said that I did end up with one foot further off the ground than the other. In retrospect this has caused me to make a better base than I would have... but does illustrate that you need to pay attention when gluing. So despite being for the best in this case was a definate learning experience.
[Resin and superglue adhere REALLY well due to the porous nature of the resin, this means that it forms serious binds which are less likely to break than the resin itself... once glued, things are pretty much stuck so do take care.]
So, first set of shots, the legs and feet assembled.
[BTW, my images seem to upload really large, it there a way to resize in the browser?]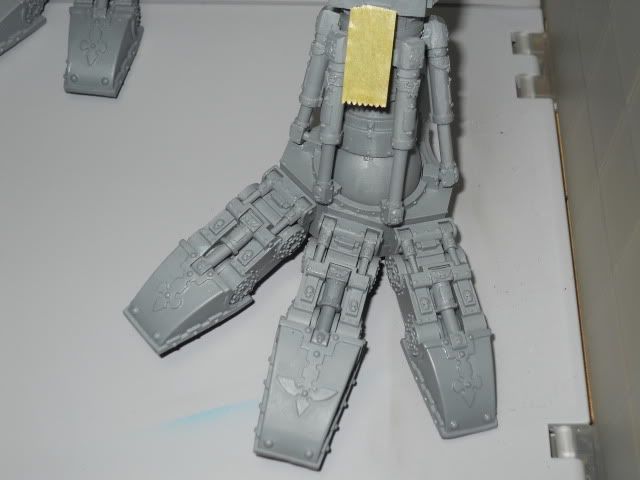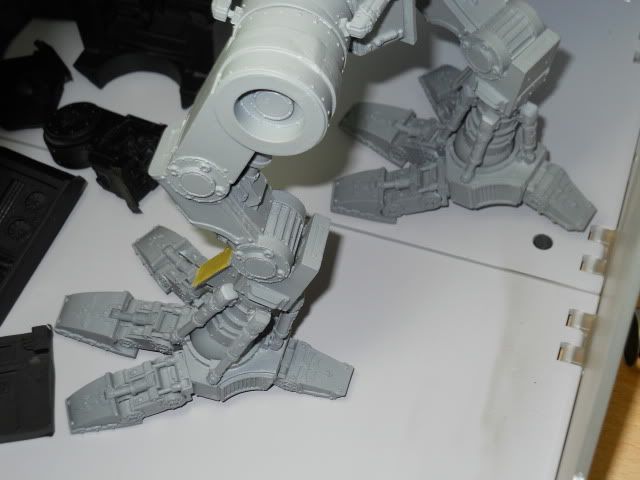 And here are the parts for the torso, already part assembled with the interior undercoated so I can paint the interior before assembly. This is so on the full assembly I can fill any gaps, and sort any problems before undercoating the exterior.