so for my chaos sisters that im working on ive scribiled up some special rules for the leader of my rag tag group of heretics. basiclly i made up the model months ago painted it but never made any rules for her, main reason why shes in terminator amour is i reckon it looks awesome
on the rules all have come from the witch hunters and chaos space marines codex hence why i managed to get a point total as i added up everything
k:
lord helena
points - 230 points
ws - 4
bs - 5
s - 3(6)
t - 3
w - 3
i - 4
a - 3(4)
ld - 10
sv - 2+/4+
gear
bolt pistol
mark of khorne
chain fist
helena's favoured weapon for ripping apart her foes for her dark master.
treated in respects as an eviscrator
terminator amour
salvaged of a lord she bested in combat, blessed by her dark lords protecting her from even the most dangerous of weapons

special rules
eternal warrior
after numerous years as a gang leader followed by years of conflict against her numerous foes helena has taken just as many wounds. her constent battering has made her all but immune to the most dangerous weapons.

lord helena can not be instant killed.
dark influence
such is her blood lust that her troops under her command dare not defy her for fear of her turning her blade on them.
any friendly model withen 12" of lord helena uses her unmodified leadership
for all morale and leadership tests.
blessed by the dark ones
such is the carange and blood that helena wrecks across the galaxy that khorne has blessed her with dark powers to futher the canarge that she spreads.

once per turn she may use a chaos gift for without the need to take the test or use a gift
quick rundown on points and everything, i started with standered canoness make, added on the eviscrator (chainfist), bolt pistol and the mark of khorne from csm codex
for the terminator amour i used the cloak of st aspria along with the rosairies from the witch hunters book getting the 2+/4+ saves
battle scared was 2 mantle of opelia, against rules to take 2 of the same item but she is a special character :grin: so 2 of them negates 2 instant death results so with 3 wounds all is good
dark influence is a book of st lucious
blessed by dark ones, a fun one i like
basiclly each turn once per turnshe may use a chaos gift (act of faith) this can be used in either yours or your opponents phase but only once per turn. so in a game with 5 turns thats 5 gifts. ive taken off the starting acts the cannoness has (2) and added 2 linities of faith making 4 acts, sounds fair in my books as she doesnt have to do it every turn and she is killable which denies the acts.
so adding all the points totals up ect from everything ive just listed you should come to 201 points, welcome to criticisim or ideas to what can be changed around to balance her out
lastly heres a pic of her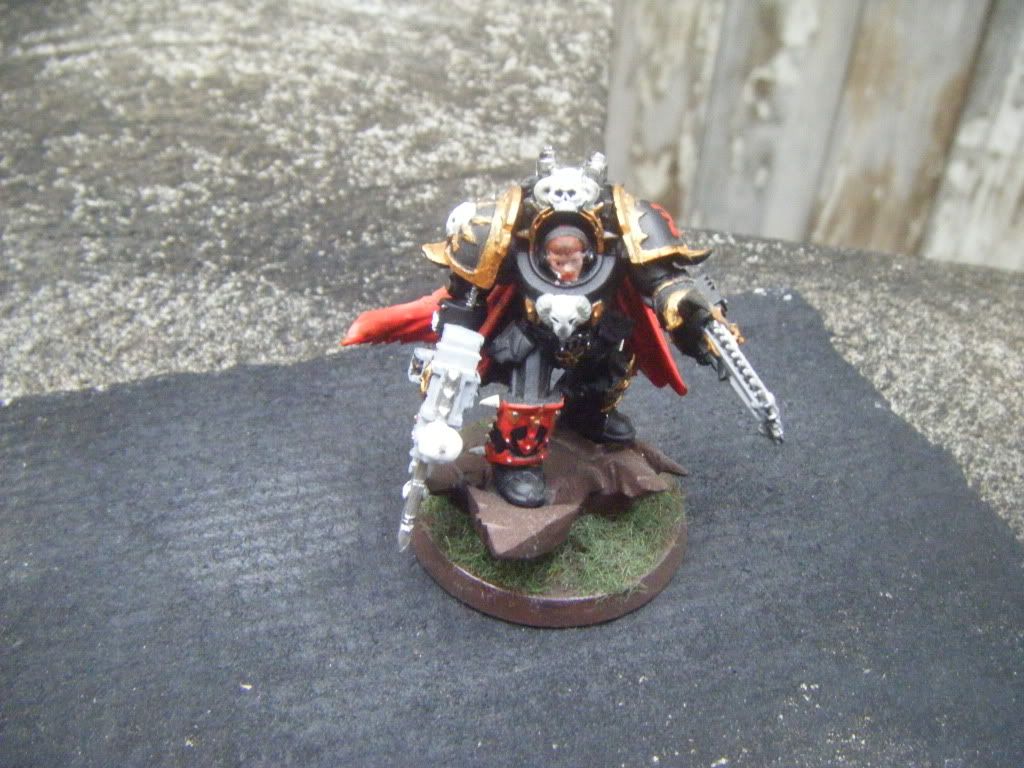 [edit : on fluff wise nothing so much is done yet, im thinking she starts as a gang leader sentenced to death when a cannoness saves her to become her student ect. betrays her saviour assumes control of the order and slowly inducts her fellow gang mates in. murders the loyal, plunders the place ends up following khorne somehow, its slowly working out in my head]