Kneel before me Marine!

By Viscount Vash
This tecnique should allow you to pose marine legs in almost any position you might want, sitting, riding a bike and others.
what do you need?
Craft knife, pin vice drill, razor saw, superglue, modelling putty(Green Stuff), paperclip(brass rod), Marine legs and cutting board.(Oh! Also Emery paper not pictured.)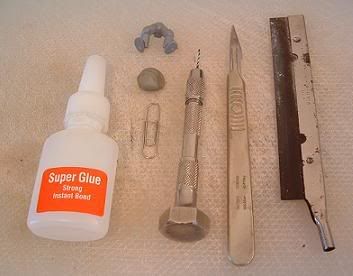 Stage1
First remove the legs from the sprue and as always clean up any mold lines, using the modelling knife and if necessary a file or emery paper. Also, remove any extra details around the kneepads.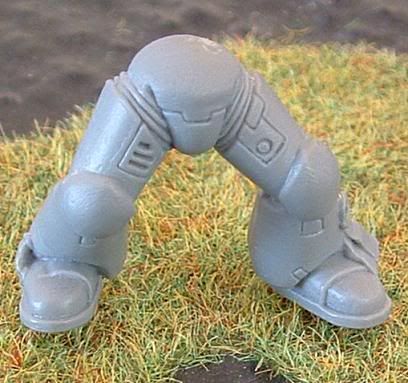 Stage2
Using the razor saw, carefully separate the legs into pieces. Cut it at the knee joints preserving the kneepads (I found cutting with the knife the best way to keep curve on the underside of the pad). Remove all of the ribbed areas that are left after the cutting process with the knife. These will be replaced later with greenstuff. I also cut along the line on his right foot (with the knife) so I could 'bend' it. So you should now have a pile of bits that look like so.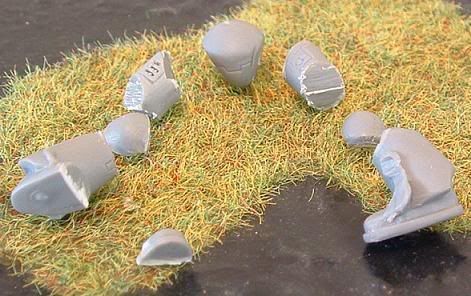 Stage3
You now need to drill a hole right through his 'grundies' at about the point the hip joints would be, so that you can put the rod through right through. Then bend it like the picture below
(do not glue)
.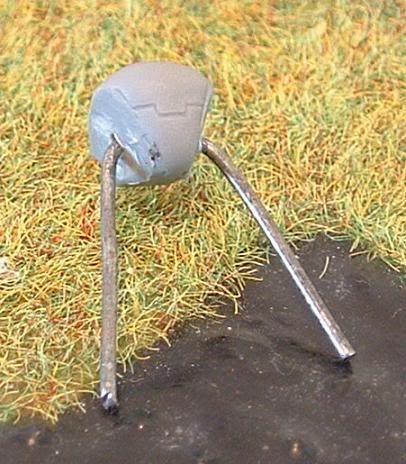 Stage4
Drill the other leg parts so that you can thread them on to the rod
(do not glue)
.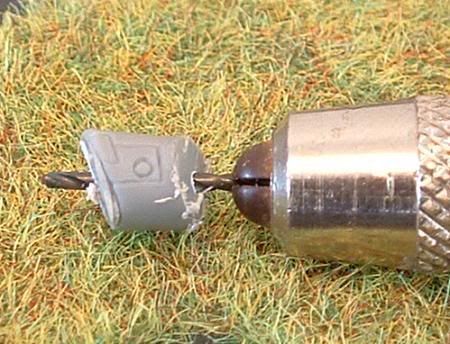 Stage5
Bend the rod about until you have a position you are happy with. Once sorted glue in place. Now you can cut the toe part of his foot to an angle that suits his position and glue that and the knee pads on too.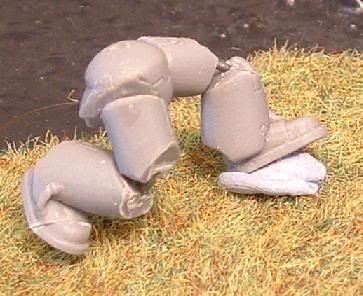 Stage6
Now its Green stuff time! Fill in any gaps with small amounts of GS, using your (wet) knife to make any areas ribbed. Try to get any joins onto armoured parts as smooth as possible as GS is not easy to sand after it has dried (If your using Milliput lol coz you can sand, drill and carve but then drying times are longer).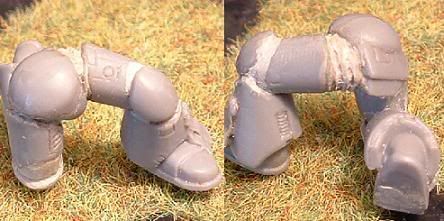 Stage7
Now you are into the final clean up stage, It does'nt matter how careful you were you might well find you have to bulk out his knee pads with GS (I did).
Put the rest of your Marine together and you are ready to paint. Here is a couple of finished examples.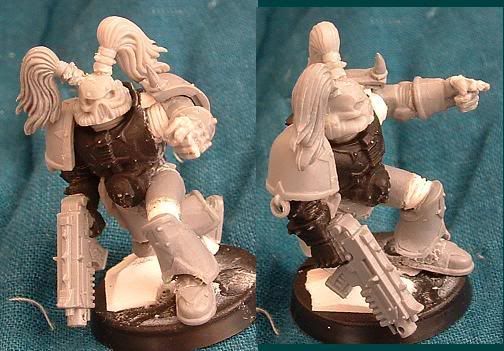 Hope that this is of some use.
Vash