Discussion Starter
·
#1
·
'ello. So this happened. I'm finally doing 'late war' World War Two things, and Germans at that.
The thing is that so far I wasn't all that much into the idea of doing the usual fare of Western Front 1944/45 with all the uberweapons and such. However, a few things changed that. For one my regular gaming pal got really into the idea of doing British airborne troops. In addition to that Too Fat Lardies, the fine, fine company who came up with the brilliant Chain of Command rules, released another mini campaign rulebook with an interesting theme.
This of course is a great opportunity to get our WW2 campaign going, based on the struggle between elements of 21st Panzer Division / 125th Panzergrenadiers as part of Kampfgruppe von Luck and British/Canadian Paratroopers in the early hours of the D-Day Landings on June 6th 1944. The Paratroops had been dropped down to capture strategic points and keep German reinforcements away from the beaches while local German forces have to aim to throw them out and recapture important approach routes to Normandy. As my friend immediately went for the Paras I'll do the Germans.
The whole thing will be based on the recently released 'pint-sized campaign' supplement by Too Fat Lardies, Kampfgruppe von Luck:
This means basically I have to collect and paint the following:
.) A platoon of 1944 Panzergrenadiers consisting of: 1 Officer, 1 Panzerschreck team of 2, 3 squads of 10 Panzergrenadiers
.) A bunch of these mostly improvised rearmed originally French vehicles cobbled together by engineer Major Alfred Becker and his staff
.) A bunch of other support. Additional staff, egineers, heavy wepaons, vehicles.
Of course this force would be useful for any other (less specific) Panzergrenadier platoon of the time, with a slightly wider array or support options.
I ordered all the required stuff weeks ago, still not sign of the goods. So until further notice, I'll make do with a platoon of just two squads and I'll scrape together as much support as I can. Here's what I got in the making so far (those are all still WIP):

1 Officer
Panzerschreck team of 2
2 squads of Panzergrenadiers
Support Options:
MG42 MMG on tripod team of 5
Panzerschreck team of 2
Engineers Flamethrower team of 3 (one not pictured as he hid on my table
)
Here's a closer shot: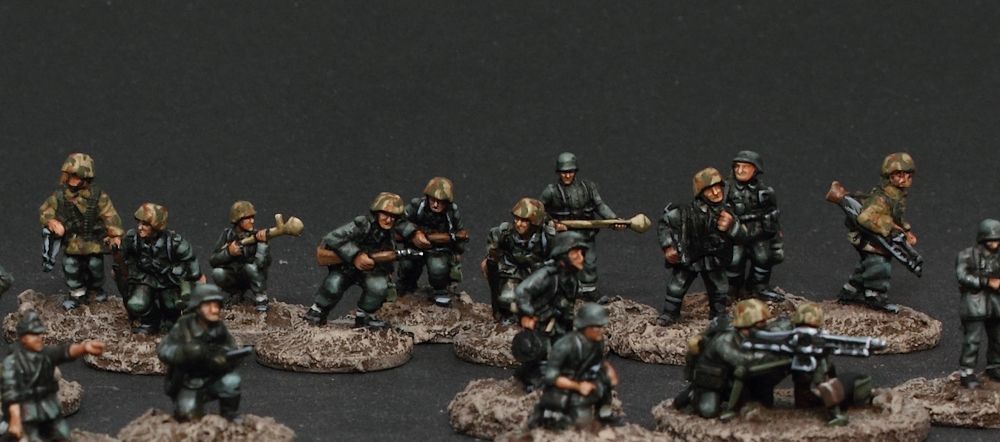 Hope you like them so far.
With further updates I'll give you additional background infos and whatnot.
Okay, this Friday will see the first incarnation of a series of little demo events we intend to run at a local club to advertise sets of wargaming rules we like a bit better than others and which we believe don't get quite enough attention compared to the rules sets we don't like quite as much. Of course we're going with the brilliant Chain of Command first, which drummed up a lot of attention at VIVAT2015.