The 40K universe derives a lot of idea's from War and Science Fiction books, films and TV series. Stuff that influenced a lot of us Grey-Beards as youngsters.
I grew up watching Thunderbirds and Space 1999...iconic shows that had a big impact on me at the age of 7. Why am I driveling on about this you may ask? Well, for as long as I have been wanting to make the
Hercules Land Raider
I have been wanting to make a carrier for it. After all, how else would you get it to a warzone?
Memories of Thunderbird 2 and the Eagles from Space 1999 immediately sprang to mind. Back in 1995 when I first started the concept designs for the Hercules, GW featured a metal Thunderhawk at Games Day -
'how cool would it be to have one of those carrying the Hercules'
I thought...little realizing the (original? :nono
idea FW would come up with years later.
Does this look familiar to anyone?
(Heavy Carryall - Battle for Dune 2001)_____________FW Thunderhawk Transporter 2006
Over the years I have toyed with various idea's that ultimately came to nothing. I read Frank Herbert's 'Dune' way back in high school and the Carryall idea has always appealed to me in much the same way as the Eagles from Space 1999 and Thunderbird2 before them...
...and of course the excellent LAATC's from the Clone Wars.
With all these great idea's to draw from, and the recent release of the Storm Raven, I have recently rekindled the idea of producing a carrier for the Hercules. But wait...why just for the Herc? Why not have them as multi-purpose vehicles. My Chapter has a few oddities in it already so I am thinking it won't use Thunderhawk Transporters for ferrying heavy equipment. In truth, I don't think such a heavy lift vehicle fits with the way Marines would deploy...much more likely would be this kind of 'combat drop' or the one seen in Aliens from the Marines Dropship in that film.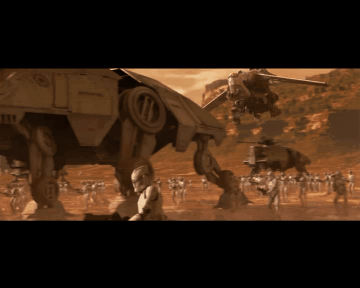 Fluff
My idea will be to have a fleet of these Drop-Ships capable of carrying directly into battle, any of the Chapters Tanks or Dreadnoughts. I also have half an idea about them being able to transport armoured bunkers for quickly setting up 'forward operating bases' or deploying squads. Hmmm, possibilities abound :laugh:
Anyway...enough of the theory...you probably want to see what madness I have been getting up to...so without further ado, I give you...
The Griffin Dropship
Despite the Storm Raven being the ugliest model I have seen for a while (with maybe the exception of the Grey Knight Dreadknight :sarcastichand
, the kit does have some merit for conversions.
Whilst I have roughed out some basic concept sketches (which I cannot show cos my scanner is bust) the final design, much like the Hercules, is going to evolve rather than strictly adhere to any fixed plans. I like this kind of approach to my creations and it allows me to try different approaches. As I am just getting started on this project this plog will allow you, my fellow Heretics, to chuck in any idea's you might have that I will shamelessly steal if I like them enough. :secret: :grin:
Ok, the first thing I knew I wanted was a double cockpit in the style of the Apache AH64 Helicopter. This basically involved me bastardising a perfectly good model...no going back now! :shok:
Having cut the cockpit away I also needed to ensure the canopy was cut correctly as it would not be housing the guns or sensors from the original model.
Using a nail file and my scalpel handle as a firm surface I carefully filed the lower canopy lip to an angle that would sit flush against the hull (parallel with the bottom of the cockpit). One thing that irritates me with the Storm Raven is that there is no entrance/exit to the cockpit. I am rectifying that with my model and will have hinges on the upper edges of each canopy to give the impression they can be lifted for ingress/egress in much the same way as a modern fighter jet does.
The next task was to remove all the extra plastic from the outside of the cockpit so that I would essentially have an oblong with some cockpit detailing.
Now I had to make a decision as to exactly where I wanted the cockpit in relation to the original one. Basically it would be sitting where the current turret mount is located. With trusty saw in hand, I set about chopping into the second good hull!
I cleaned up the tool marks using some wet'n'dry fine grit paper.
Next I measured the cockpit and transfered those markings to the upper hull ready for cutting out. I carefully cleaned up the chop marks, working closer and closer to the tolerence, test fitting the cockpit after each bit of filing till I got a nice snug fit.
Unfortunately, one of the dangers of working late into the night is you become prone to making mistakes. I fracked it up! I had measured the length of the top plate for some bizarre reason so now I had a gap at the back of the cockpit, Grrr.
Not an insurmountable problem but irritating nonetheless.
I positioned the cockpit where I wanted it and glued in place.
Ok, that's where I am at photo-wise. I have actually done a bit more work since then but not had time to pull the photo's of the camera yet. Will post up some more soon.
Cheers.
Cypher