Not much choice on the shotguns, they're going to join Gideon Lorr the
special edition Inquisitor. His rules state that he has 3 guard veterans
wearing carapace armour and armer with frags, kraks and a shotgun.
These models are just for fun, but something tells me that I'll be revisiting
the Inquisition somewhere in the future. They are expensive, but they
have a lott of great models. Quite a lott of fun on the conversion side as
well.
Here's a new picture of the last veteran, still very wip and still need
quite a bit of work, but I'm very pleased with how he's turning out.
The 'mutant guardsman' is also very WIP, but this is the general idea/post
I'm going for with this guy and his position in the diorama;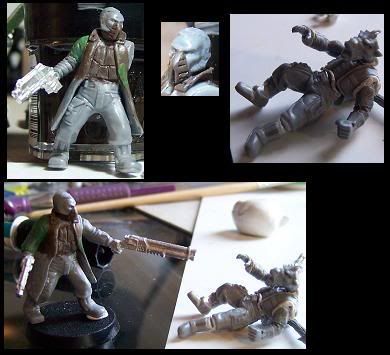 And comments, suggestion or ideas for other stuff are very welcome!