Discussion Starter
·
#1
·
So; i've got a few project logs on the go and decided that rather than start a new thread each time i have a project in development, I'd combine everything else into a single log of various projects, random minis i'm working on or have completed. I will keep the separate Warhound thread going since they have the previous work in but will probably dovetail the orks into this one at some point.
This also means that when I am invariably distracted part way through a project, I can still keep this thread updated with whatever has distracted me.
Part of the reason is also that I am now able to upload reasonable sized pictures thanks to Red Corsair [seriously, anyone who suffered through the HUGE pictures that were in my previous logs should give him rep lol.]
Oh, and the fact that others have done this and i'm always happy to steal a good idea :angel:
Who knows, if the reaction is good or a number of people have comments, questions or suggestions; i may be able to develop those into a quick tutorial or something.
To start, here are a few minis I finished a little while ago and had pictures of on my hard-drive.
Druschi Anointed - for the Storm of Chaos campaign... I've since redeveloped the colour scheme in my mind so will eventually re-paint the rider to go with my slowly [very, very, very slowly] developing WoC and Dark Elf armies.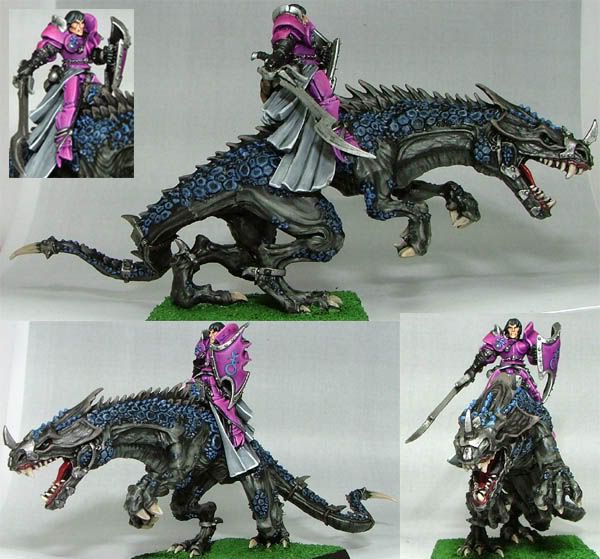 Dwarf Lord – My attempt at non metallic metallics. Overall i'm fairly pleased but i find the ultimate white highlights a bitch to do.
Female Daemon Prince – or mutant Celestine. I am unlikely to repaint but my chaos colour scheme has changed from purple though i'm still happy with this paint job. Honestly she has now seen better days, despite pinning the wings have snapped off a few times so this is now obvious on the mini itself.
And my most recent random completion – a female elf bard. I painted this for my missus at her request. Started around three years ago and finished last month.... there was a significant gap while I was distracted with other things lol