Woah. I haven't done a tutorial in quite a while. I should really get cracking and fill my tute list with links.
Okay. This is the tute for the flame type or red/orange I use on my Knights of Valour.
Please do not be turned off at any point as the stages throughout this guide can be pretty patchy. Just remember that all that will lead to this:
Okay. The paints you'll need are
Mechrite Red - Foundation
Scab Red - Citadel
Blood red - Citadel
Blazing Orange - Citadel
Golden Yellow - Citadel
Step 1
Base coat the mini with Mechrite red. Make sure to water this down lots as it will dry up very quickly and will become blotchy very soon. Just to do this base, I had to water down the same batch 3 times to get a smooth and THIN coat. You will need a thin one, cause you'll be doing many layers.
Step 2
Make a 50-50 mix of Mechrite red and Scab Red. Coat the whole area in it. No need for highlighting yet.
Step 3
Make a 4-1 mix of Scab red to Blood red and coat the whole area in this.
Step 4
Mix up a 2-1 batch of Scab to Blood and highlight the majority of the area. Leave only the deepest recesses in the previous colour.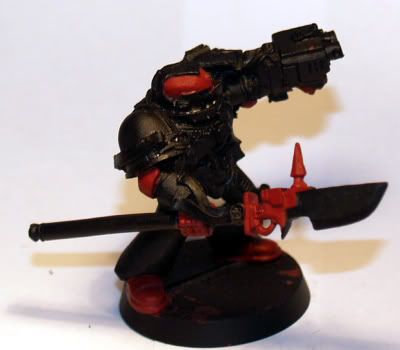 Step 5
Keep adding little bits of blood red to that existing mix (it won't dry up, being original Citadel paints) and highlight each time untill it looks like a 4-1 Blood to Scab. Highlight a little bit less than the previous colour, but not too far.
Not like this
| 1 | 2 | 3 | 4
Like this
|1|2|3|4
I didn't put a photo here because if I took a photo of each layer, the paint would've dried up and I would've wasted alot of space on this page, cause the new layer doesn't differ too much. It won't show straight away. Be patient. All these layers are needed for the fiery effect.
Step 6
Highlight the mini with Blood red. Try to get this layer to be pretty close to the crevacess and really stand out from the Scab red base. I'll make another guide as to where to highlight Marine limbs for the best effect sometime later.
Step 7
Make a 2-1 mix of Blood red and Blazing Orange. Highligh carefully.
Highlight the feet in a spiral shape.
Highlight Heads in a curve along the ridge.
Highlight the back of feet in a curve up the heel.

Highlight the hands in a curve facing the wrist.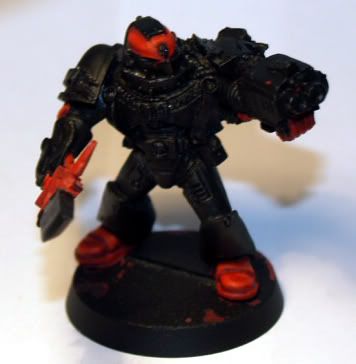 Step 8
Do the same as above but a bit higher with a 50-50 mix of Blood and Blazing.
(sorry for the bad picture)
Step 9
Highlight with straight Blazing Orange (still watered down well).
It might not look like it's the Blazing Orange colour yet, but that's because the majority being red, overwhelms the orange.
Step 10
Water down some Scab Red into a wash. Wash the whole area in this.
Step 11
Repeat step 9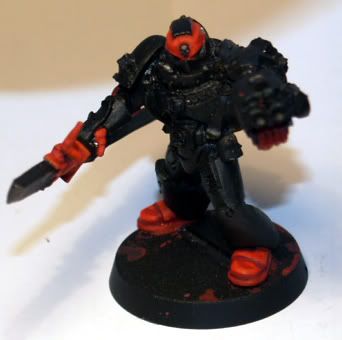 Step 12
Make a 50-50 mix of Blazing Orange to Golden Yellow and highlight.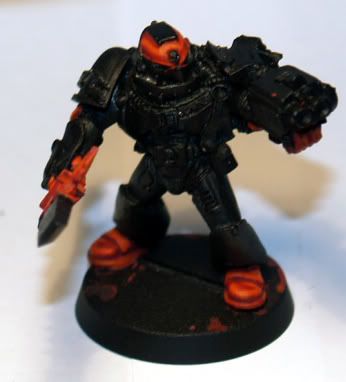 Step 13
Mix up a 2-1 batch of Golden Yellow to Blazing Orange. Highlight carefully.
Step 14
Make an extremely watery wash of Scab Red and coat the mini in that. The yellow will still show but it'll blend all these highlight together.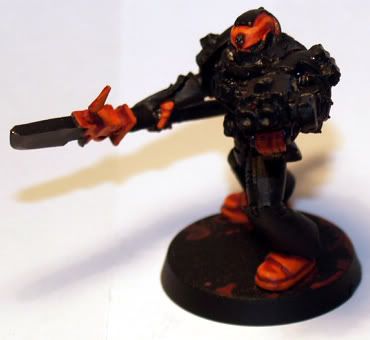 Step 15
Highlight the extreme areas in Golden Yellow. Be very careful with this.
Step 16
Water down some Golden Yellow into almost a wash. Highlight with this. It'll really make the yellow stand out. You are now done.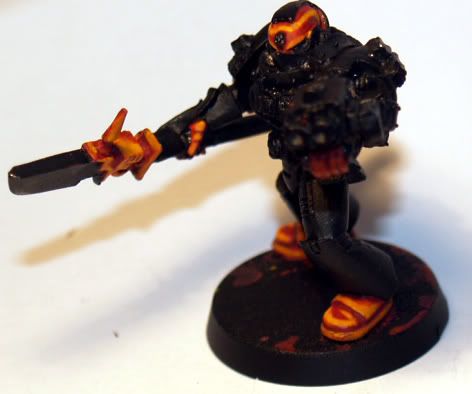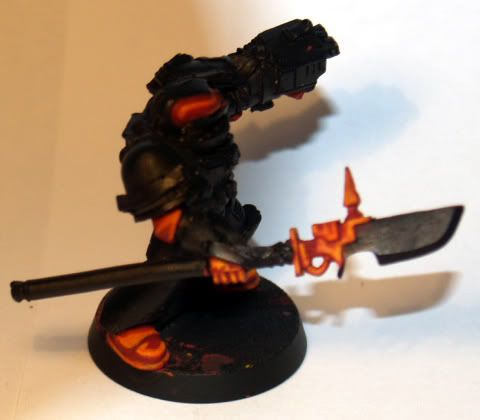 Hope you enjoyed this. +Rep will be appreciated.
As I said, I'll do one on the areas to highlight on some minis. Marines will be first as I have the easiest access to them.
Thankyou for reading.