Discussion Starter
·
#1
·
So...I'm about to start my eldar project log and have been trying to come up with a list based mostly around the stuff I already have. Which is really alot of guardians. I don't even have enough stuff to make a legal list as I have no storm guardians, no dire avengers, no rangers, and a million defender guardians but no heavy weapons platforms! So basically I have no troops unless I buy new stuff which I can't really afford or I do some guardian conversions!
So my first thought was...I'll do dire avengers! They're basically guardians with spartan helmets right...so I thought I'll just take all the no helmet heads and make dire avengers without helmets! Easy! Then I started thinking...
I wonder if I could just make jetbikes!? So I spent all day looking for something household or easy to get to look like the shape of a jetbike. And well...that's where the plastic spoon came into play! They are pretty similar in shape so I figured I could just carve em up and maybe green stuff a chassis and throw a guardian on it.
Then I found this awesome jetbike conversion that was probably one of the coolest models I have ever seen. I can't seem to find the picture now and literally couldn't find anything on this model(like who did it or how etc...) But anyway the conversion had the spoon shaped part going vertical instead of horizontal. This was just sooo cool to me I got to thinking about that and the spoon idea and then just started messing around and came up with something I kinda like...
So without too much more explaination(I'm sure most people have skipped it all by now anyway..) A plastic spoon, a normal guardian, 2 shuriken catapults, some brass rod, and some random sprue cutting and I came up with this!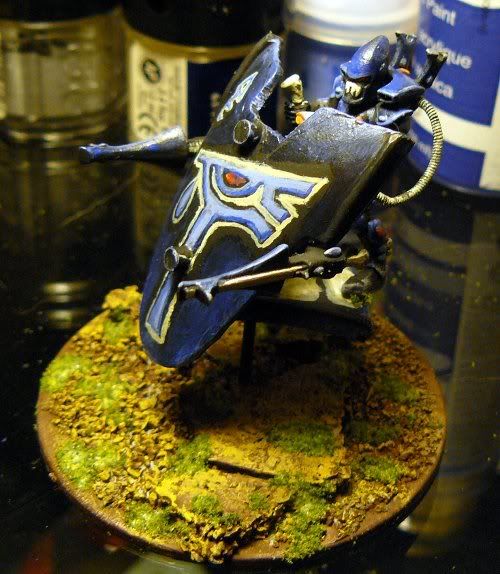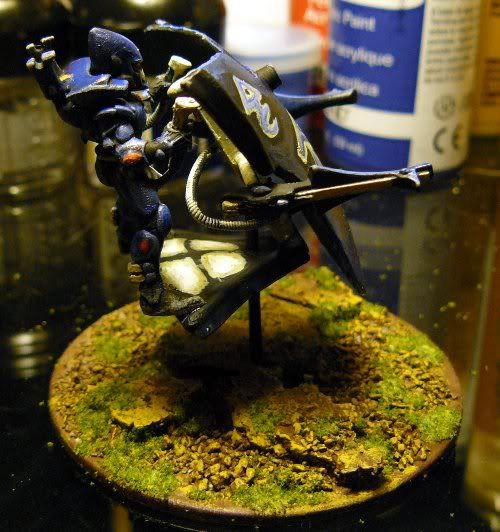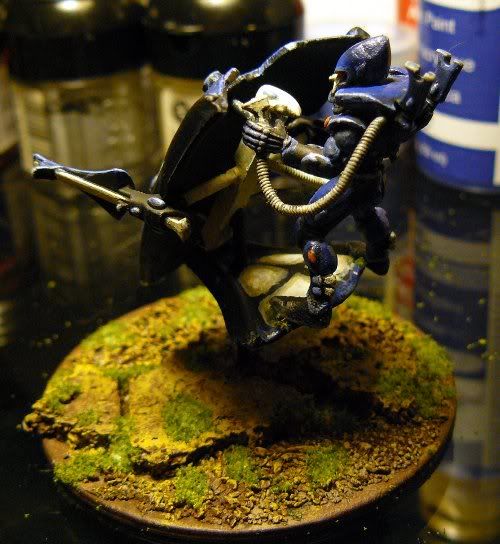 This is essentially the prototype...I plan on making 8 guardians, 2 warlocks, and a farseer in this style. So hopefully it gets better as I go.
Any suggestions, crits, comments are more than welcome! Also would this be acceptable to play? Or would alot of people not like it?
Side Note... The story behind my eldar force is going to be a kind of outcast group from Ulthwe. I was gonna call the Bluthwe Raiders haha. Basically instead of black and bone I added in blue...and the story behind the different style jetbikes was going to be that they've taken the ones they had and repaired them the best way they could and during the process had to make them smaller.