Hello everyone on Heresy, just moving my thread to here so this will be my project log for my Chaos Space marine warband known as the 'Disciples of Pandemus', I'll give you a breif introduction to explain what their all about:
The Disciples of Pandemus aquire their name from their highest commander; the bloated Daemon prince known as 'Pandemus' leads these unholy warriors from world to world, spreading Nurgle's plague-ridden glory.

Pandemus came to the be where he is now from an unlikely path, once a simple farmer on a remote agri world his planet was burned to ashes by the Chaos Warband 'The Purge'.

He was about to be executed when the most unexpected thing happened, the energies of Nurgle himself intervened and save the mans life, but corrupting him for ever more.

The Purge took him in and trained him in the use of weapons and warfare, the dark techpreists and apothacaries toiled late into the night for Pandemus to become like his mentors, fitting him with a suit of Mk.VI power armour to complete his initiation.

It didn't take him long to rise through the ranks and earn himself the status of champion among his brethren, he took part in the burning of dozens of worlds and constantly proved himself to the great father Nurgle.

However it all came crashing down for him when a newly risen Lord challenged Pandemus's will and after a long, grueling battle cast him out of The Purge, never to return again.

So Pandemus took his small band of men and formed a new warband, his followers named it the Disciples of Pandemus, and so he started a new era of his life, one that would lead him to daemonhood and of course, endless warfare.
So theres some background to my warband, hopefull that would of explained where they came from etc.
Now onto the Modelling! :biggrin:
Here is a 'to do' list for this warband, I'll make the writing green if the unit in question is complete and red if not, also I've added some 'in between' colours for models that are half-way or getting there, orange = assembly underway and blue = painting underway. (I'll be adding to this list quite alot as well so what you see at the moment is not everything, just everything in a reasonable price range for the moment):
Characters
Daemon Lord Pandemus - 1st in command, the great unclean Lord of the warband.
Lord Adriel Guul - Pandemus's 2nd in command, ruthless tactician and combat veteran, usually accompanied by his Terminator council.
Champion Un'Keth - Lord Guul's right hand man, champion of the Terminator council and skilled warrior.
Champion Ilkor - Champion of squad Ilkus, shows extreme promise in defensive tactics.
Champion Grenell - Champion of squad Greneth, enjoys watching his victims suffer, usually deploys with a rhino.
Followers
Squad Ilkus - Lead by Ilkor, this squad are the first choice when it comes to defence.
Squad Greneth - Deadly combatants, they follow Grenell into the wildest situations and are triumphant.
Guul's council - Five man Terminator unit that accompany Lord Guul pretty much everywhere, they have been around longer than most.
Vehicles/allies
Plague defiler of Nurgle - It's ugly.
Now that thats out of the way, now for some actual images, first up we have a completed Lord Guul (he is based, but not in this picture):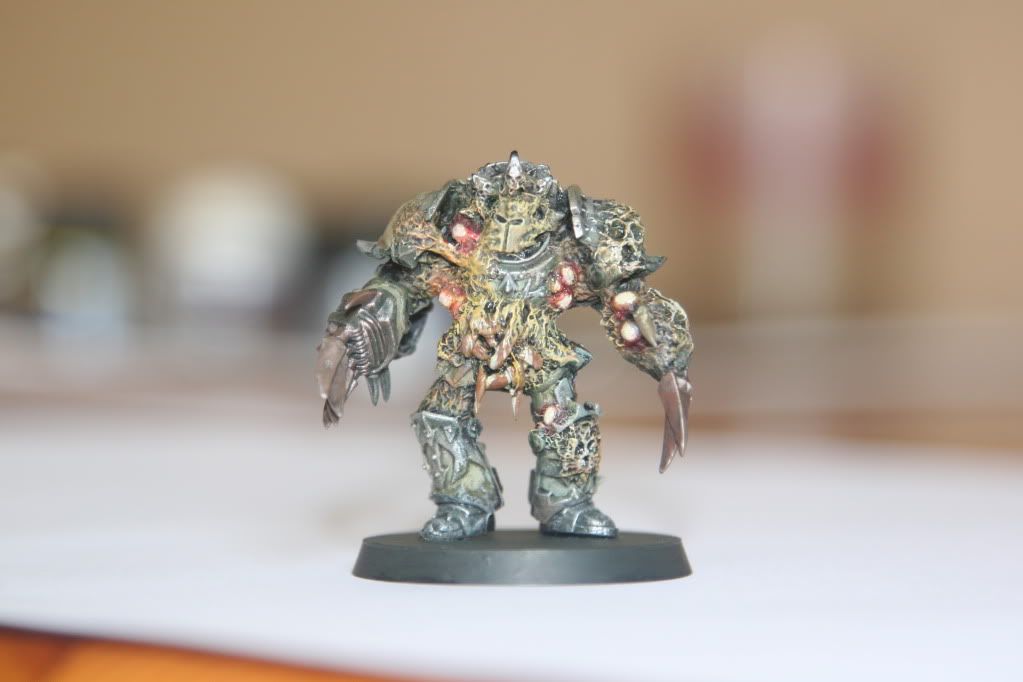 He has alot of GS work on him, this was my first actual attempt at a full-ish conversion and I am rather pleased with how I assembled the guy.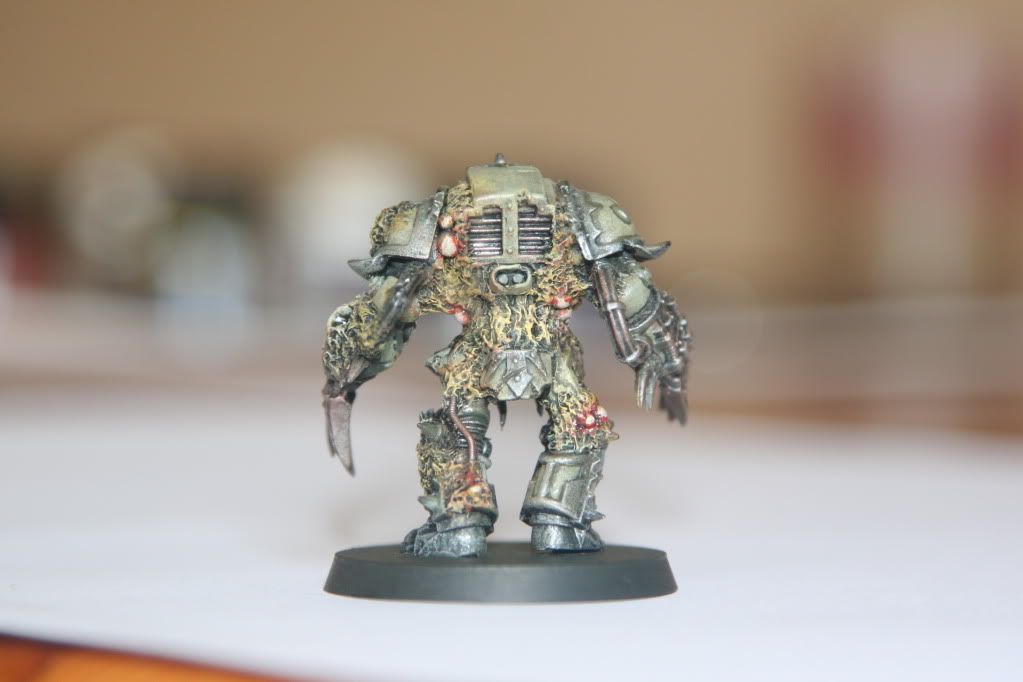 For the colour scheme I've gone with bright armor (near Rotting Flesh) and slightly darker mouldyness (closer to Bubonic Brown, but there are lots of variations).
Next up I have started squad Ilkus and what better way to start than by finishing the champion, so here he is: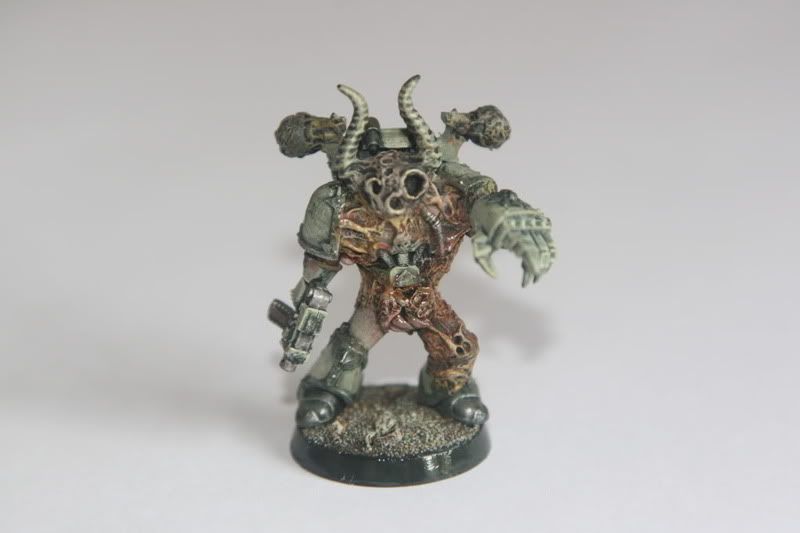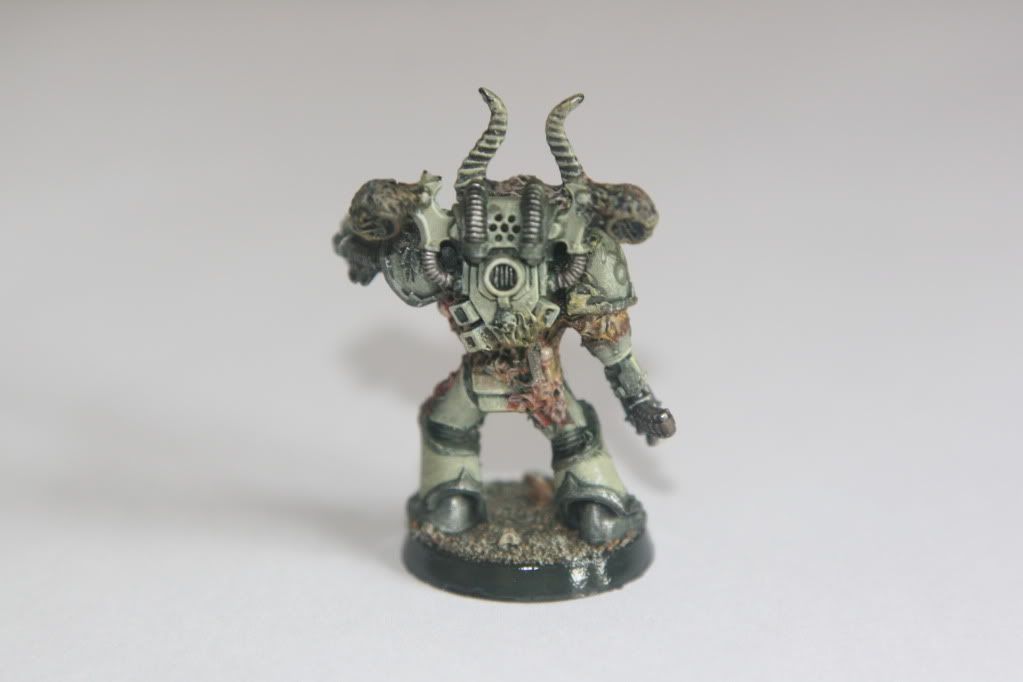 I've also been working on the squad members, only done one so far but here he is, only five more to go!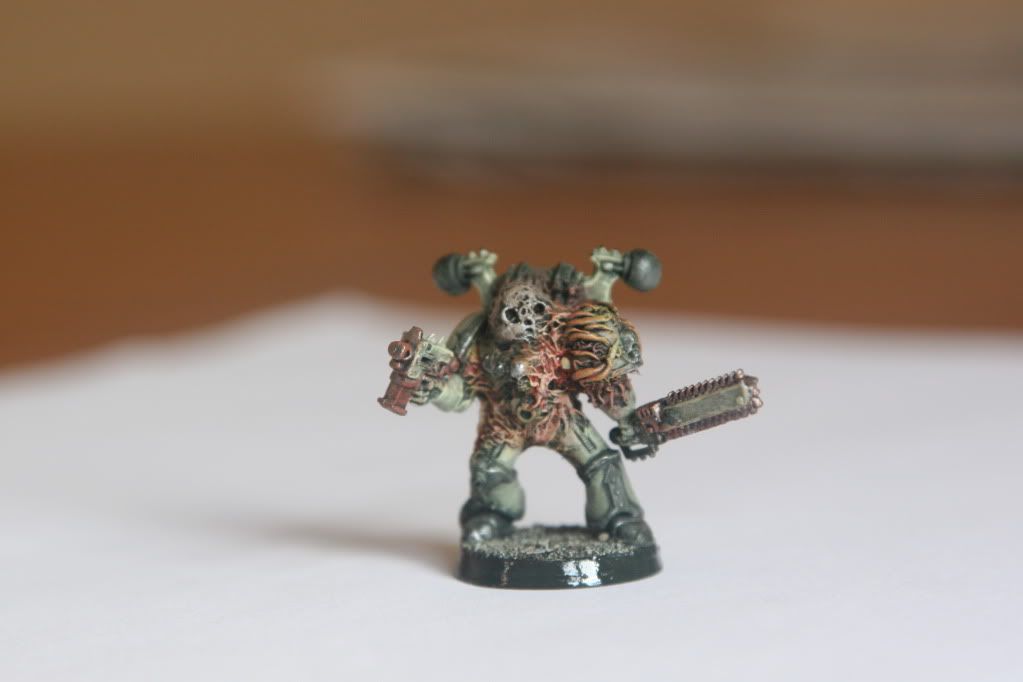 Hope you enjoyed the first installment of my progress, next update should be very soon. Cheers!