Dicrel's Ork Base Works-In-Progress Log
EDIT/UPDATE:
Since I find myself working on terrain in general rather than specifically for the nebulously conceived/planned Ork base, I've decided to just change this to a terrain plog.
Since I started this log, I've also picked up an Imperial Stronghold, Ork Barricades, trees (40K and otherwise), and a Crashed Imperial Aquila Lander, so expect those to be showing up in the future.
The bulk of the posts are the watchtowers for now, with the exception of the following posts:
#16: Fortified Wooden Fences (added 21 January).
#18: Concrete Jersey Barriers (added 10 February).
===============
I got a friend of mine interested in 40K last month. We split an AoBR box, I got the SMs, he got the Orks. I'm not sure if this was the impetus for it, but I got it into my head that I should build a base for the Orks to defend and for my Salamanders to assault.
Here are my raw materials: corrugated cardboard, cardboard (from kit boxes), white Styrofoam plate, kit sprues, chopsticks, yellow Stryofoam tray, popsicle stick, and Vienna Sausage cans (you'll note, I already started on those). I used superglue and PVC glue to put everything together.
I didn't want to have to buy any new materials, so I just raided my kitchen for most of it. I'm now somewhat worried about the materials that are accumulating around my workbench.
And here is the first watchtower, side and top views.
I wanted the impression that the base of this was created (as a base support, holding tank, or something by a more technologically advanced people) before the Orks showed up and salvaged it. So around the base are plates with fat rivet heads in a fairly regular pattern.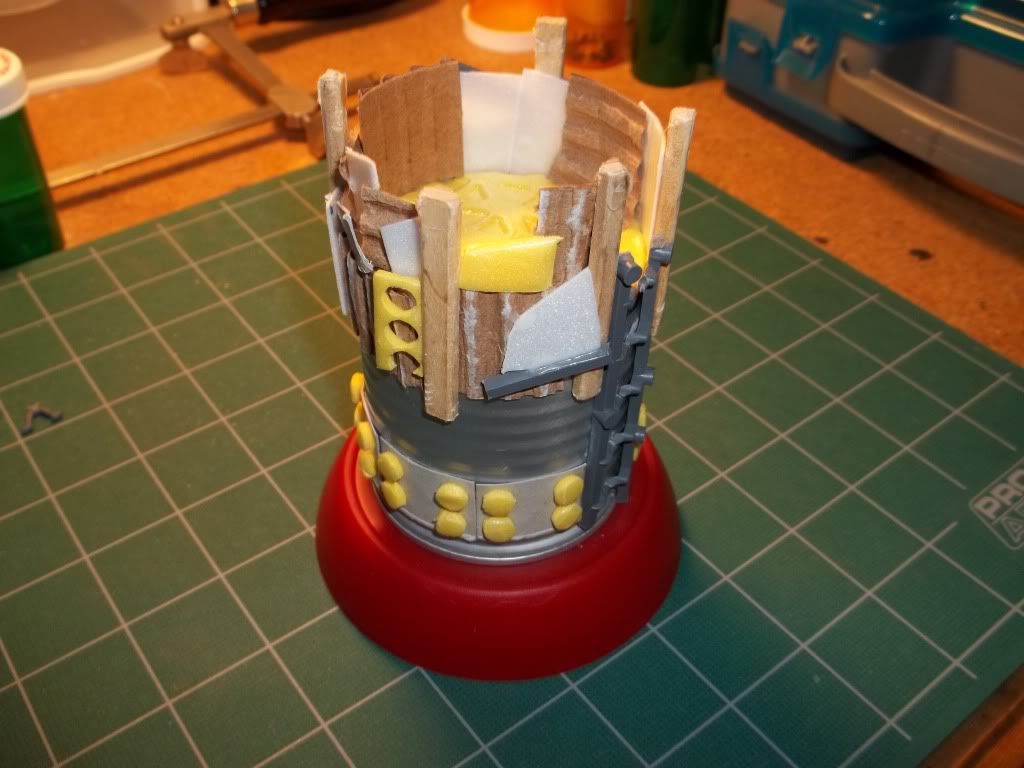 It was only after I built up the walls that I discovered a batch of very old chopsticks (their paper sleeves were yellowed with age), so this solved one problem of having walls that would collapse since there was no support. I was loathe to strip all the material that I had already glued away, so I just glued the chopsticks onto the outside of everything. I'm not sure if I'm going to paint them as wood or as metal yet.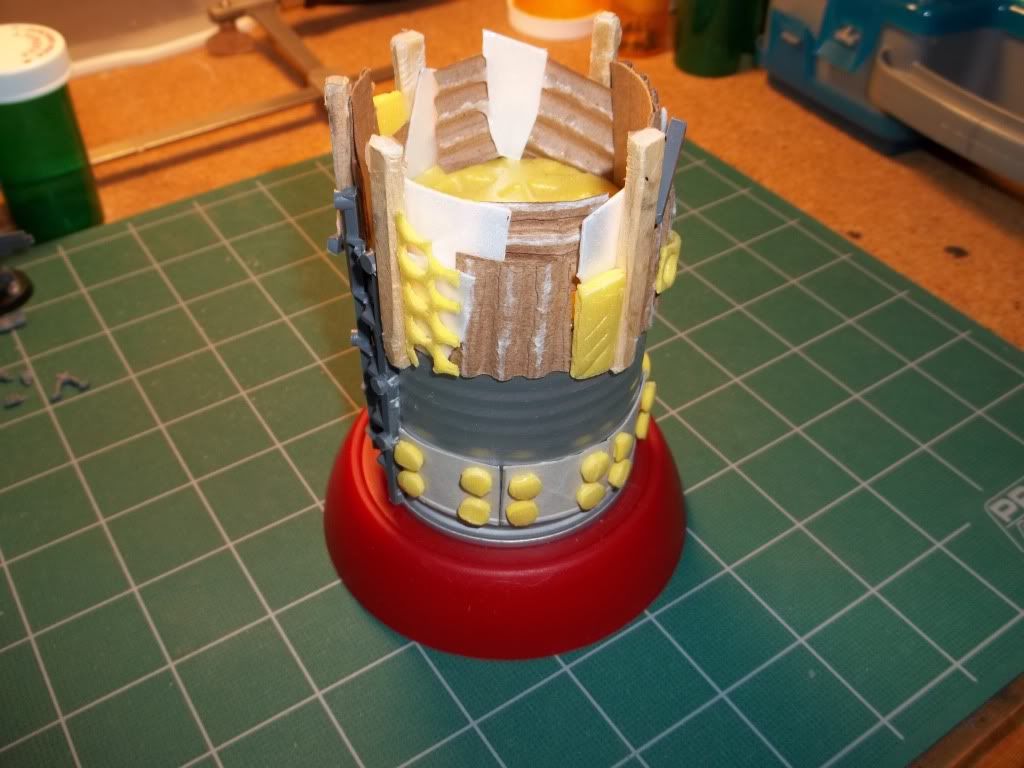 To get that odd grating (with circular holes) I used a hole puncher. I was punching out Styrofoam to create those fat rivet heads at the bottom and realized that if I were to take a little more care, I could create a kind of mesh. I kind of like the look, but I really have no idea where it would come from.
I should mention that the red plastic base is the lid off a kim chee jar (a local brand). I'm waffling on whether it should be painted or flocked.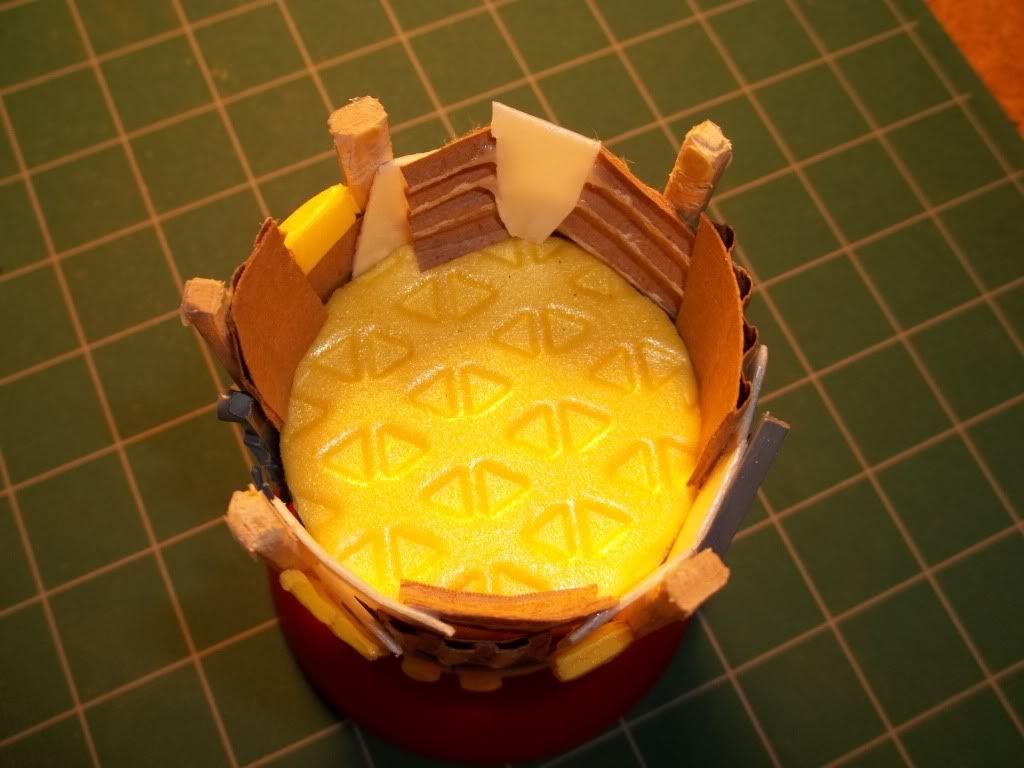 The one thing about the tray that makes up the floor that I liked is the patterning that is reminiscent of industrial flooring (to me in any case). I also decided to notch and slice at the tops of the chopsticks to suggest that orks bored with watch duty amused themselves by a little hack-and-slash. It didn't quite turn out the way that I wanted. I may have to rethink how to get that effect.
Overall I'm satisfied, but I am looking for a hobby shop that does sell plastic rods. I want to create small rivets to pepper the various plates and struts. I want some visible means of the struts and plates being attached there. I've tried various things that I've found around the house, but none are easy to work with or have the right look.
I'm also looking for a plastic mesh that I once got from a long disappeared hobby shop. I used it for my bonsai, to create grating over the holes at the bottom of my terracotta pots. It would make a great stand-in for metal mesh.
Once I get those, then I'll paint and flock it. I am considering a desert look to it all. It's somehow more fitting to have Orks on a desolate waste rather than verdant green (or it could just be me).
I'm finishing up two others and will post them soon. C&C is appreciated.