Discussion Starter
·
#1
·
OK so I've got 8" of snow on the ground and my world is shut down. First day I wore out my Netflix account (and got a VERY stiff neck!) so yesterday I decided to do all those hobby things I wished I could do. I started building my Antenocitis Workshop Forward Base buildings!
So I worked most of the day yesterday on Habitat 3 (which is the smallest building) and got both of the ones I got assembled, aside from the interior panels which need painting first.
The basic structure:
After learning how to punch out the pieces better I was able to get both of them assembled.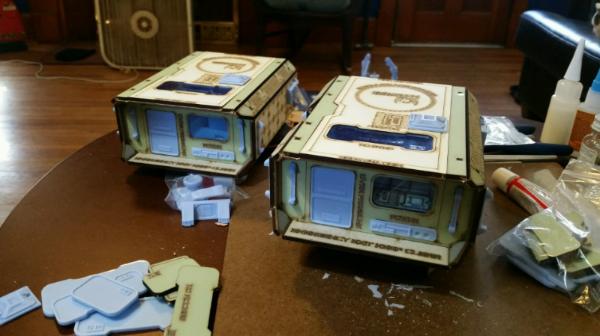 The pieces are attached to the board with a small section of the cut that has been scored by a slightly less powerful laser so you need to poke through that section from the backside (phrasing!) to get the part to fall out. It is an arduous task to begin with but after doing both buildings I got the hand of it. It helps to have a curved blade instead of the typical pointed tip so you can put the blade into the existing cut and roll it forward so the tip cuts through the section needing cut. Some of the windows and resin sections needed a bit of sanding to fit but not by much. These are really great kits and I am sooo looking forward to having a table full of them.
Speaking of that, I should lay out my plans for this thread long-term. I'm using the AW buildings I have to make an outpost (or Forward Base, if you will!) on a rocky desert planet To play Infinity on. I've always dreamed of making a modular table out of 2x2 boards that had three different elevations that matched up at the edges. I'll go more into that as the actual table part of this project comes along but the basics are a table with a "depth" of about 3" and then room for buildings on the "top" areas with lots of valleys and crags running throughout. I wanted to do a table like this back when I played 40K but the idea of so much terrain density put off my regular group (I DID play Khorne so it might not have been totally innocent...)
Bah! Enough babbling, more pics!!!!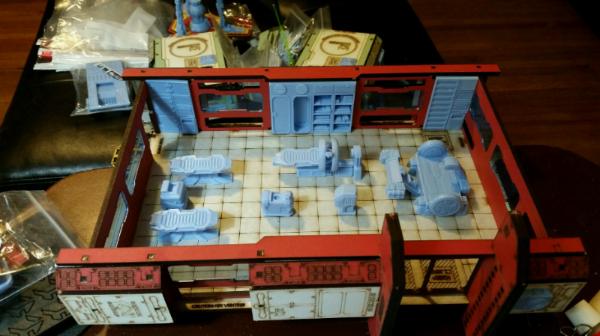 So today I worked on a bigger hab. Habitat 2 the Medical Building. I love this thing so much! Got the basic building done and started in on the interior scatter. I just had to snap a shot of the interior after getting these put together. There's so much detail I can't wait to get to painting this (which is a really odd feeling to have about terrain!). There's a bio scanner and a bio synthesizer plus two patient beds with all sorts of equipment scattered around. A firefight in here will be very interesting. Not sure whether to glue down the terrain inside or not (obviously after painting).
So, in two days of being snowed in I have three buildings (plus the power generator which I didn't take a pic of!) ready for painting. I go back to work tomorrow but am so excited about getting these started I'm hoping to keep the momentum going! This is where you come in, True Believers! Give me feedback and encouragement/threats so I'll keep this going and hopefully we'll all get to see some of these truly awesome models done justice! So let me know how you like it, give me some pointers if you've built these before, or just say "hi!"