so this is a very simple, but I feel, effective way to convert Warriors of Chaos to CSM's.
It requires very little Greenstuff skills or overall converting skills..but the over all finished look works.
Step 1
These are the pieces that you will require:
Chaos Marine Head
Bolt Pistol Arm
Chaos Marine Backpack
WFB Chaos Warrior Left Arm
WFB Chaos Warrior Body - Front and Back.
Step 2
After gluing the front and back together you will need to cut the chaos bolt arm off just behind the glove..now the 2 gloves match pretty well in size and I dont think it matters too much that 1 side is a bit more fancier.
Step 3
Once the arm is in place you will need to trim and size the head..as the sides of the Chaos heads are slightly bigger.
Step 4
Now you will need to fill in the deep hole for the head with green stuff and trim the upper armour guards if needed..this serves 2 purposes:
1: give you something to put the Choas head into
2: give you a nice little ridge to hide the gap.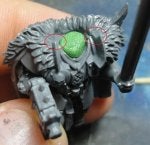 Step 5
Simply push the head into the Greenstuff so that it will give you a solid join..make sure to push it deep enough so as to get a little ridge to form..this if you are like me with poor sculpting skill will eliminate the need to sculpt anything.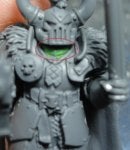 Step 6
The back...just simply place a little bit of Greenstuff onto the backpack and push it onto the back of the Marine..the green stuff will mold to the fur..its not a great way to do it..but I found that if it falls of after drying a little super glue works really well with the mold.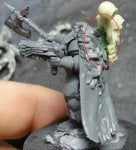 Finished product
As you can see these won't win any awards..but this is a very simple way to do it.
I feel that with a good paint job you wont even notice some of the joins etc.
Well I hope this will help anybody else wishing to do the same thing.
Please let me know what you think...I'm sure there was a 100 better ways to do this but this is how I did it.:victory:
thought id add the complete pics