Greetings heretics!
I am looking for a interesting conversion job that is a tad larger than my skills. As such, I am looking for a very skilled converter or a service that people know, to do a job on my army warlord.
However, I would like to have Kranon the Relentless on a bike. The inspiration is this:
If you look at the model: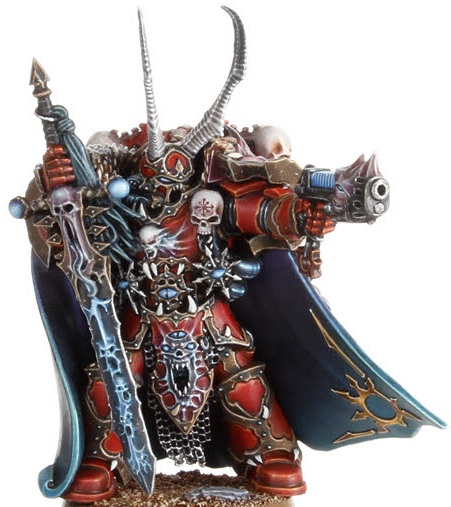 you can see he's not exactly the most flexible model out there. I have attained the following bits, that should be of use:
- Kranon Model
- Bike + Rider
- Chaos Chosen Champion
The two miniatures can be seen here side-by-side:
In the original inspiration photo you can see they used the Chosen Champions arm for example. I would like to have the Sword on him however, as this is what i will be used most of the time.
So the job in essence is: Kranon on bike with his sword outstretched in his arm. The cape is not a necessity, as that would probably be a tad dangerous to have on a bike anyway. The reason I want I want someone else to do it, is that it requires skilled greenstuff work on his legs and shoulderpads from the looks of it, and my skills are not... as adequate as my painting is. I want him to look like a million bucks, so I capitulate and want to outsource this important piece of my army to someone else.
The only question that remains is, if either there is a talented sculpter/converter on this site or if people know of a service based in Europe that can take on this sort of thing. If there's a guy on these forums, with a good enough rapsheet I would be happy to discuss pay for this sort of gig.
Looking forward to all of your input!